March, Spring, 2015, Eva Brooks is 26, Davon Christian is 22, Marcus and Oliver Brooks are both 17. Last
update
.

Eva is always on Davon's mind, but recently he's thoughts have been stuck on her 24/7, but in a good way. He's been searching the internet looking for an item, and was overjoyed when he was finally able to locate it. That was a month ago, and today the package finally arrived. He's very excited and can't wait to give it to Eva.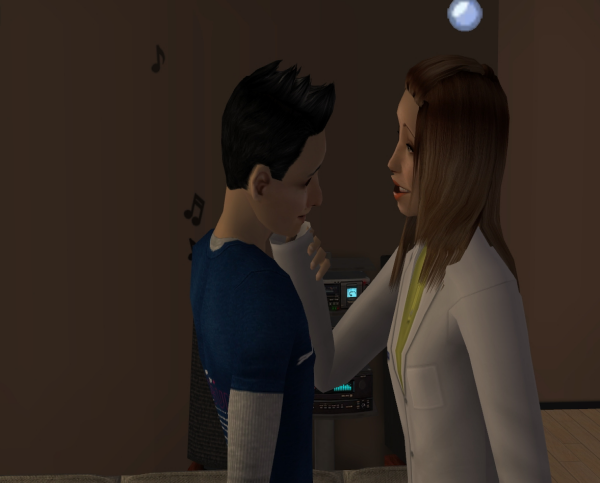 When she gets on later that evening, he tells her to shower and to put something casual on, he's taking her out for dinner.
Even though she's drop dead tired, a cooked meal by anyone else other than herself sould really good. Plus, she could use some quality time with Davon. They schedules have switched, she works mornings and afternoons now, along with being on-call. And Davon, he works the graveyard shift, 11 pm to 7 am. So seeing each other is a feat within itself.
Marcus and Oliver don't mind fending for themselves, they spend the majority of their time playing video games. So a night of playing games and pigging out on pizza sounds really good to the both of them!
And of course hanging out with Bri as well. She and Marcus are attached at the hip. Normally Oliver wouldn't mind her being over, but since Derek was born he values the time between him and his brother.
But all of Marcus' time and attention is focused on Bri once she visits. But to his credit, Oliver was the same way with Suni when they first started dating. Heck, they still are that way. So he'll give his brother some slack.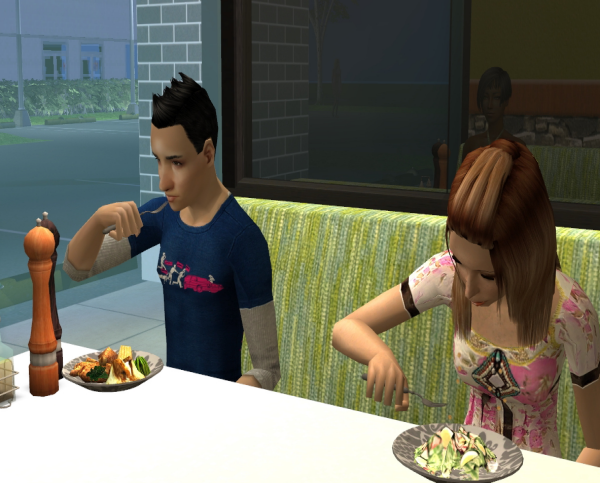 They visit a new strip mall that has just opened up, the restaurant there serves all kinds of food. Davon orders the fried chicken, and no surprise here, Eva gets the salad. She's always on him about his unhealthy eating habits.
"One day it's going to catch up to you."
Davon just laughs the overly embellishes enjoying a piece of his fried food. Eva laughs, punching him lightly on the arm.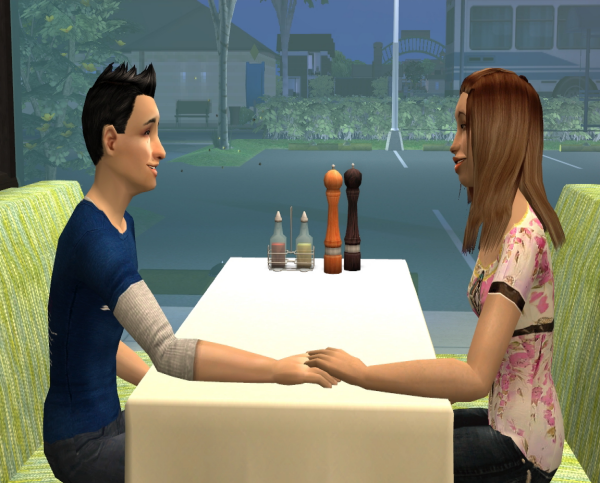 Once dinner is finished up and the plates have been cleared away, Davon's nerves start to get the better of him. He's had this whole speech planned out in his head but when he opens his mouth, nothing comes out the way it was planned.
"I've been thinking about us, and where we are headed. You, know, since we've been together for a long time now..."
Eva snatches her hand away, quickly glancing down, she fights to stop the tears that threaten to spill.
"You're breaking up with me!?" She almost shrieks the statement.
"Oh, God, no! No! It came out wrong!"
Davon tries to explain, but he can see he's starting to lose her, she's no longer listening to him.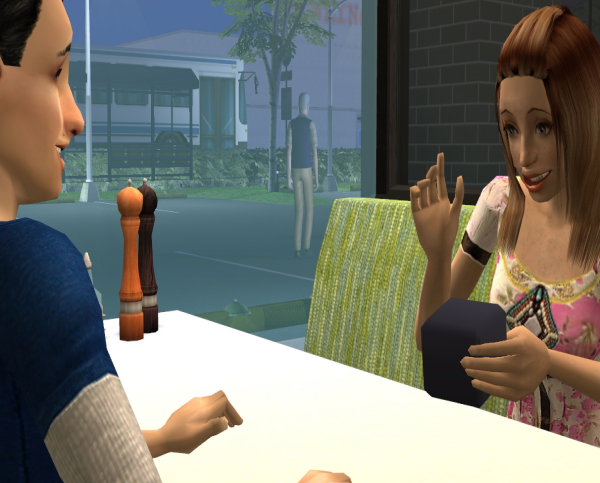 He quickly pulls out the little box he had order online and slides it across the table. Eva is a little surprised. She though he was going to dump her, but now she's faced with this tiny velvet box.
She sits, holding it in her hands, and stares at it.
"Ar... are you going to open it?" He asks, hesitantly.
And she does. The ring sits there, nestled in the blue satin fabric, gazing back at her.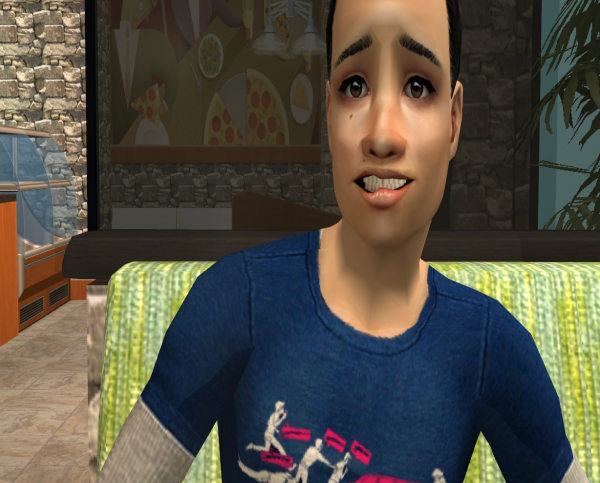 Now he's really second guessing himself. Maybe he should have waited. Taken her someplace super fancy, where they could have gotten dressed up. A place that didn't serve fried chicken!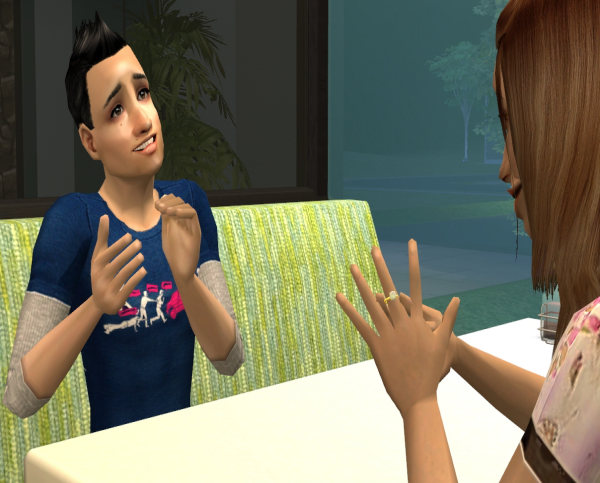 Eva pulls the ring out of the box and slips it onto her finger. It's a perfect fit! She looks over at Davon, tears still in her eyes - happy tears - and she nods her head.
That's all he needs to see. His heart feels as if it's about to burst.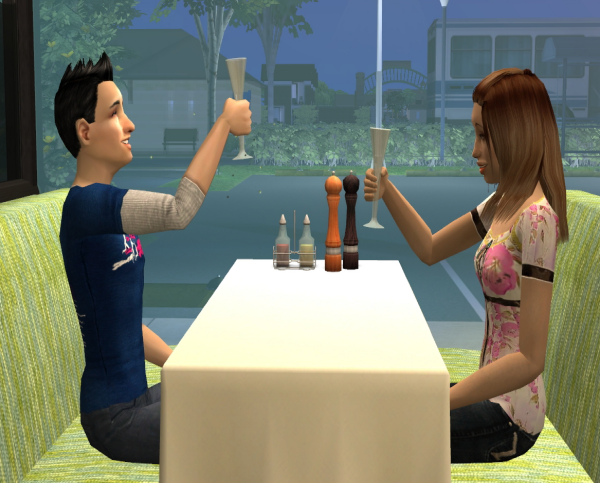 They share in a toast and can't wait to share the wonderful news with Eva's brothers.
Marcus and Bri are having a little celebration of their own. Finally after months of convincing, Marcus has finally given in, not only to Bri's requests of taking their relationship to the next level, but also to his body's needs as well.
Once the awkwardness is out of the way and they actually "seal the deal", neither have any regrets. He feels kind of silly for holding out for so long.
Suni visits almost as much as she had before Derek was born. Everyone enjoys the visits with the baby. He's almost a month old and already getting so big!
Suni also visits hoping to change Oliver's mind about joining the armed forces. Oliver is so smart, he could go far with a college education. Why waste it on the military?
He's tired of the fighting. He doesn't want to be stuck behind some desk in a boring office, he wants to work with his hands, build fighter jets... maybe. Or at least protect his country and earn a pretty sweet pay doing it.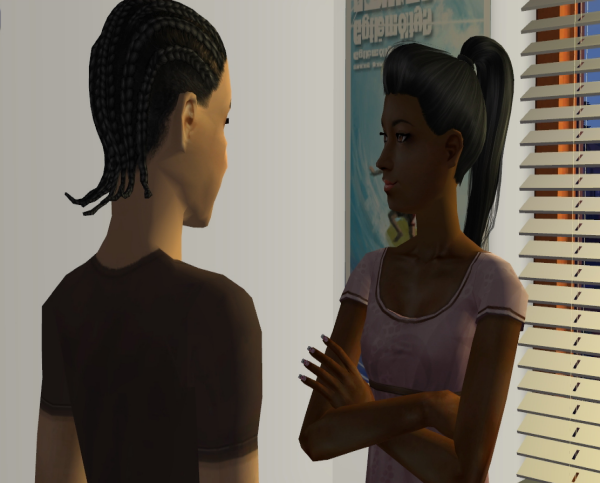 This does not please Suni. His desire to fight was fine when it was just the two of them, but now they have a child to worry about. What if she major war broke out and he was deployed. What if he died. Their son would never know his dad.
He thinks she's jumping the gun. He's not even enlisted yet, let alone going to fight in some made up war in her mind.
"Would you at least look into ROTC? You get your four year college education, plus you serve eight years in the military. It's the best of both worlds!" She explains.
Oliver agrees to look into the ROTC program. Not only to get Suni off his back, but if he's going to put his life on the line it would be nice to have them pay for his education. One, which he most likely never use, but none the same. This will make Suni happy.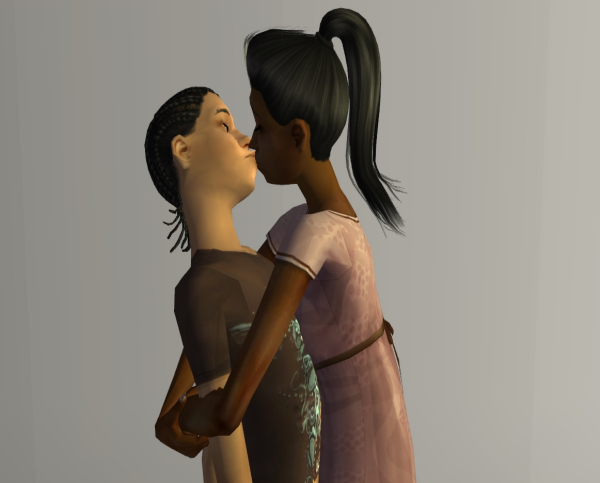 And it does make Suni happy! And happy Suni equals a happy Oliver!
Eva is in love with Derek. She may deliver babies for a living, and she's seen some really cuties. But Derek is by far the most adorable baby she has ever seen. But she could be bias, he is her nephew after all.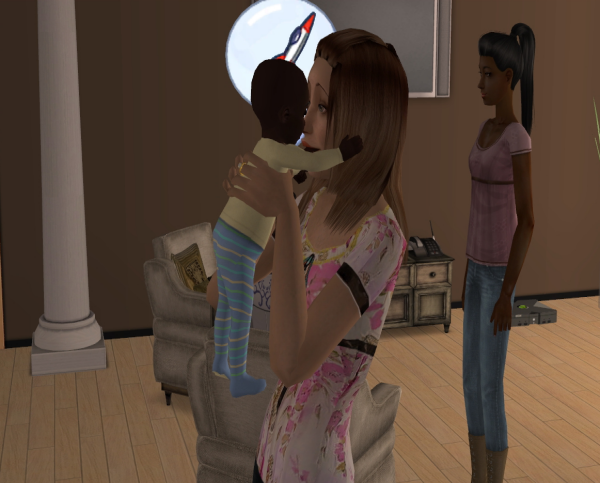 And who knows, having such a love-able little one around has un-paused those "mommy" hormones. Maybe once she and Davon tie the knot, they can get to work on starting their own family.
***
Yay! Davon and Eva are finally engaged. I was waiting for one of them to roll the want. Not sure if I mentioned it, but Davon rolled the want soon after they moved in with Oliver and Marcus after Tyra and Thomas' deaths. Surprisingly enough, Eva didn't roll the want to even get married until after Davon asked her to. So now they both have the want locked to get married to each other!

Their wedding is set for the Spring of 2016. So not far off.

Neither have rolled the want to have a baby, but right after Suni and Derek left Davon and Eva hopped into bed and tried for baby on their own. She's on BC so no baby yet. I'll let them start actively trying after the wedding.