It is currently Sophomore year for Bell, Ariel, Bret and Brad. It is currently Senior year for Tommy, Asia and, Newton.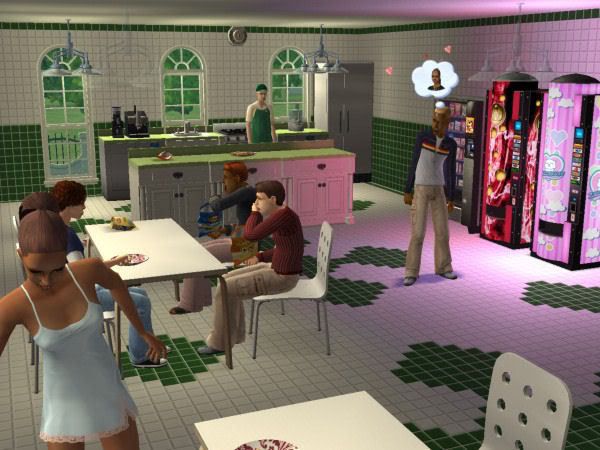 The new school year started out on a bad foot for Asia. She had finally put the miscarriage behind her and, was looking forward to finishing up her studies and graduating.
That was until she spotted him. Remember
him
? That wonderful blond stalker that she had from her old dorms. He had finally found her!
Asia sighed. This time he he did become a little to creepy she'd let Tommy beat him up like he had wanted to when he had first started following Asia around.
Things between Tommy and Asia were stronger than ever. And the intimacy had returned to their relationship as well. But this time Asia was smart, she didn't want a repeat performance of the previous year. She was almost finished with college, she didn't need to get stuck with a baby.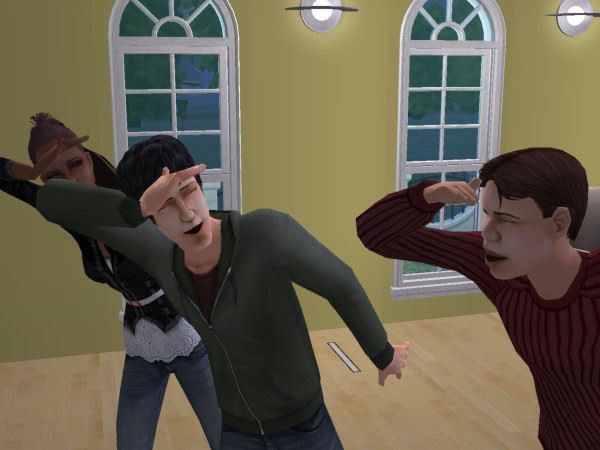 New comers had also moved in, Brad and Bret Patrelli as well as Ariel and Bell Burrego. Asia finally had a new dance partner in Brad. He enjoyed dancing as much as she did.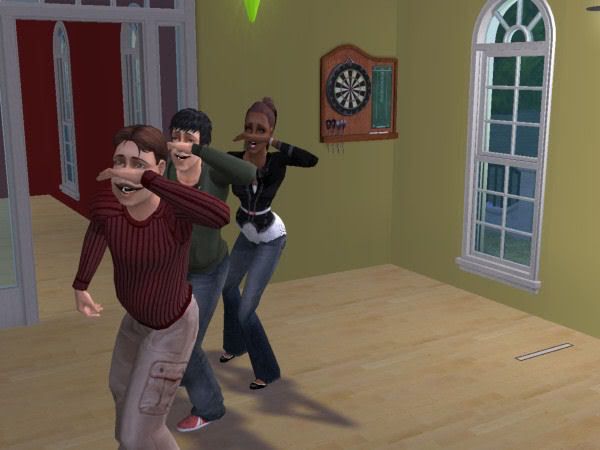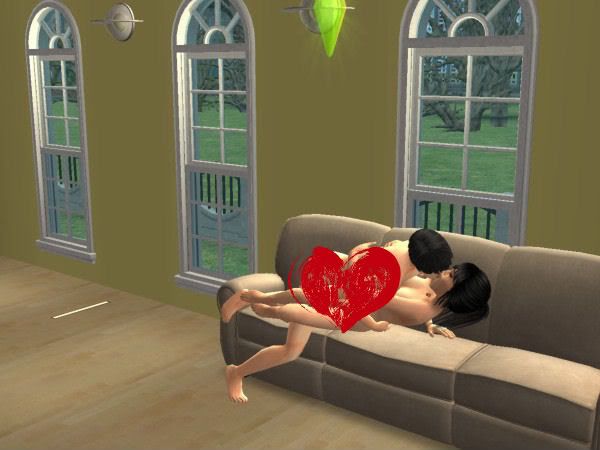 While others enjoyed the nice comfy couch in the den. That poor sofa, it's seem more action that Sharla Ottamas. Okay, almost as much action. But you get the picture.
And Bell's still making out with other people's boyfriends. This time it's Newton Novak. He's been smitten with her from the moment she moved into the door. Couldn't keep his eyes off of her. And once he knew that she was interested in him, he wasted no time in getting to know her better. Forgetting all about his first love Melissa. Yeah, looks like he's replaced her with Bell.
He found that he couldn't help himself, he had to declare his love for the raven haired beauty. Bell giggled. She thought it was romantic in a cheesy kind of way. How professed their love in a hot tub anyway?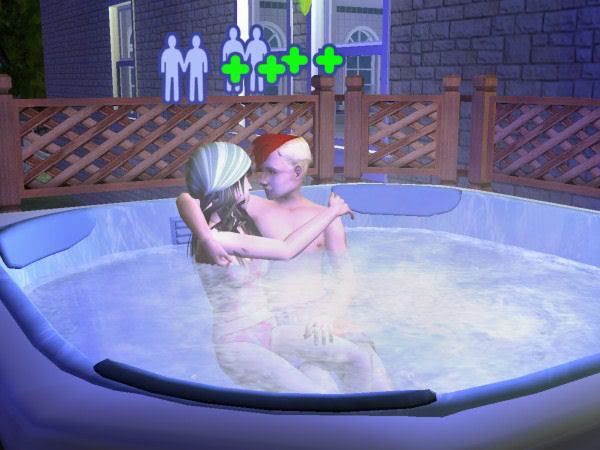 That didn't stop what happened next. Neither felt they were moving to fast. The only draw back, Melissa. Bell told Newton that he would have to do something about that girl. It wasn't nice to string her along. Newton shook his head in agreement. He had more important things on his mind.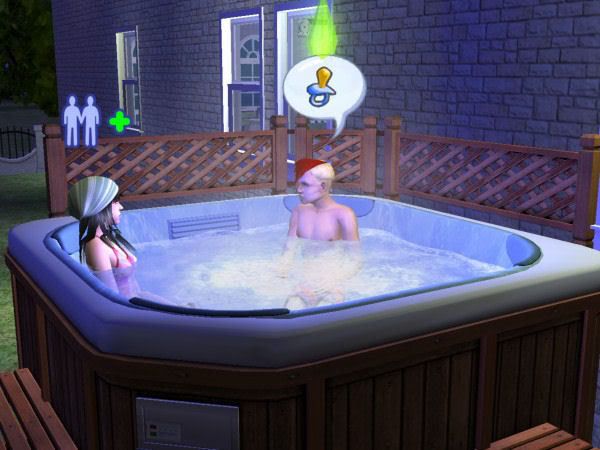 Like what their children would look like.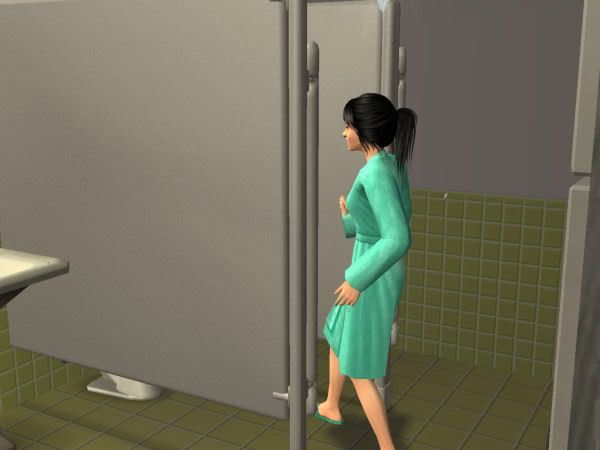 Ariel work up one morning not feeling herself. Just what she needed so close to the end of the school year and she gets the flu. She wouldn't let some little thing like the flu ruin her studies. She would just have to ignore it and push onward.
Bell's budding love like was just what the doctor ordered. Asia really was interested in hear about Newton and Bell, but she had a oral presentation to deliver in class. And Asia hated public speaking, even if it were for a grade.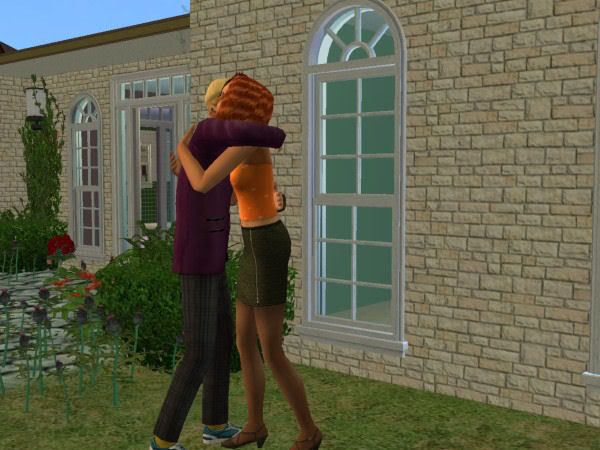 Poor Melissa. She had no idea what was waiting for her when Newton called and invited her over. He met her outside and gave her a warm hug. He then pulled away from her, looking her straight in the eyes. He told her that he needed to speak with her.
Melissa couldn't help but wonder if this was it. Was he finally going to pop the question.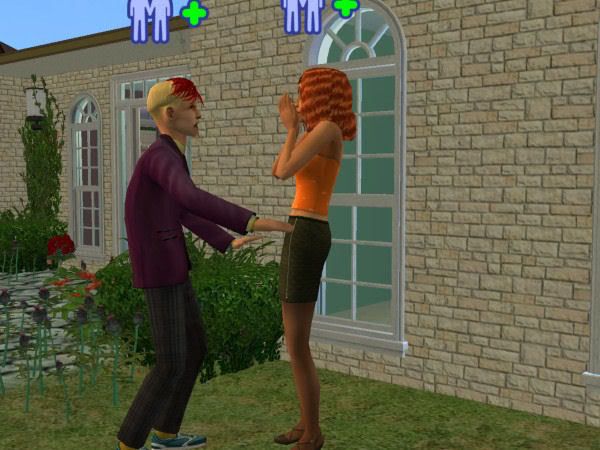 Well, she was in shock non the less. He was breaking up with her! How could he? Melissa was devastated.
Newton on the other hand was surprised at how easy the breakup went. He thought he'd feel a bit sadden by it. But to be honest he wasn't. He explained to her that it wasn't her, and it wasn't him. They just didn't have chemistry, and it wasn't right leading her on with the assumption that there would be more to their relationship.
All that was find and dandy but what it all translated to for Melissa was "other woman." And she was right. She had asked him, and Newton was honest. He had met someone who was more his equal. Melissa wished that she hadn't asked, but she needed to know.
Hurt and deject the redhead turned and walked away.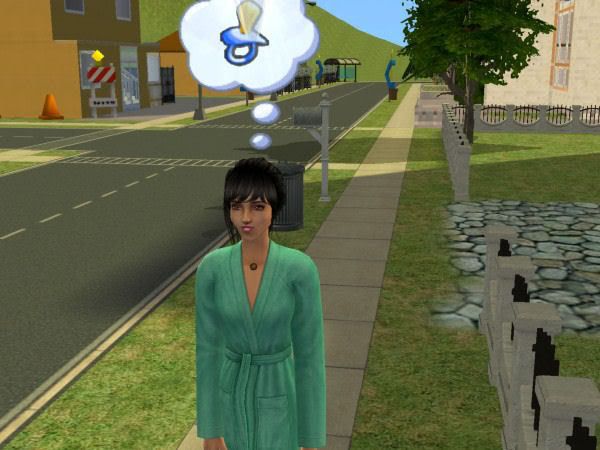 Ariel over heard most of the brake up conversation but really couldn't care. She had other things on her mind. Like how she wasn't suffering from the flu but she could be pregnant. Man, she knew woohooing on that couch was a really bad idea. She was so reoccupied with the idea of becoming a mother that she forgot to change for classes.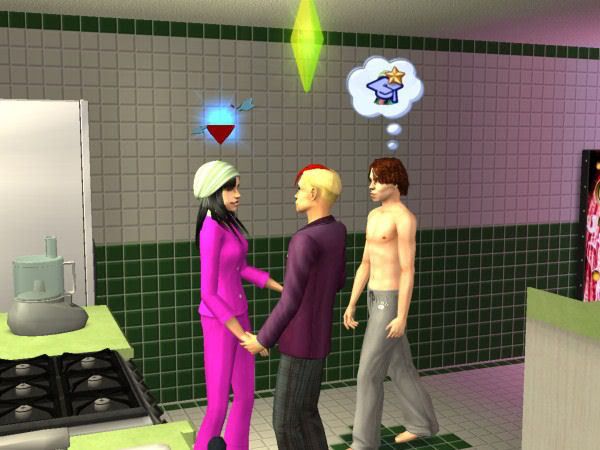 Newton raced into the cafeteria and told Bell the good news. She wasn't sure if it was the fact that he dumped his ex for her, or maybe it was the sparkle in his eye. But Bell know for a fact that she was in love with Newton Novak. Things couldn't get any better.
______________________________
Sophomore Year Final Grades:
Eva Brooks: Biology Major - B+ GPA 3.7
Ariel Burrego: Political Science Major - B GPA 3.6
Bell Burrego: Literature Major - A GPA 3.7
Brad Patrelli: Economics Major - B+ GPA 3.6
Bret Patrelli: Art Major - A- GPA 3.5
Tina Traveller: History Major - A- GPA 3.9
Bart Ottamas: History Major: B GPA 3.5
_______________________________
Senior Year Final Grades and Graduating Sims:
Asia Reed: History Major B+ GPA 3.8
Dean's List
Graduated Cum Laude

Tommy Ottamas: Mathematics Major B+ GPA 3.7
Dean's List
Graduated Cum Laude

Newton Novak: Undeclared- A+ GPA 4.0
Dean's List
Graduated Summa Cum Laude
Outtakes:
Just have one for you today. Made me giggle. I think the exterminator forgot to kill one bug.