November, Fall 2013, Thomas Brooks is 57, Tyra is 54, Marcus and Oliver are both 16. (Viggo Kim, Edward Christian, Ginger Newson and, Brooke Sanchez are 15, Sunni Ramaswami is 16, Bri Shahan is 14, Lana Corbin and Orlando Iforgothislastname are both 17.)
Part One
.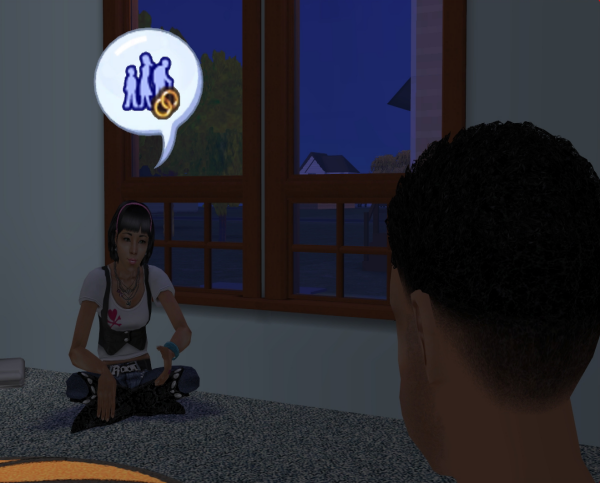 Bri only came to see Marcus, but he's locked in his room, away from everyone. She did come her for him, so she knocks and enters the room.
"You shouldn't be in here. You'll get my cold." He tells her.
She shrugs and plops down on the floor. He joins her.
"There's nothing going on out there. A few fights, some drinking, and I pretty sure some one's going to get knocked up before the night is through."
They laugh. She looks around his room.
"I'm in your bed room. I'm actually in a guys room. My mom wouldn't have a problem with it, but my dad would flip."
"But we're not doing anything."
"I know. He's so over protective though. You know, since he knocked my mom up at university."
They spend the rest of the night locked in Marcus' room talking.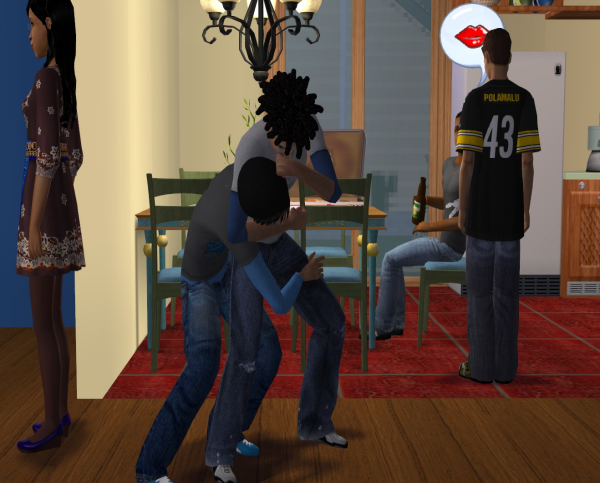 "Noggies!" Oliver shouts before locking Viggo's head under his arm and rubbing the top of his skull furiously. Viggo tries to break free, but he can't, he starts to laugh.
"Dude, she actually let you kiss her?" Eddie says to Orlando. He can't believe Lana let a guy kiss her. She seems so uptight. The kind of girl with a huge stick stuck up her ass.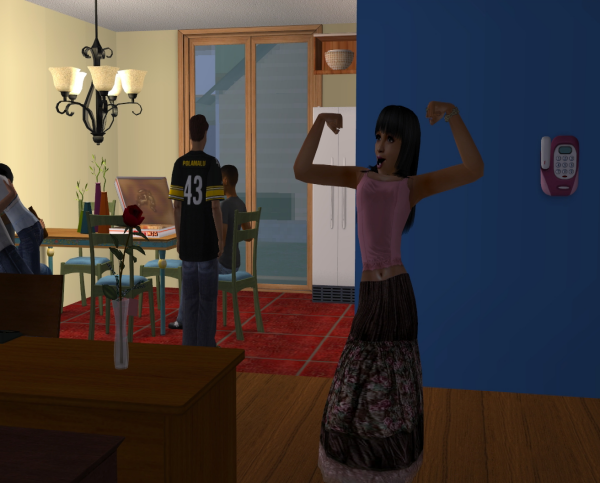 And apparently drinking lots and lots of beer will help you shed the pounds. It works for Sarah! (Yeah, I have no idea how this happened!)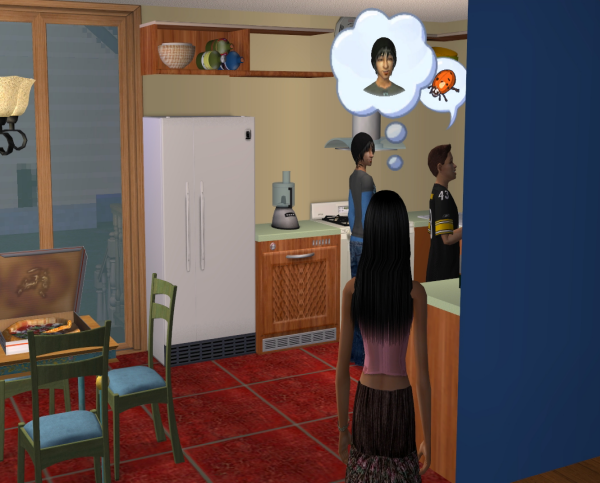 She's going to do it. She said that she would, so she has to. She finds Viggo in the kitchen. She takes deep, steadying breaths as she walks towards him. The worst that can happen is he'll reject her... in front of all these kids. But she would eventually get over it.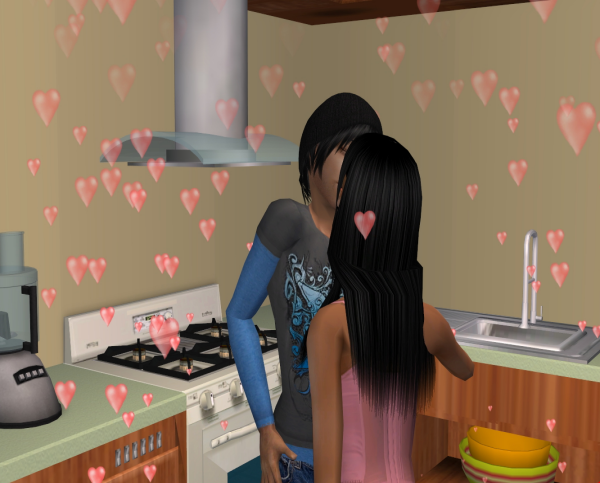 She taps him on the shoulder. He turns around, and she pounces. Before he realizes it Sarah has him in a lip lock. It' takes Viggo by surprise. Surprise gives way and he deepens the kiss.
Sarah smiles to herself. She believed this would go completely different. Maybe she should have kissed him a long time ago. Or maybe things were finally looking up for her.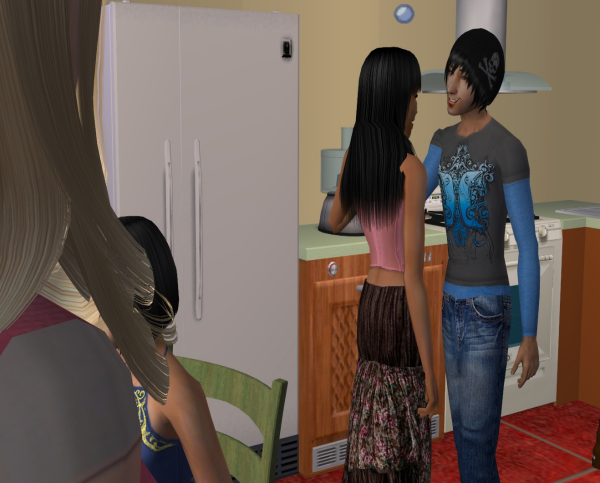 The kiss ends and they stand there, staring at each other. It's silly and stupid, and a idiotic thing to do. He knows that. He should have pushed her away. But it was nice if Viggo's being truthful to himself. To have a warm body pressed up against him, and soft lips touching his.
Cameron hasn't been like this since Jayden was born. Hell, they haven't even had sex again. So stealing a small kiss from Sarah, isn't such a big deal.
Brooke sees the whole thing. Why is it that she's the only one phased by this? of course Suni is no where to be found, and her only other friend is locked in a bedroom with Marcus.
She debated on calling Cameron, but even she calls her, what can she do? She can't rush over here and stop things!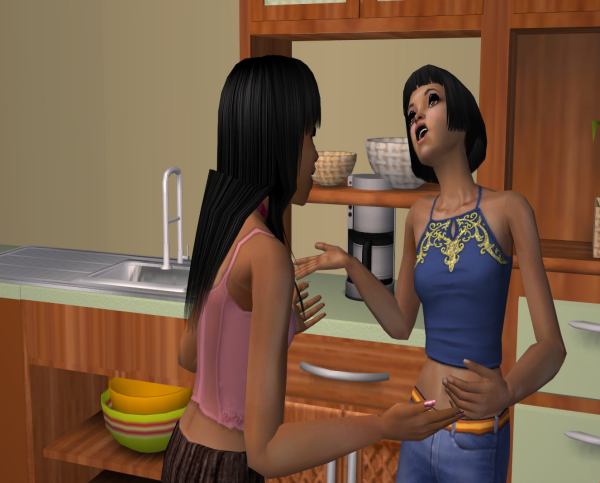 Sarah is bursting at the seems with excitement. She can't believe it actually happened as she tells Ginger. Her lips are still warm from his. Her knees feel like Jello.
She's floating on cloud nine. It couldn't get any better than this. Cameron getting knocked up was the best that has happened to Sarah!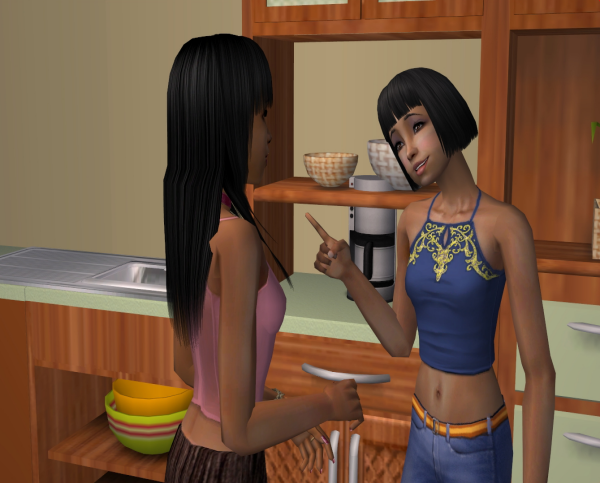 "Now that you've got your foot in the door, what are you going to do about it?" Ginger questions.
Sarah's smile fades. What is she going to do? Well, she never actually thought that far ahead. Her whole focus was to get Viggo to like her, to kiss her. Hopefully date her.
Now that she has his attention what else is there to do?
Ginger sighs, pulling her friend close to her to whisper in her ear.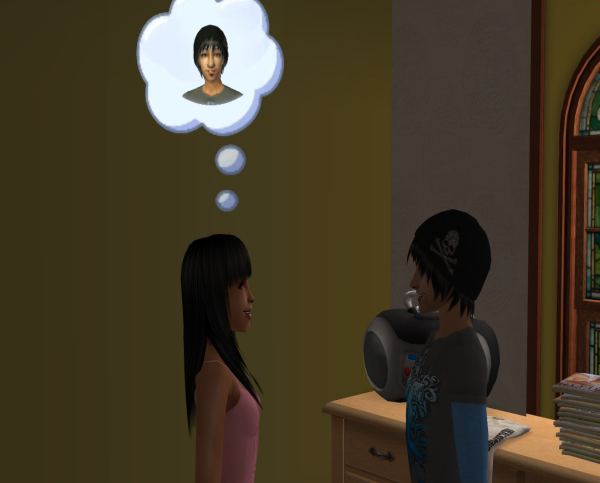 Ginger is such an awesome friend. What would Sarah do without her? She's always giving her the best advice, and this time it's no different.
Sarah takes Viggo's hand and leads him into Oliver's room.
"What are we doing in here?"
"Nothing," she says, smiling up at him. "Just talking. It's to nosy out there and, too many people in our business."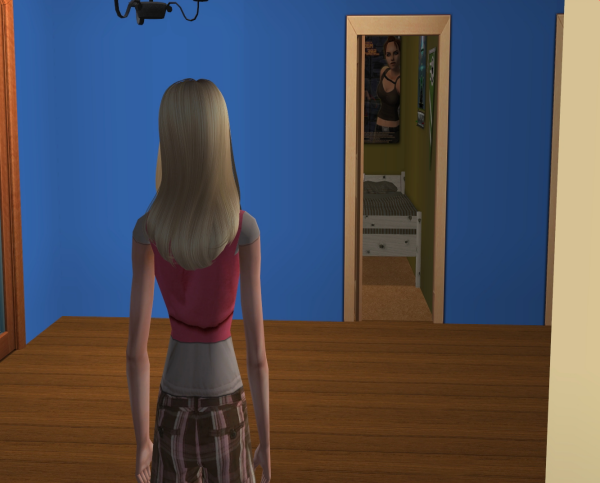 Brooke watches as the enter the room, her stomach getting a sinking feeling. The door is still open, so that's a good sign.... right?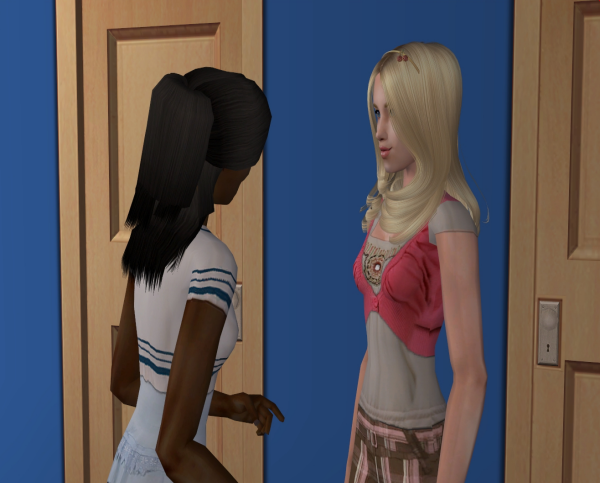 She tracks down Suni and drags her over to the door. It's closed now and those knots are back in her stomach.
"Do you hear anything?"
Suni glares at her. "Does it look like I can hear anything. Go put your ear on the door!"
"No, I'm not putting my ear there, you do."
Suni sighs, "We'll both listen."
She turns grabbing Brooke. They place their ears on the door, hoping to hear something.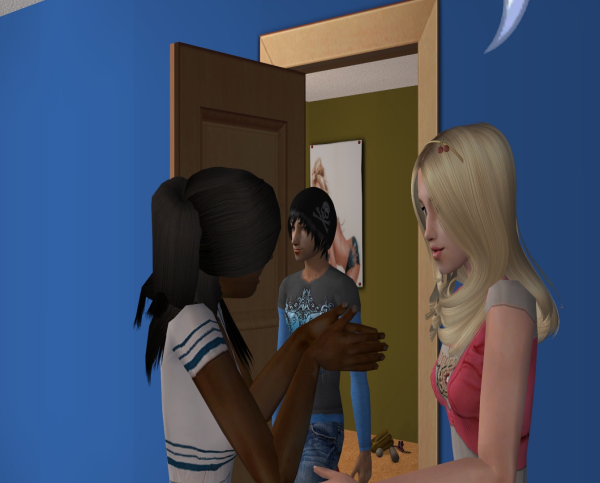 They stand by the door though, waiting for the two to come out. Viggo is the first to exit.
"He was probably all up in it. You are such an ass, Viggo!" Suni comment is directed at him but spoken to Brooke.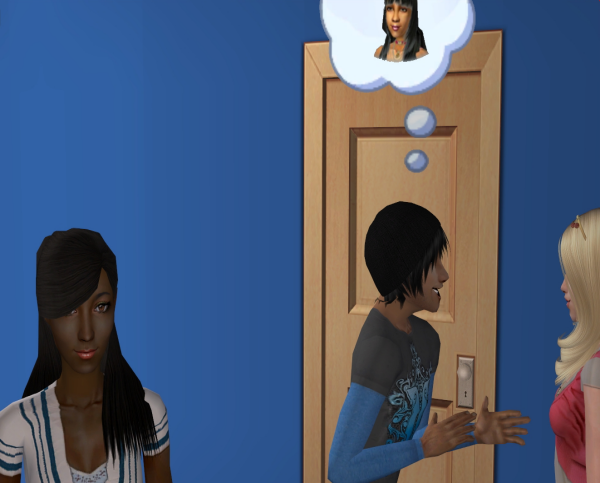 "What? Nothing happened."
Suni only rolls her eyes. She's not listening and not buying it either.
He turns to Brooke. "Seriously, you have to believe me. Nothing happened with Sarah. We were talking."
"Yeah, with the door shut." Suni says.
"Don't either of you go and tell Cameron, because nothing happened. Stay out of my business.!"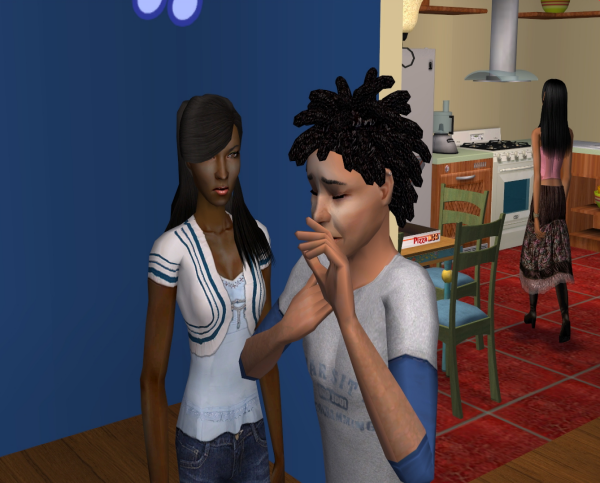 Suni is pissed. She's not stupid. Brooke... she's her friend so she's not going to talk about her, but she's not stupid. She knows something happened. She tells Oliver. He fakes surprise. Hell, if he wasn't with Suni he would try to get with Sarah, she's hot. Of course he doesn't say this to Suni.
"Man, don't sweat it. Nothing happened. Besides, Viggo wouldn't do that to Cameron. They got a kid."
She rolls her eyes at him. And her suspicion is only thickened when Sarah finally come out of the room as the party is ending. Why did she hide out there for over an hour.
She was getting to the bottom of this if it killed her.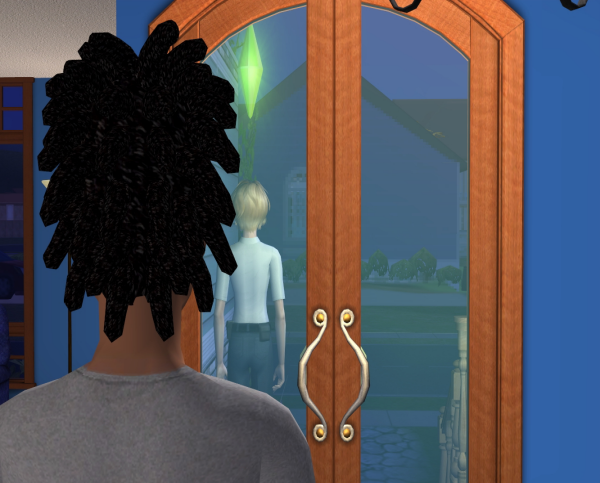 They are cleaning up. Marcus has even come out of his room to help. They don't want to get caught by their parents, and their mom will flip out seeing how messy things are.
The door bell rings interrupting them. Oliver goes to answer it. Officer Novak is standing there. He curses under his breath. Someone must have called the station reporting a party and she was here to break it up. He only hopes that he can convince her not to tell his parents what went down tonight.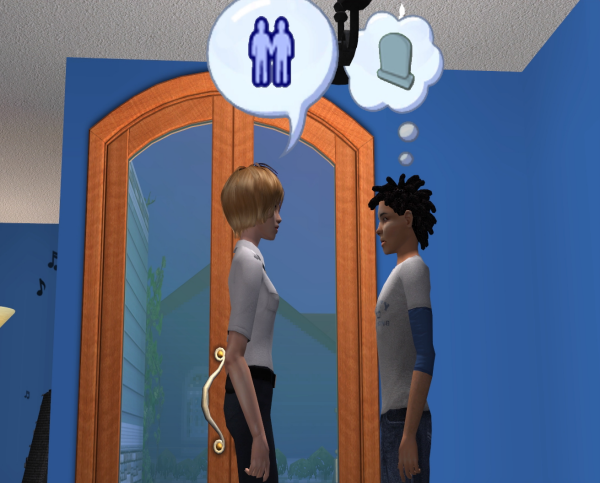 She hates this. It's the only part of the job that really takes a toll on a woman. There's no easy way to say it but she does.
There was an accident. A drunk driver crossed the line and hit Tyra and Thomas head on. There was nothing that EMT's could do. They were dead by the time rescue reached them.
Oliver goes numb.
This can't be happening. Just hours ago he wished them both a good night and congratulated his mom on her promotion, and now... now they were gone.
He manages to find his voice and asks about the drunk driver. Tosha lowers her head for a moment.
"He made it."
Oliver lets out a humorless laugh, of course he made it. The drunks always do.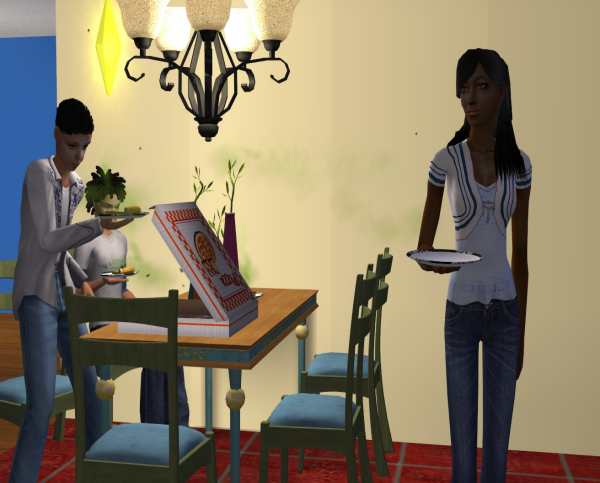 Everyone is quiet. Marcus and Oliver may be twins but it's rare when they do something alike. Tonight, it's like their brains have shut down and they both sit down to eat pizza at the same time.
Suni doesn't know what to do, what to say. She's never lost a loved one. What do you tell someone when they lose their parents? Instead she continues to lean up.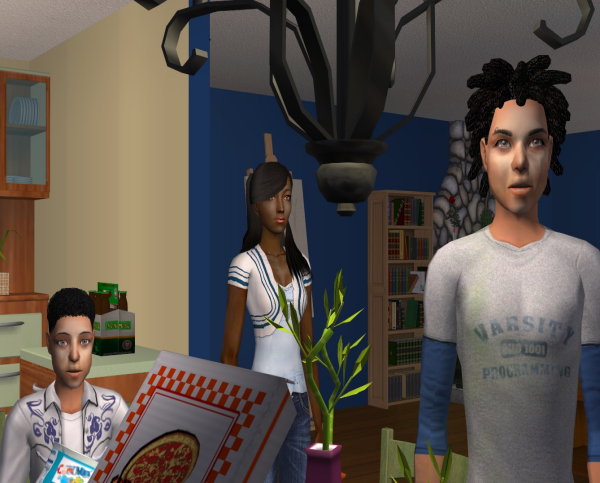 Her dad is outside honking his horn. She has to leave.
"I love you." She tells Oliver.
He just nods his head. She understands. Also she can do is be there when he needs her, but right now she had to leave.
***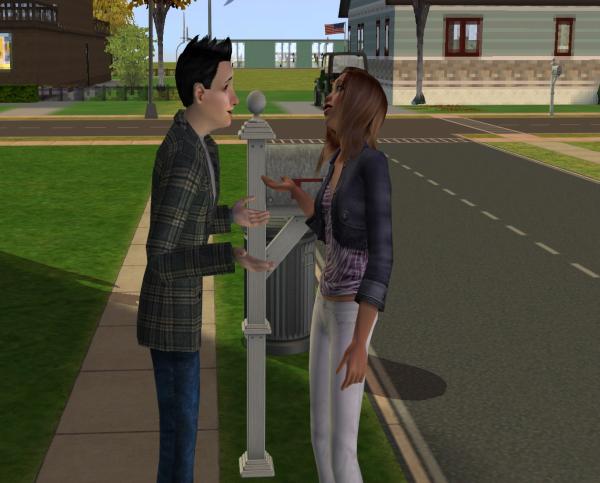 Eva and Davon finally make their way over. They have a few boxes and Davon will finish moving the rest of their stuff later in the day.
She can't believe that her parents are gone. She looks up at the house. They moved here when she still little, she was ten. She looks towards the park strip, their car isn't there. It won't be there anymore. It was totalled.
She starts to cry.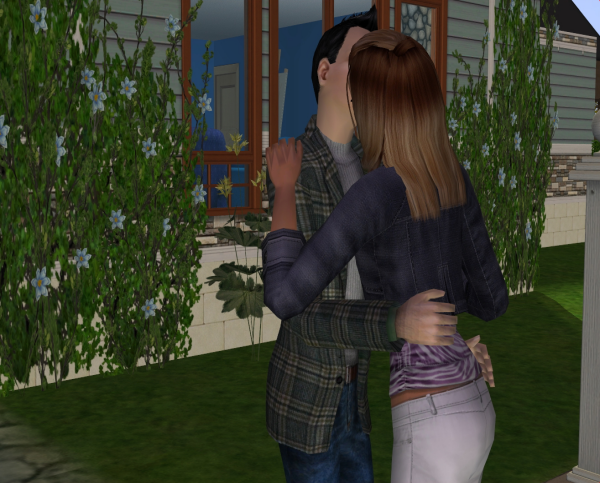 He kisses her, whipping at her tears, giving her the courage that she needs. Eva has to be strong for the boys. They'll need her, and even if she doesn't want to admit it. She's all they've got.
***

This happened right after Marcus and Oliver found out that their parents had died. Suni rolls a flirt want for AJ. ROFL Seriously, why now? I have no idea. Of course it isn't going to happen.
As for Tyra and Thomas. They glitched so badly it wasn't funny, and they started to mess up the whole lot. First the gaged into seniors and I have no idea how that happened, I mean, I have no idea how they lost all those days on their lives. So I aged them back down to adults. After that if I had them click on each other they only had the flirt option, and they would jump out of all actions with anyone or anything. I exited the lot without saving, but that didn't work. I sent them to a community lot, but that didn't work. I had no idea how to fix it. So I killed them.
I felt so bad. Ugh, and the boys. They are devastated. Soon after they died Oliver rolled the want to have a new member join the family. And he's been thinking about marriage a lot, and get this, he wants to be friends with Priya. So I think he might be telling me that he wants to marry Suni once they graduate high school. But don't hate me too much with this update, a lot happened, and a lot more has been set in motion due to this night. So bare with me.