September, Fall 2013, Staff: Principal Peng T'ang is 37, Teachers, Justin Kim is 32, Betty Boone (place holder NPC). Students: Kobi Corbin and Anan Reed are both 12, Bri Shahan is 14, Edward Christian, Viggo Kim and, Brooke Sanchez are all 15, Marcus and Oliver Brooks, Sarah Corbin, Suni Ramaswami and, Cameron Smith are all 16, Lana Corbin is 17. For full list of students click
here
. Last
update
.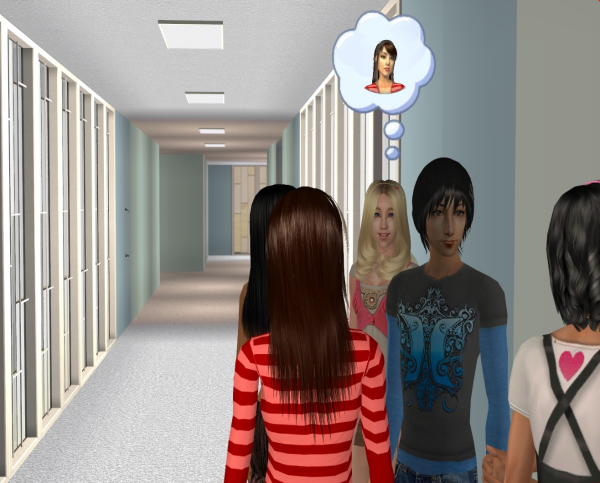 Everyone gathers in the main hall of the new school. Teachers and students alike, are very impressed with the new building. It's a far cry from the old high school. The older building was in need of repair, a new paint job, larger cafeteria, just to name a few of it's problems. But the new school, it's so bright and airy, plenty of space and just down right awesome.
Brooke spots Cameron and she tries to get her attention, but the girl refuses to notice her. She's been calling for the past week or so trying to speak with Cameron, but she won't return her phone calls.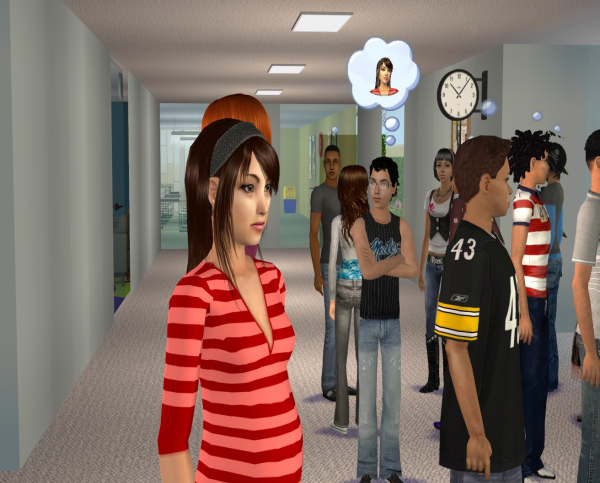 Brooke is the last thing on Cameron's mind. She didn't even want to come to school today... or at least until the baby is born. She feels like this huge whale trying to waddle around the halls. Not to mention, she's totally miserable from the heat and just being pregnant. And it feels like all eyes are on her like she's some sideshow freak.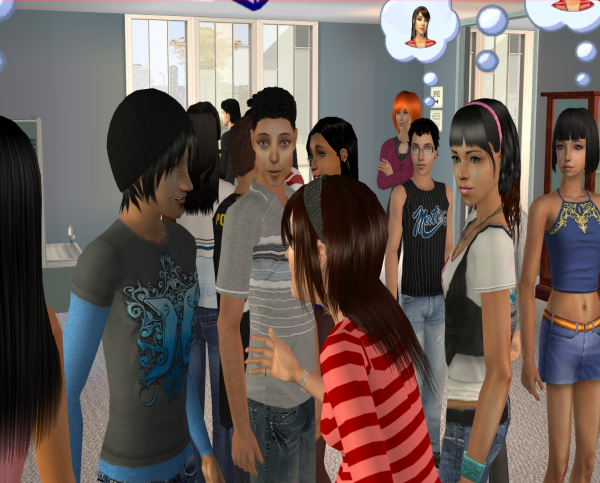 Viggo tells her that she's over reacting, that no one is staring at her. But Cameron doesn't buy it. She knows people are looking at her, she can even hear the whispers. She's ready to go home and the school day hasn't even started yet.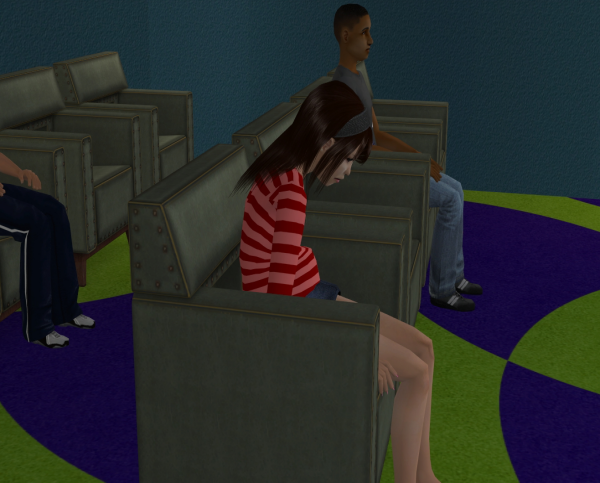 Everyone makes there way into the auditorium and Cameron plops down in one of the chairs. Ugh, even in flip flops her ankles still manage to swell. She cannot wait until she pops this baby out. She only has two weeks to go and they can't go by fast enough.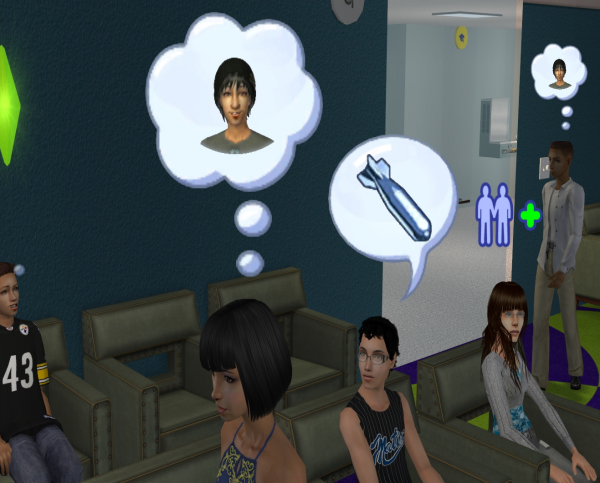 Kobi is really liking high school. He was nervous at first listening to the stories that Lana told him, but after getting here he sees that it really isn't so bad. Plus, the older girls here are hot. Especially Ginger. She's the bomb.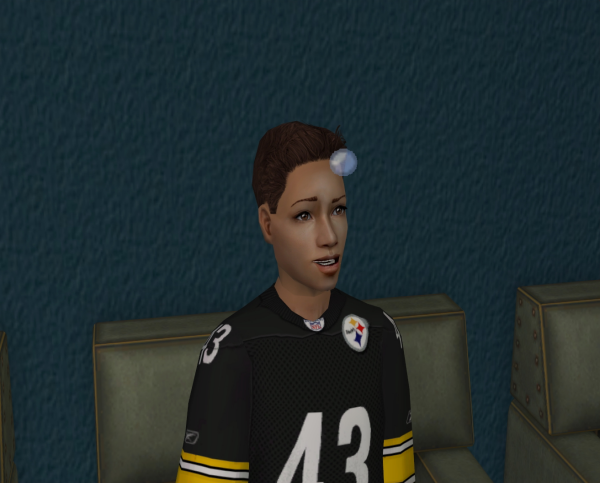 Orlando is a bit confused. He thought they had made headway over the summer. Lana even
kissed
him, they were holding hands, cuddling and spending lots of time with each other. But soon as she walked into the school, other than giving him a quick hello, she hasn't paid him any attention. She's not even sitting with him now.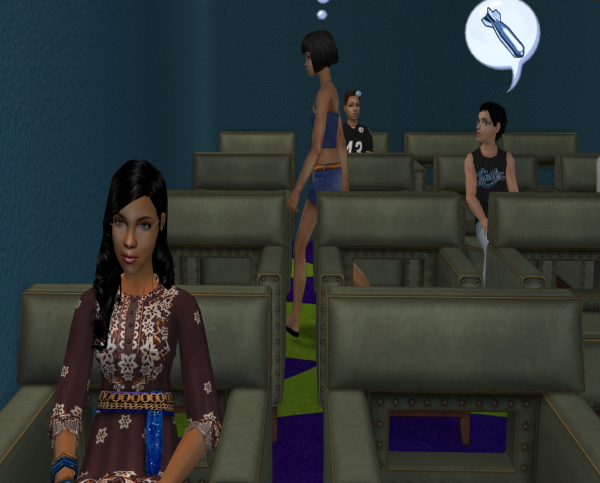 But to her credit, Lana doesn't like to mix school with personal life. At school she's here to get an education, to better herself. She doesn't need Orlando distracting her. Kissing and holding hands is something reserved for home life.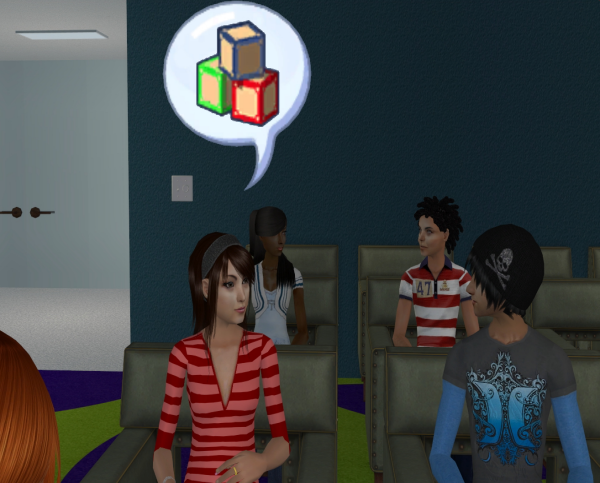 Viggo asks Cameron how she's feeling and of course she has a laundry list of complaints! Nothing new there, he thinks.
He feels her pain. He may not be going through the physical stuff, but having to hear her go on and on about how miserable it is being pregnant makes him feel just as bad. He really can't wait until this baby is here.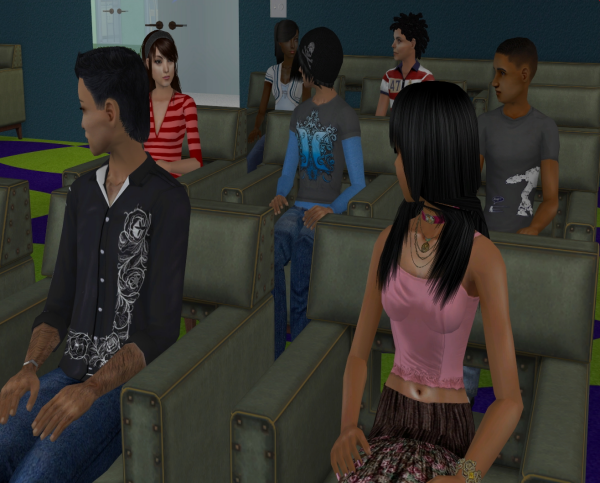 Of course Sarah sits as close as she possibly can to Viggo. She tries to over hear their conversation, but it's not interesting since it's about pregnancy and stupid stuff. She rolls her eyes and falls back into her chair. He hadn't even noticed her hot new outfit, or her sleek new hairstyle.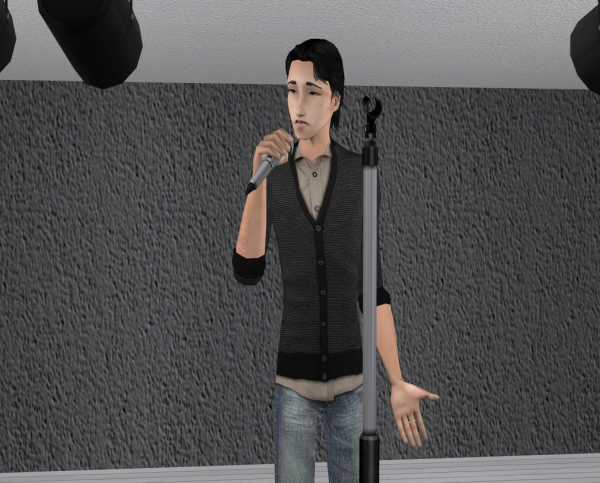 After everyone is settled down Peng takes the mic, greeting both the older students and the new ones, and welcoming everyone to the new school. He also stresses that fact that the school is new, and to keep it looking that way students should take pride in keeping the building clean.
Everyone groans.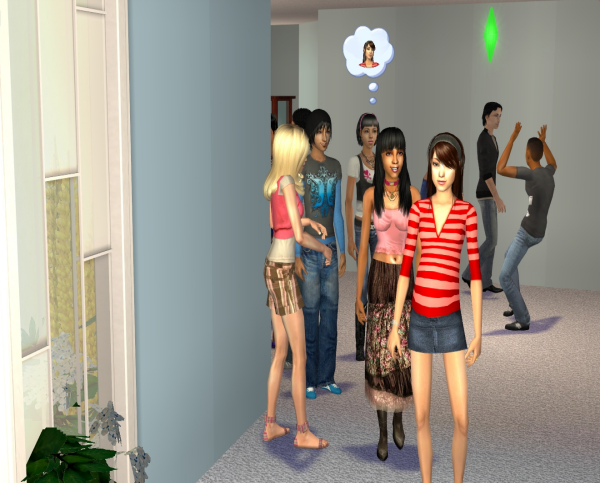 The bell for first period rings and everyone files out into the hallway, heading to the other side of the building for classes.
Sarah walks behind Cameron giggling to herself. She is so happy that she's not the one looking like she swallowed a beach ball. No, she gets to be the hot chick and all the guys want to be with.
Viggo just wishes that Cameron and Sarah could be friends. They would get along great if they only got to know one another.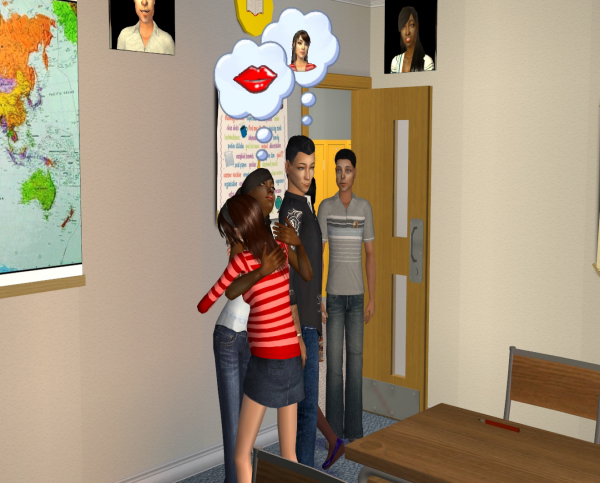 Suni hugs Cameron as she mutters into her shoulder about how hard it is being the only pregnant girl in school. How she totally heard Sarah laughing at her. Suni rolls her eyes. If it weren't for the fact that they are in school she would so punch the girl in the face. She can't stand her. And to make matters worse, she's still trying to get with Viggo.
Their teacher, Justin Kim, stands by the door greeting his students. He watches the two girls. It's a shame that Cameron is pregnant, but at least his little brother has good taste in women.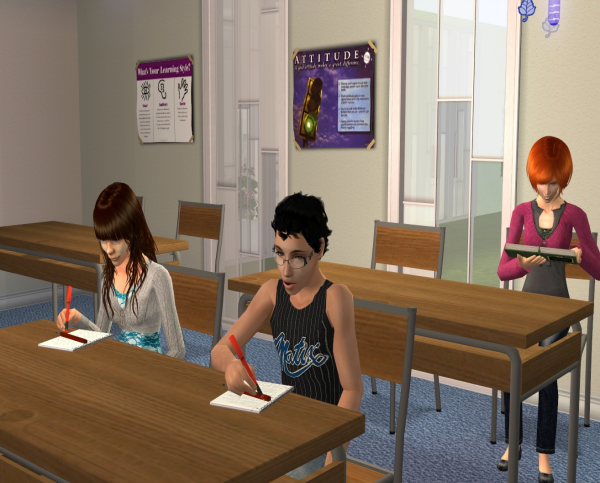 Anan and Kobi have their classroom all to themselves this year. They are the only new students to start secondary this year. Betty, their teacher is relieved. She doesn't think she could handle a huge crowed like the other teachers.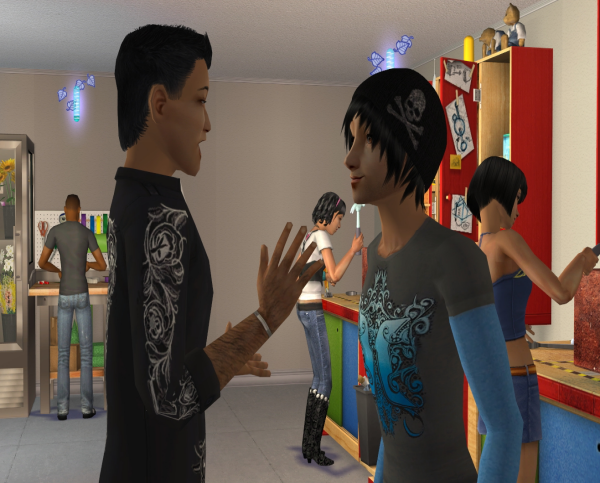 Justin and Viggo spend shop class talking. Justin isn't playing favorites just because his brother is in his class... not really, and besides. Viggo isn't about to make flowers, the toy benches are all taken up and flower arranging is something that he is not going to do. He'll mess with Edward about that later.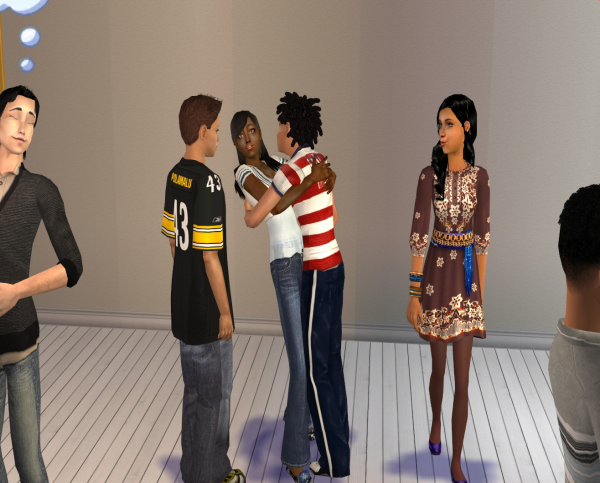 Suni really hates it when people stare at her, just because she and Oliver partake in some PDA doesn't give others the right to watch! But Orlando really isn't paying them any mind, his gaze is on Lana. She won't even toss him a bone other than a small smile. He's going to have to have a talk with her.
Peng is acting teacher as well as full time principal. They are short handed by two teachers, so until they get the positions filled he'll be pulling double duty.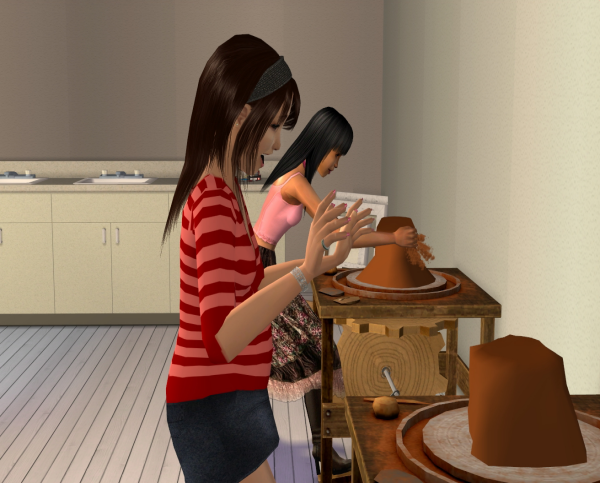 It's bad enough that they are in the same class but to be stuck next to Sarah in art class is torture. But Cameron makes the best of it by ignoring her and trying to make a vase, though she has no idea where to start.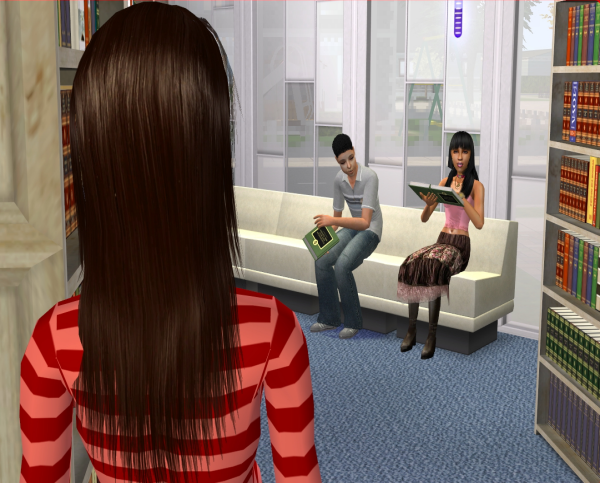 Even during her free period she still manages to run into Sarah. If Cameron wasn't so sure, she would believe the girl was stalking her.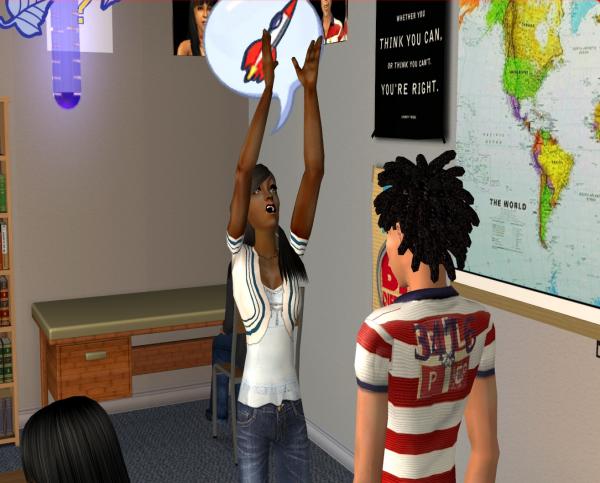 Suni tells Oliver about this horrible nightmare she had the other night. It was about him, he had joined the service and they deployed him some place. And there was this huge war and a rocket that hit his base, blowing him up. She had woken up screaming. This was another reason why he couldn't go into the armed forces. He was going to get blown up. And then where would that leave her? Alone. With no man.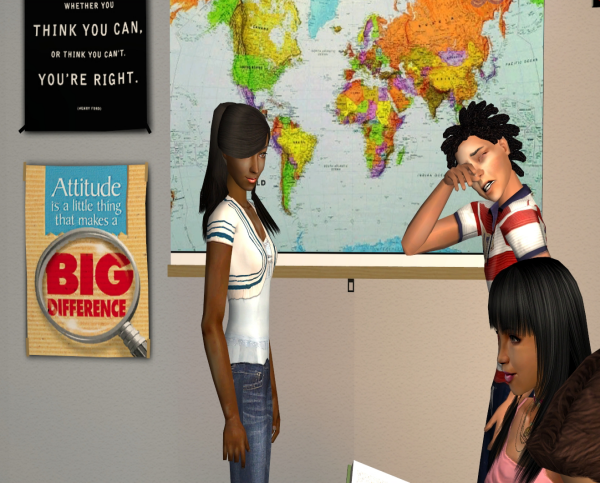 Oliver goes all emo over the nightmare. She didn't have to go there and tell him that he not only died in her dream but got blown up. That was a bit harsh.
Suni glances at Sarah and wishes that a bomb would come and blow her up. That causes her to laugh out loud.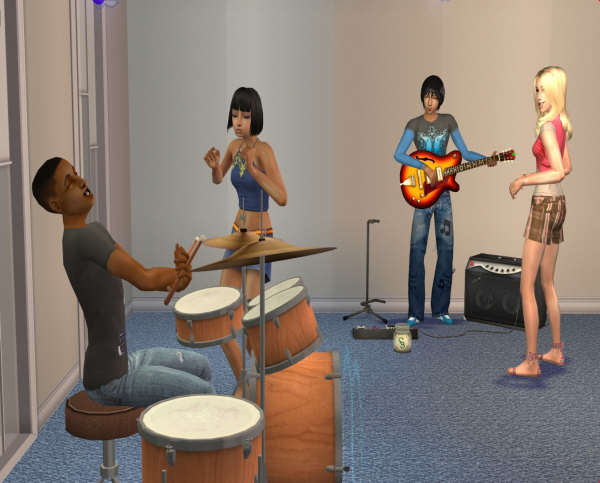 Music is Viggo and Eddie's favorite class. They get to rock out on the dumbs and guitar. Who knows, maybe they'll start a band or something.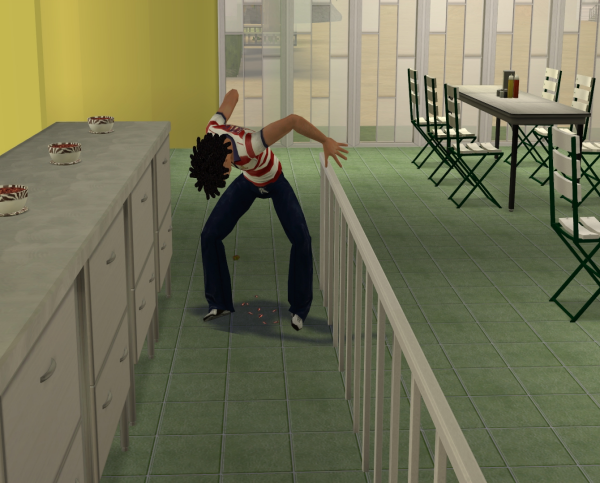 Oliver is the first to head over for lunch, and to his shock he finds some roaches. He's really starting to second guess if he is that hungry.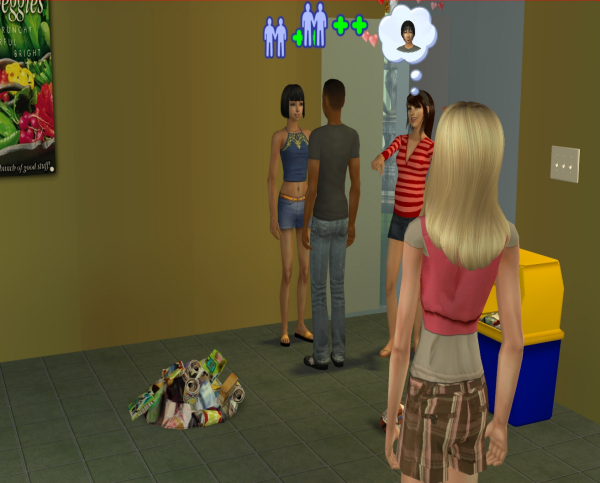 The cause for the bugs is clear. Some students haven't been taking pride in their new school and just dumping trash on the ground. Brooke on the other hand is sickened by the other roach that stole her boyfriend.
She wants to scratch Ginger's eyes out. And to make matters worse, she found out that the two of them have been sleeping together since after Edward's dad died. All this time he was pressuring Brooke to sleep with him, and all the while he was sleeping with Ginger.
The slut!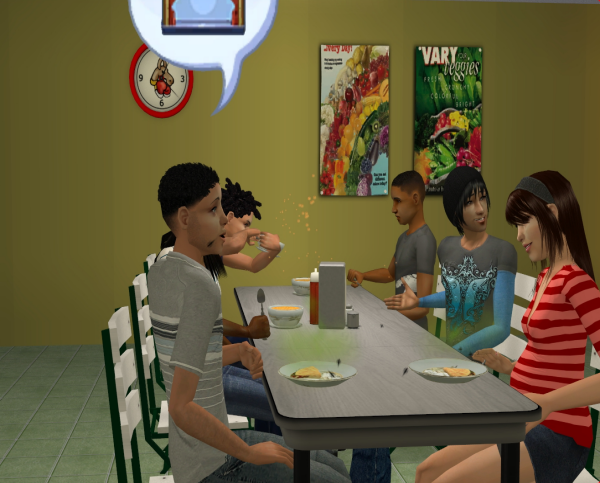 Oliver changes his mind about eating lunch and gobbles down his food. Marcus on the other hand might go raid the vending machines, he's pretty sure that his lunch has green stuff growing from it. Cameron agrees and pushes her plate away. Viggo offers to get her something from the vending machine since she is eating for two.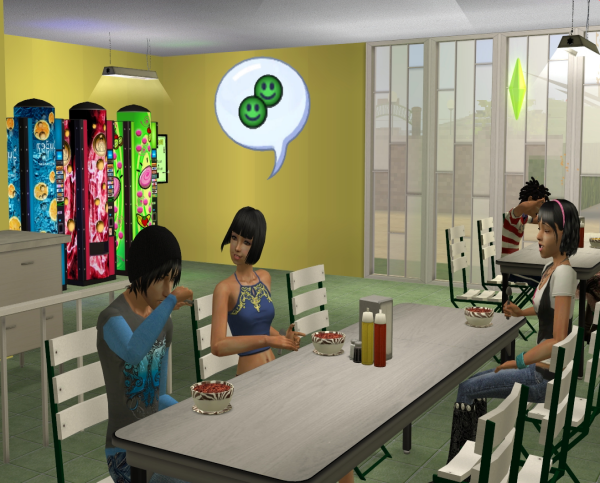 Ginger may be sleeping with Eddie but she keeps her options open, and she's had eyes for Viggo for a while now. Yeah, she knows Sarah has a thing for him, but she can have a thing for him as well. Even if it's only for thirty minutes.
She tells this to him, they can be friends with benefits. He almost chokes on his chili. Ever since he's hit puberty he's had girls throwing themselves at him, but never like this. It's kind of unnerving. Bri can't believe what she's hearing either. The nerve of some people.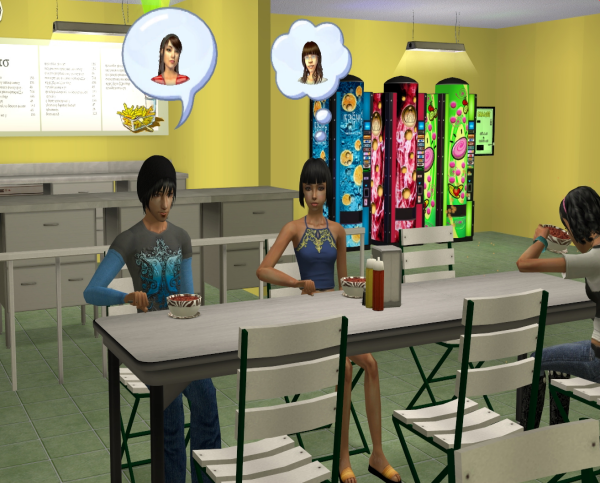 He tells her thanks for the offer but he has a girlfriend. Plus, she's totally with his best friend.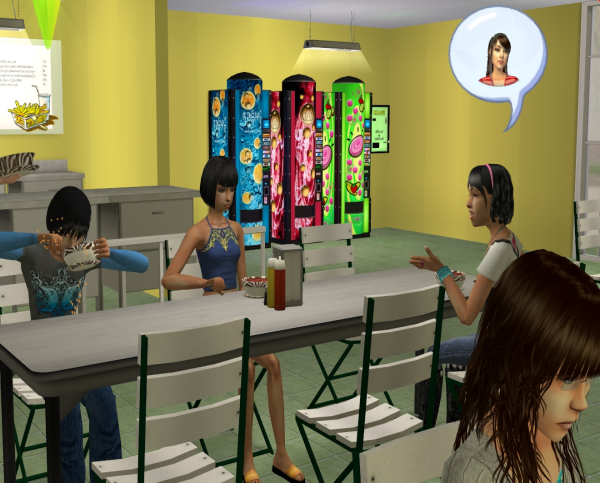 Bri chimes in as well, reminding Ginger that Cameron isn't but a few feet away and maybe she's like to explain to her why she's trying to hit on Viggo. Ginger is unfazed. Instead she gets up and moves to a different table.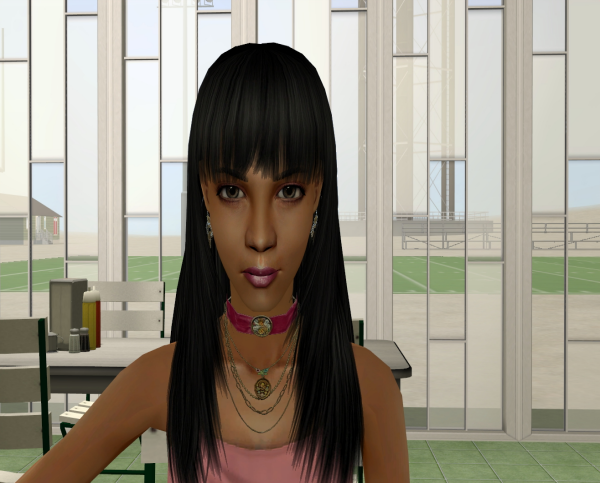 Ginger comes to sit with Sarah. Sarah doesn't greet her though. She's to busy brooding.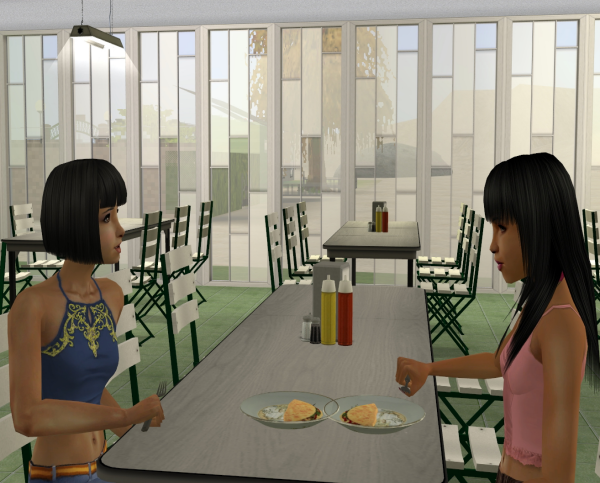 "What's your problem?" She asks.
Sarah sighs and tells her. Life sucks and is totally not fair. All she wants is Viggo Kim and she can't get him.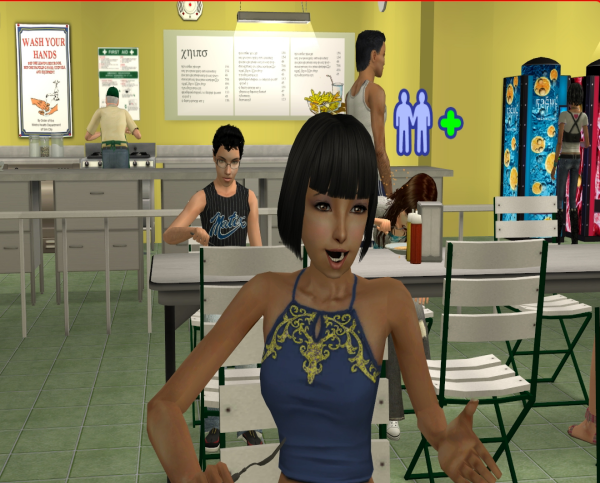 Ginger laughs, telling Sarah not to give up hope. Just look at her. She stuck in there and now she finally has Edward. It took a while but she finally go him to drop that little blonde and get with her. "Just count your cards, they'll line up soon."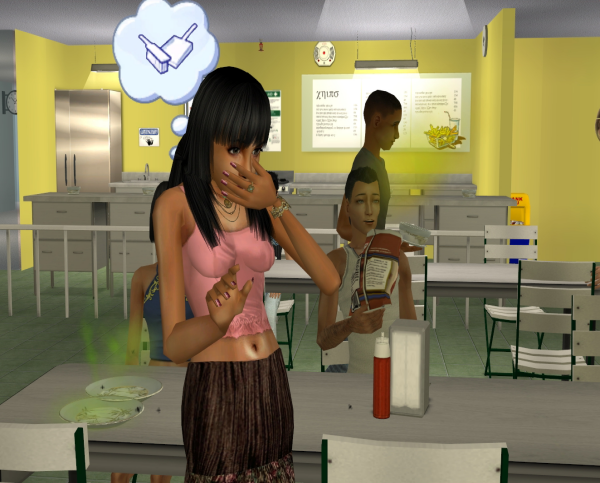 Maybe Sarah should stop feeling sorry for herself, she's eaten her way into the plus size category!
Cameron finally gives Brooke the time of day. Brooke doesn't waste anytime, she apologizes for all the bad stuff she had said to her last year. She should have been more understanding, they are friends after all. Cameron smiles and forgives her. It's good to have Brooke back on her side.
***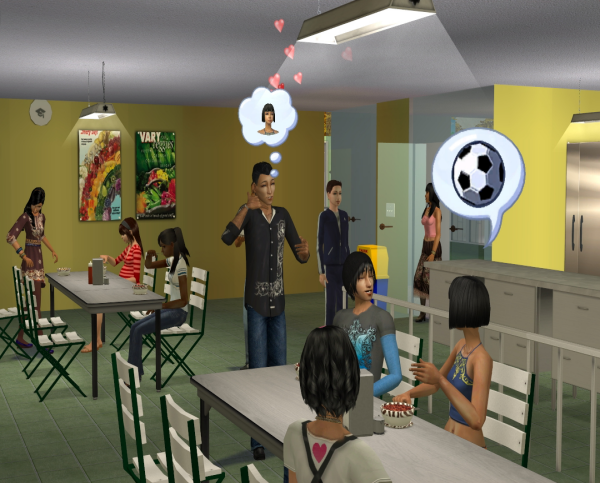 This cracked me up. Seems Justin has a thing for Ginger. Maybe she reminds him a little of Sharla.