June, Summer 2016, Peng T'ang 40, Li-Fen is 38, Ruiling and Roulang are both 11.5. Last Update.
Narrated by Peng T'ang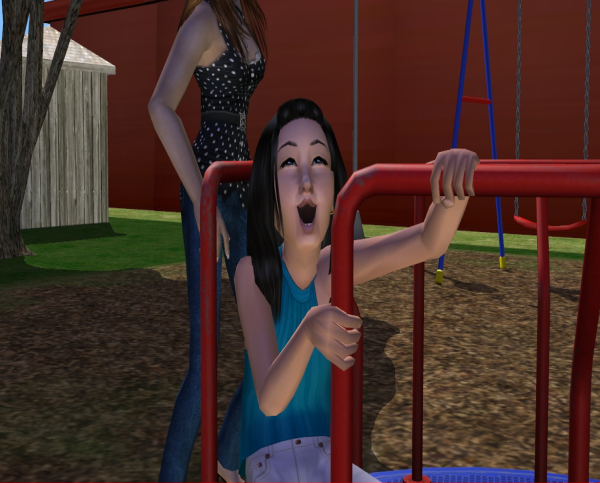 "I can honestly say that this summer break I was looking forward to one hundred percent. Not just with the goings on with Justin and Ginger. That's a mess contained within itself, and I'm just glad to be done with it.
But this is my final summer with the girls, well, as young girls. They will be turning twelve soon, and come fall they will be entering my school. S many changes have happened already, and before this huge chance comes I'm just glad for these few months of peace and relaxation. Not to mention time with my girls before they turn into hormonal balls of rage that me or their mother will no longer recognize."
"We've been spending a lot of time at the park downtown. Ruiling loves spending her time catching fish. Maybe when she gets older we'll take a trip up to the mountains and go on a fishing expedition.
Roulang on the other hand, would rather have her fun on the slid, marry-go-round, and monkey bars. I have a feeling that Roulang is going to be a handful as she becomes older."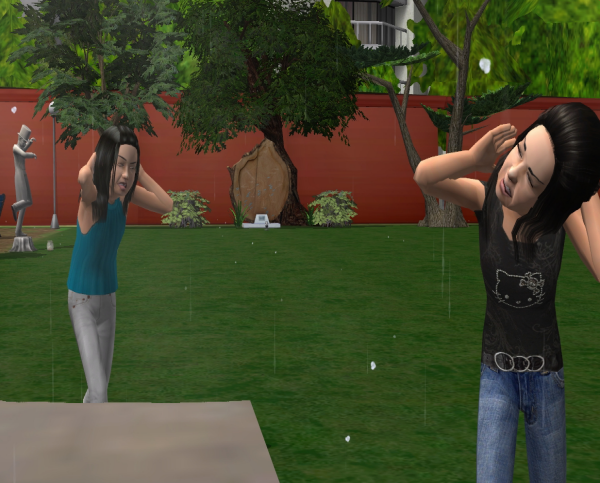 "But our final trip to the park was cut short by a surprise hail storm. One minute crystal clean skies, the next we're being pelted by medium sized balls of ice."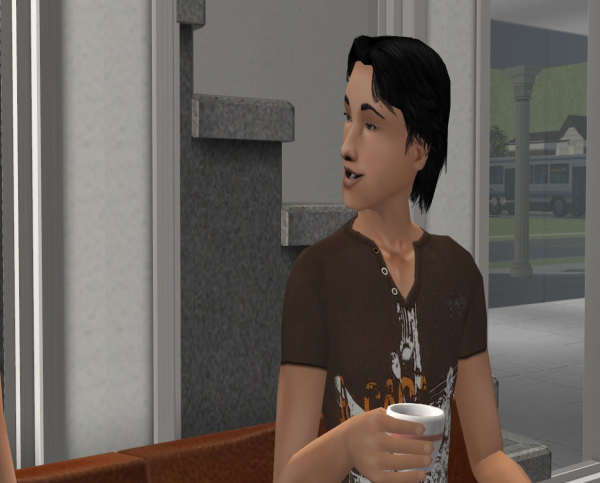 "Instead of heading home we decided to hang out at the mall. Li-Fen and I grabbed some coffee while the girls played upstairs in the arcade. That's when I expressed to her my sadness at our daughters growing up. And if there was a possibility of us having at least one more."
"She almost spit out her coffee, very surprised at my request. She couldn't fathom why I would want to start all over with a new baby when we are so close to being done with adolescent children.
I was a little dejected that she didn't think it was a good idea to try and have another baby. But I respect her for her honesty and truthfulness."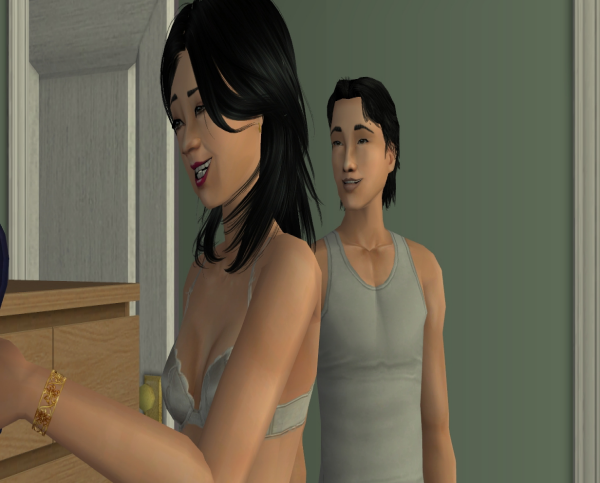 "Later after returning home she called me into the bed room."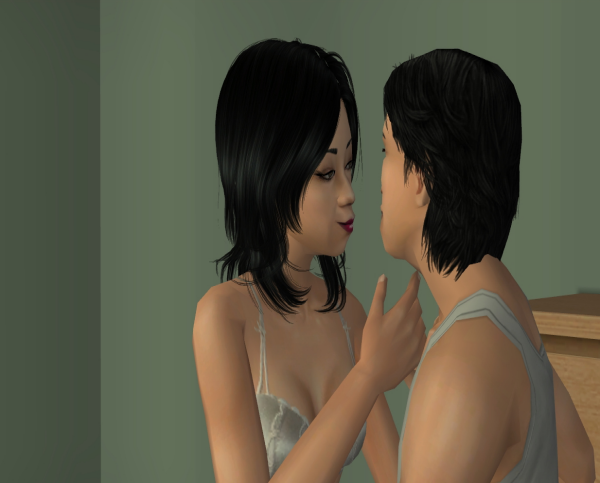 "She may not want anymore babies, but there's still nothing wrong in indulging in the act of making one."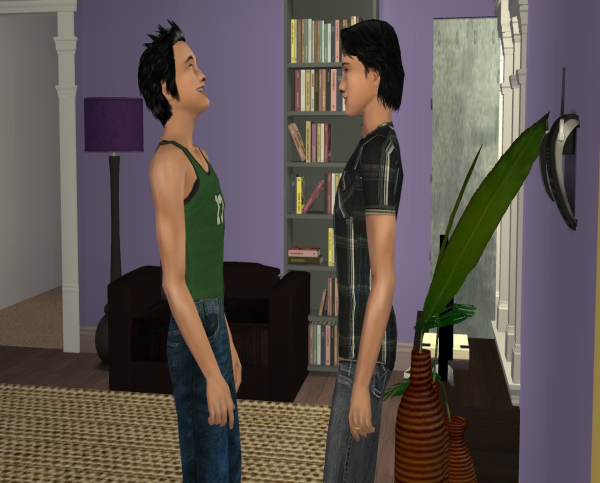 :Like I said, this summer has been a blessing. I even had time to take a trip with Ye. We haven't done anything like this ever. We were either to strapped for cash or too tired raising the twins and working."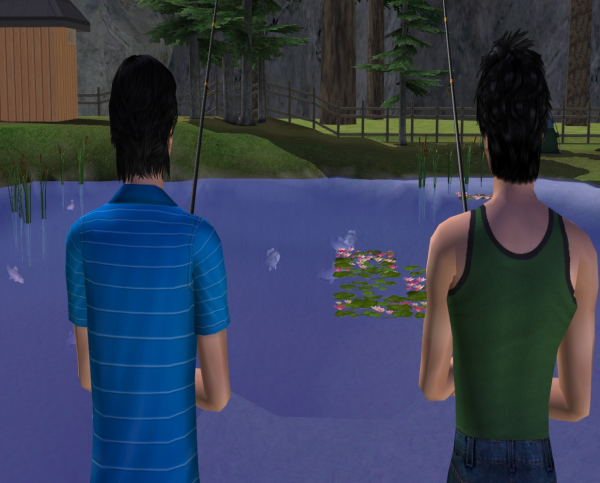 "We headed up to the mountains to have a weekend of sleeping in tents and fishing. Before the trip was over Ye and I decided that we would have to do this on a regular, at least once or twice a year. Maybe even bring Ruiling with us."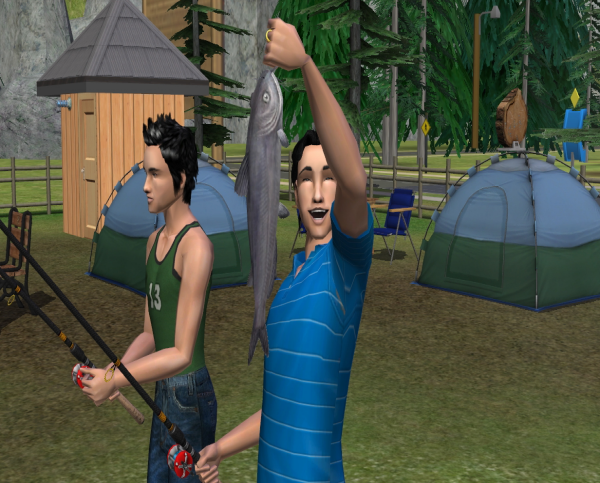 "I'm not the greatest at fishing but I was very proud at what I caught."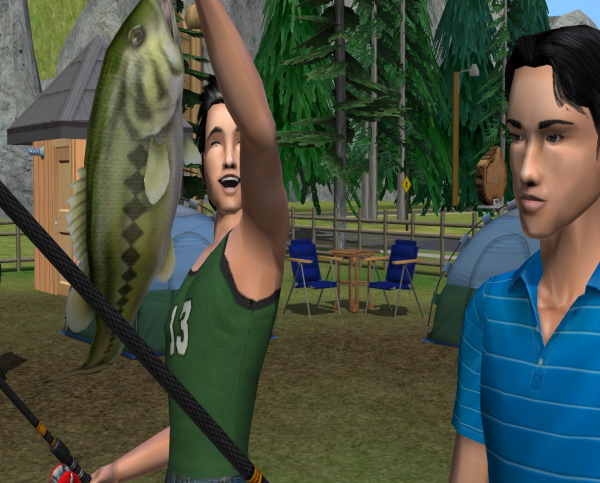 "Ye is pretty proud of his catch too! And he said he was never any good at this!"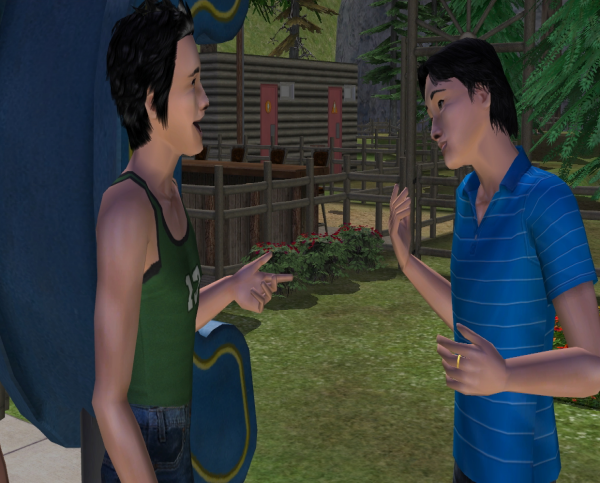 "In between fishing Ye managed to find himself in a predicament that he needed my help with."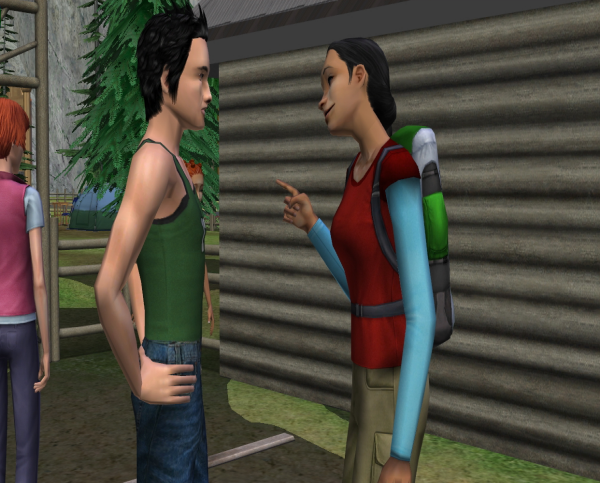 "He met two very attractive and interesting ladies while axe throwing."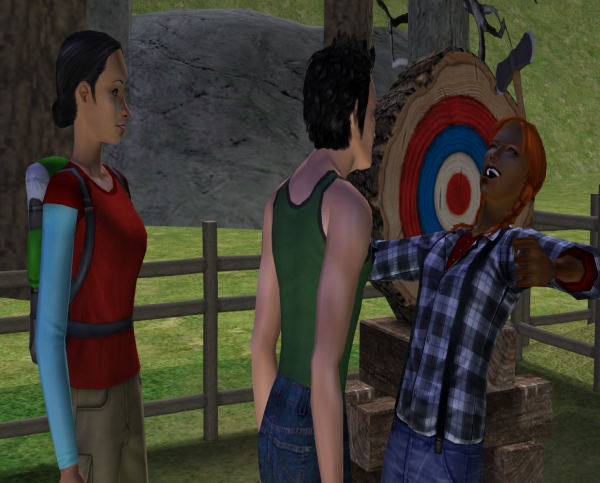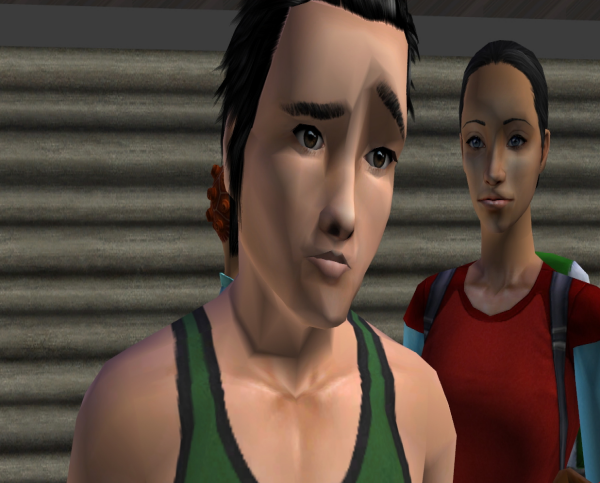 "And that was his dilemma, he wasn't sure which one to direct is attention towards."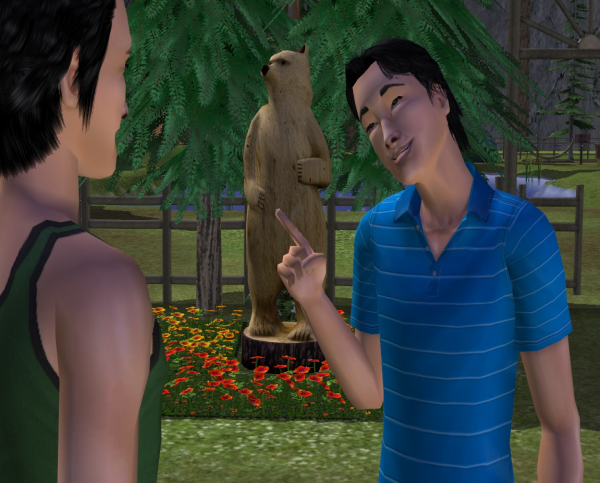 "I gave him the best advice that I could, seeing I've never had much experience in that arena. I've only dated Li-Fen, and shortly after we started our dating we were married. So I told him to go with the young woman who he has something in common with."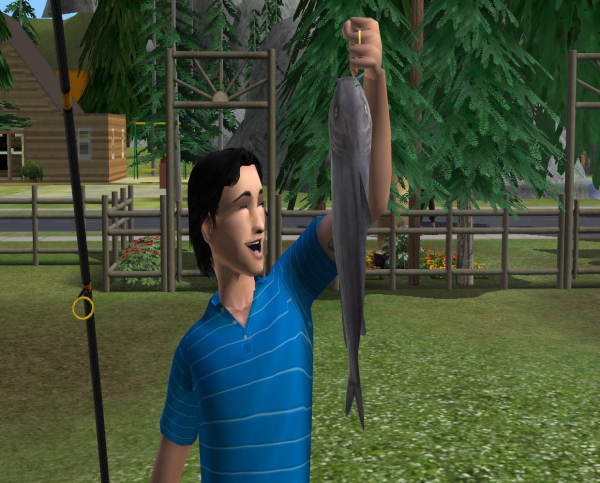 "Then I left him to it, and tried my hand at trying to get the "Big One", one more time."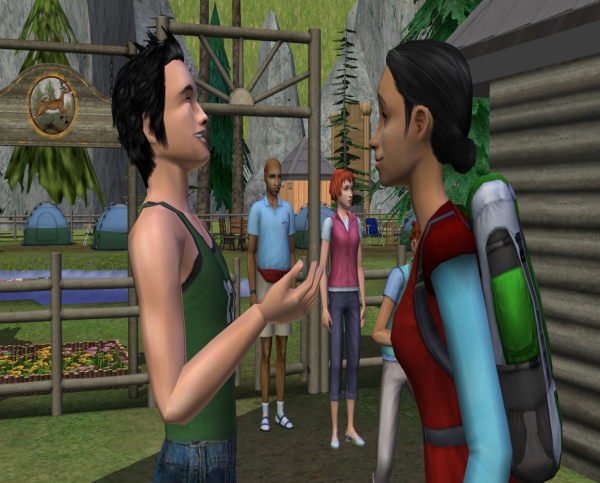 "To my surprise he took my advice."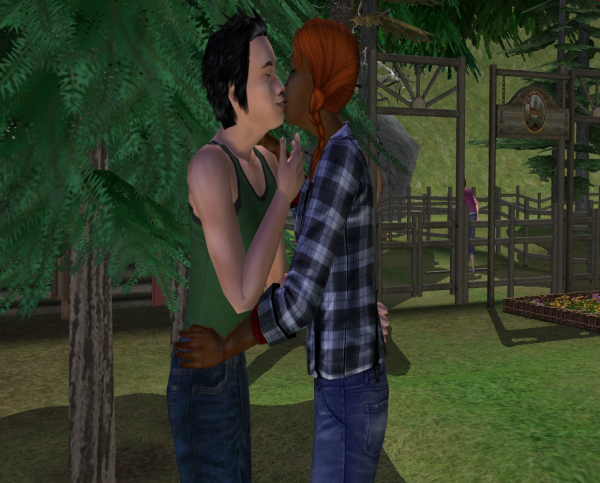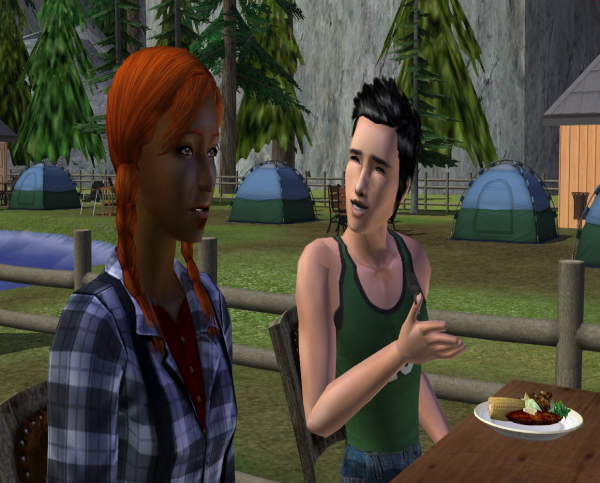 "But besides the kiss, I think he's going to take things slow. Even though he hasn't been with Nora for a long time now, he's still hurt by what happened between them. He still hasn't shared everything, but I imagine slow is the pace that he would want for now."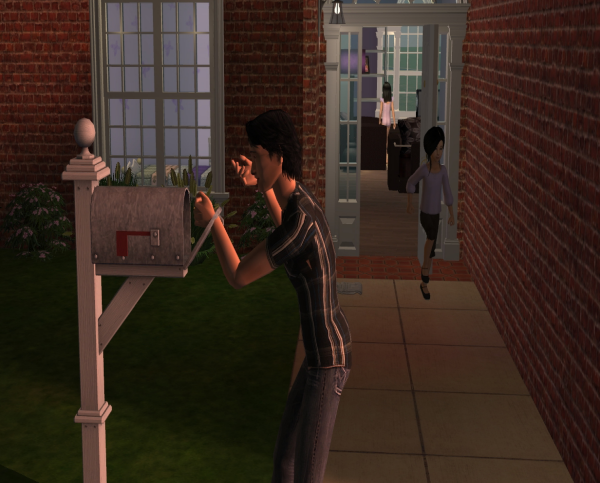 "Soon summer will come to a close, my girls will be older, and this whole new phase of dating will start. Something I'm not looking forward to. Right now I'm content with them only wanting a cat for a birthday gift. Now that's something I can deal with!"
***
Peng wants another baby. Li-Fen not so much. Her IFS is 2, the twins just happened to give them three. Peng's IFS is four. So he wants that last one. Neither of them are allowed BC, and they have been actively trying for another baby since the girls were 5. I don't think it's in their future though, because they started trying before I had to reinstall the game. This is a fresh install now, and still nothing. So I think they will just have to be happy with three kids.
Ye and Peng had a great time camping. I enjoy summer camping better than winter, no one froze. LOL And Ye had a tough decision to make. Those locals where hitting on him left and right. But more on that with his update (hopefully).
Ruiling and Roulang will be turning 12 next month. Can't wait to see who they look like! Oh, and you may have noticed that Ye looks different. When I saved my sims from SimPE he was one of the sims who for reasons unknown to me, wouldn't show up in game after I pulled him for SimPE. So I have to recreate him in CAS from his parents.