April, Spring 2014, Nashira Sanchez is 31, Donte is 3.5 (Kristin Sanchez is 60, Rupert Cotton is 35, and Xander Snapple is 40.)
Last update
.
Narrated by Nashira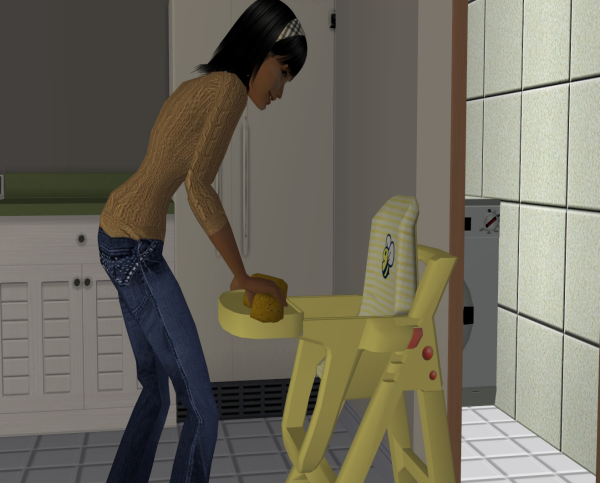 "I gotta clean. Well, do a spot check really. My mom's popping over for a visit. I like it to be clean enough where she doesn't lay into me raising her grandson in an "unkept" home. Newsflash, mom, not all of us can be stay at home mom's with a spotless house."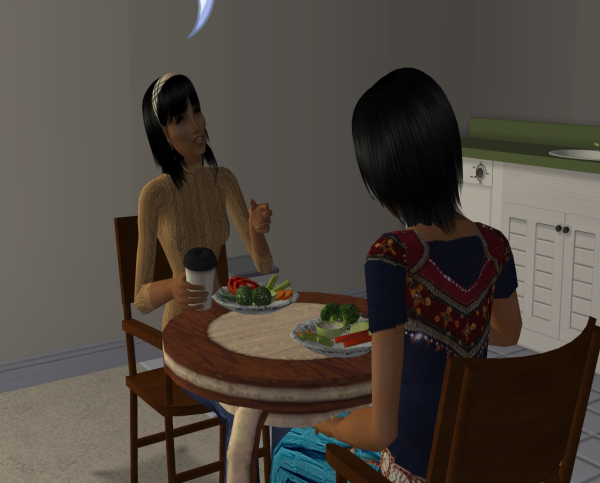 "She arrives around brunch, which is good since all I've made for lunch was some veggie dip and sliced vegetables for Donte and me.
She at least brings me a cup of tea. It's from this new tea shop and cafe that's just opened up. I've been meaning to stop by, but I'm so busy with work and with Donte, I just never can seem to make the time to go. The tea is very good as well."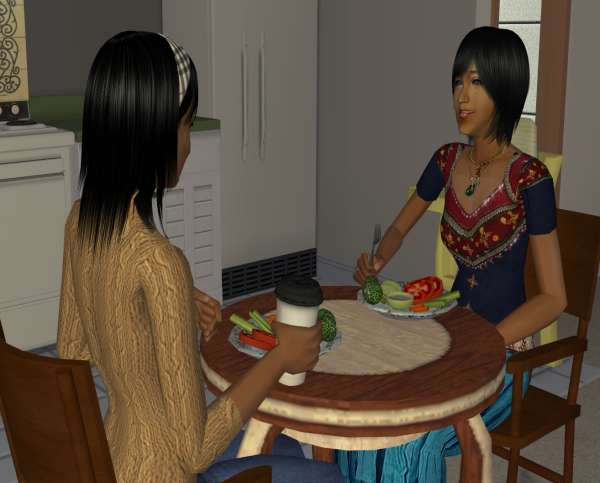 "We make small talk. How I'm so nervous about Donte starting school in the fall. But also, it's so hard to believe that he'll be for in only a few months. My mom agrees, he has grown so fast. But she also adds, that's how all her grandchildren are. Alani, Salma, Alon, and Ivy too, are all growing like weeds!"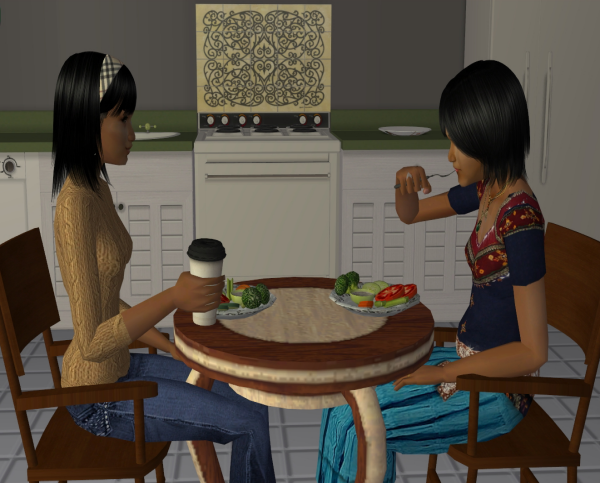 "Silence soon falls between us. I know what it's building up to. The same thing always has to be brought up. I wish it wouldn't be. It's what's causing a wedge between my mom and myself. But I guess she just can't help herself."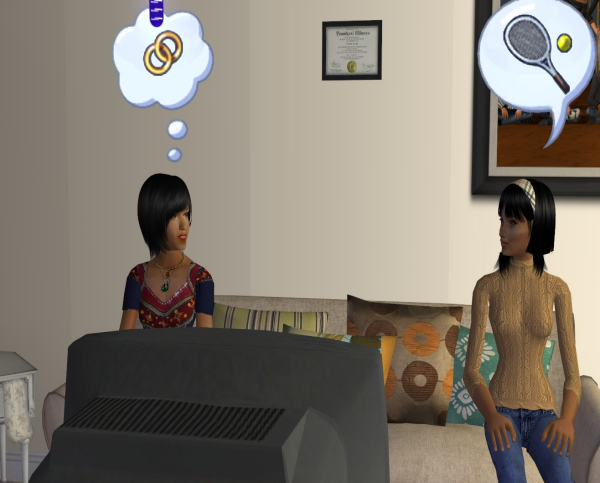 "I think I'm going to put Donte in some kind of summer sport, to get him used to kids his own age, I tell my mom. He really isn't used to being around kids besides his cousins. I keep him home with a sitter when I'm at work. It's cheaper than head start, and I know where his hands been and what he's being feed during the day."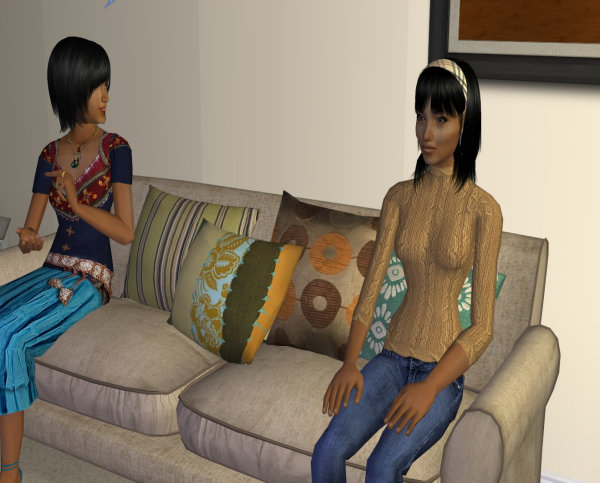 "Then she starts. How she wants me to find the "right" guy. To settle down and get married. Donte needs a man in his life 24/7, not just when Rupert drops by to visit. And the worst part she always tosses in there; I'm not a spring chicken anymore, and if I wanted to have at lest one more child I need to get crackin'!
Really! Has it ever dawned on my mom that maybe I don't want anymore children. Donte is enough. He's a handful, but I love him. And honestly, I just can't see me having anymore little ones. One is enough thank you very much!"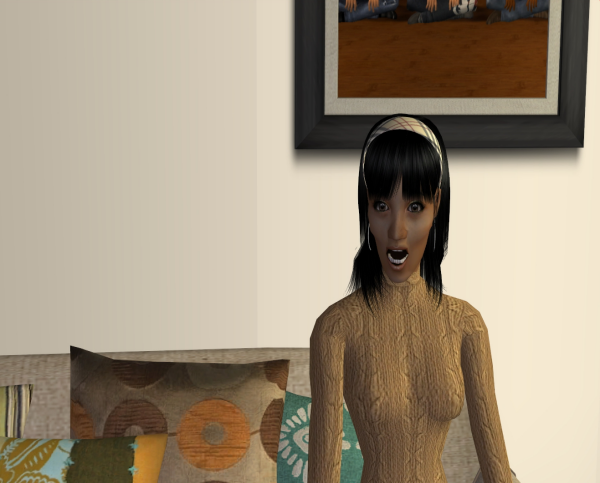 "Then she goes there, she wants to set me up on a blind date! With one of the co-chairs that work with my father! It's bad enough that my parents discuss my love life, or lack there of. But when they go and discuss it with someone I don't even know, that's enough!"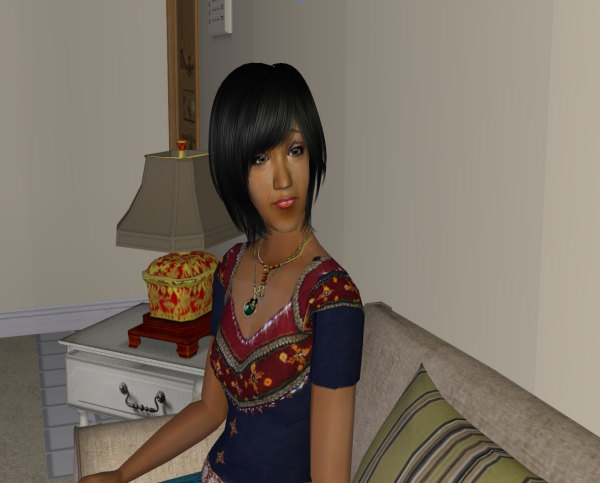 "She looks rejected when I tell her I'll pass on the offer. 'But I only want to see you happy.' She says. I assure her that I am happy. I have enough on my plate right now to be distracted by a man who wants even more of my time that I hardly have."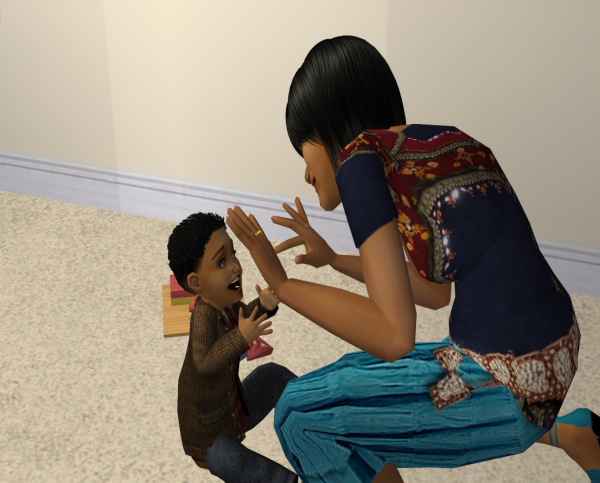 "She leaves the couch soon and goes to get Donte up from his nap. He's pleased as punch to see her! He loves him Gaga. He started calling her that when he first started to talk and it's just stuck. I'm sure he'll grow out of it once he's older, but for now it works.
Mom loves him too. She adores all her grandchildren, but I think she's taken a special liking to him. You know, since he has no father in his life. Lilly doesn't even get it as bad as I do. But I think it's because she's gotten AJ to put a rock on her finger. And for mom, that's all the proof she needs to know that he'll be a staple in Ivy's life."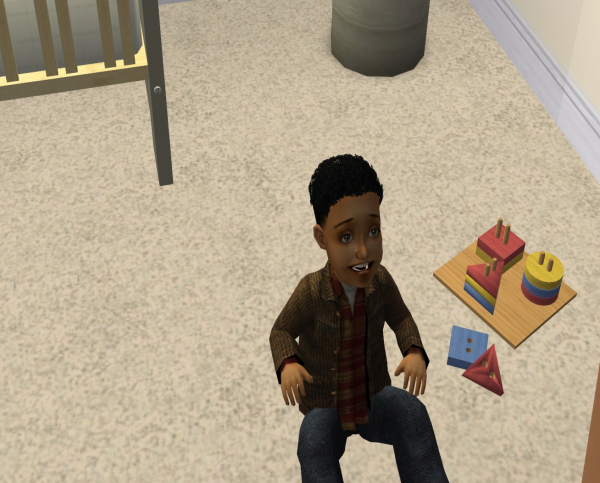 "Once mom is gone I go to get Donte. I hate to say it, it seems so cold. But even though he was a HUGE accident, he was the best accident I've made in my life. Donte is my whole life and I could never picture it without him in it. Rupert maybe a jerk, but he has given me the greatest gift I could ever desire."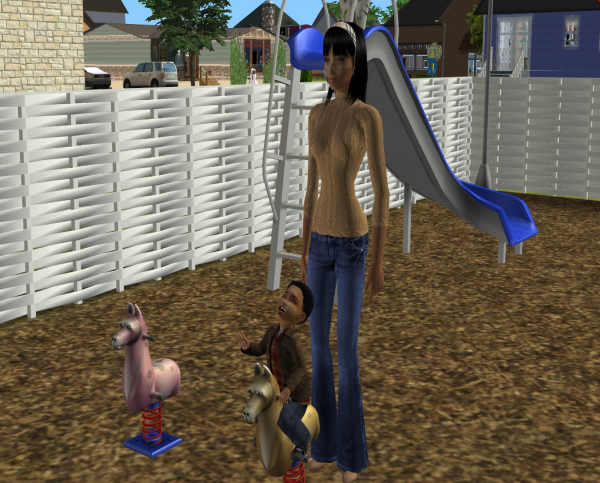 "And he's the cutest thing on the playground too. I can't wait to watch him run and jump once he's bigger!"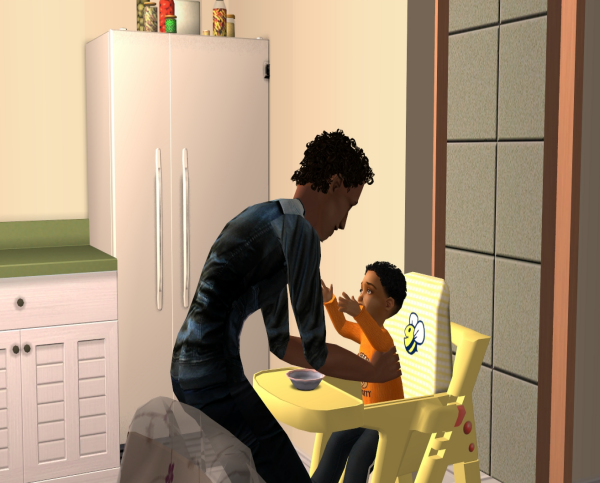 "Rupert drops by at least three times a week. Donte has love surrounding him no matter where he looks. Rupert told me that he's looking for a bigger place, a place where Donte (and the other kids) can have a place to sleep when he spends the night.
We've discussed this for a while now. Though I don't like the idea of my son being around Sharla, I have no choice. Me and Rupert have been civil with each other since Donte was born, and I'm not trying to causing any controversy now."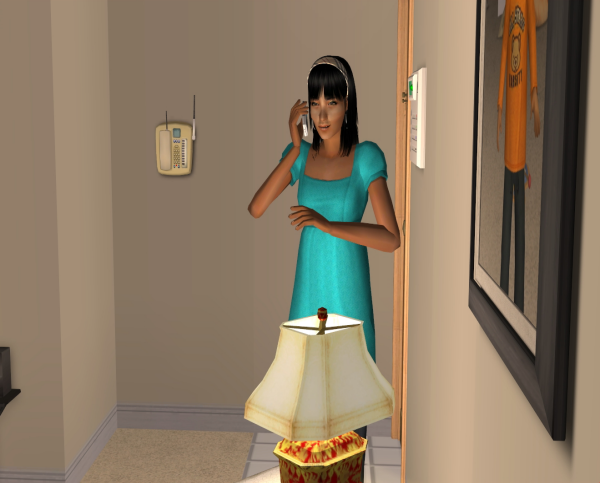 "I do have some romance in my life. It's nothing major, just a little fling that helps me keep my loneliness at bay. I may tell my mom that I am fine, which I am most of the time. But sometimes the lonely heart calls for some attention, and less face it I'm tired of making that little Energizer Bunny richer. But I could never tell my mom about the man in my life."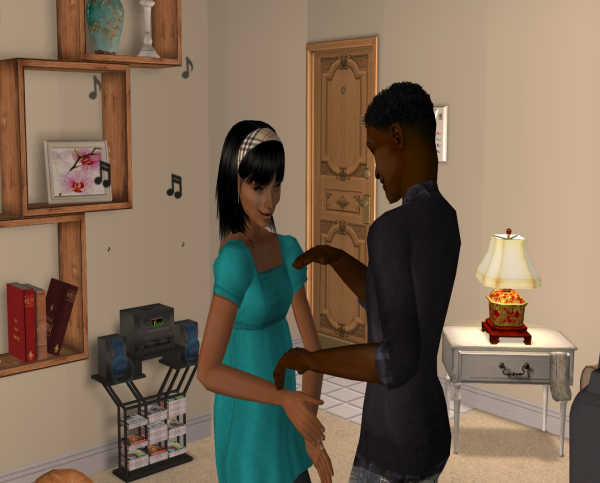 "He's name is Xander. We've been "seeing" each other for a little over a year now. It all happened by accident really. We work at the same lab, and a few nights here and a few nights there, working together on some projects brought us closer. The only problem? he's married, with twins, and his wife is expecting their third child soon."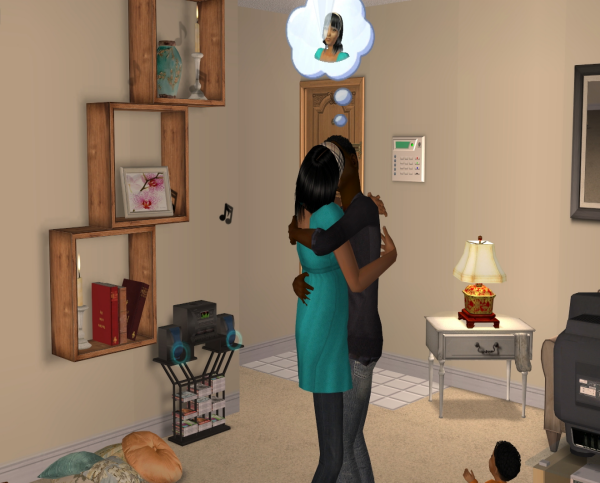 "So I make sure to guard my heart, and not to get to involved. It's only temporary anyway. I'm not expecting him to leave his family for me, and I don't plan on becoming his mistress. We are only scratching each other itch for the time being."
***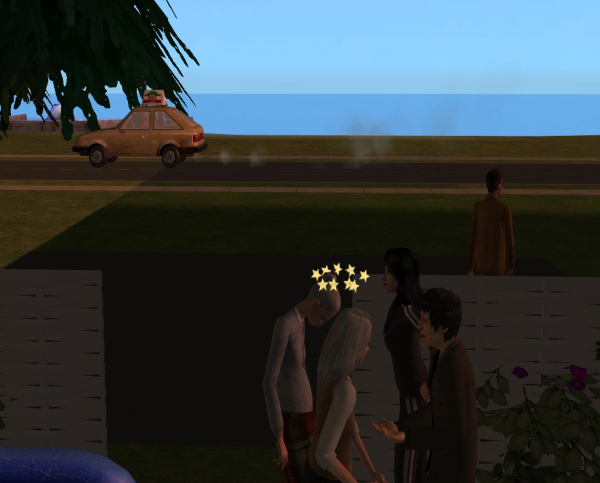 I have no idea why Bell is so mad at the Nanny. But they fight everything she comes to watch Donte. LOL
Nashira. Nashira. Why must you go for the wrong man every time? This thing with Xander totally on their own. She brought him home after work one day, during my last rotation. They started to hit it off and the next thing I know they went from talking to woohooing on the sofa. Talk about a surprise to me! I'm just glad that she's on birth control, since they decided to try for baby! *faints*
But I will note, she's not to serious for him. She never rolls wants for Xander. When he comes over (on his own) she will roll a play with or tell dirty joke, but that's it. Then ACR kicks in. So I don't see this lasting long.
Since Rupert she hasn't rolled wants to anyone, not even her baby's daddy. But I would like to see Nashira settled down. If not married at least with a guy who's single.