January, Winter 2013, Vanya Novak is 20, Bart Ottamas is 24, Tandy Novak is 4, and Shaw Novak is 5.
(
Dominic Phillips is 38 and Nadya Phillips is 46, Nanat Novak is 67, Mathew is 65, Nathan and Tosha Novak are both 33, Sharla Ottamas is 29, Jordan Ottamas is 4, Rupert Cotton is 33, Asia Ottamas and Tommy are both 26, Peter Ottamas is 61, Amanda is 10, Samantha is 60, and Keegan and
Chloe Gonzaga
are both 18.) Last
update
.
The majority of this update will be pictures.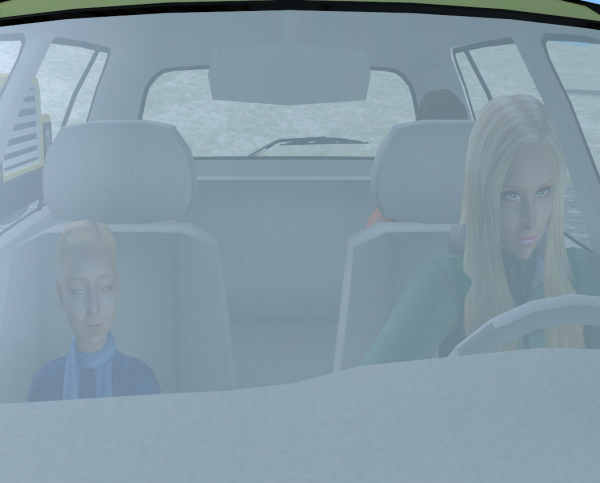 The big day has finally arrived. Vanya has offered to drive since Bart is calming that he's nervous. She's nervous too. But not for reasons that one would think.
Oh, she knew what Bart was up to while he was away at school. Vanya is far from stupid, but she's also in love. And she refused to give up on her man, or lose him to some tart at college. So she stuck it out, and stayed with her man.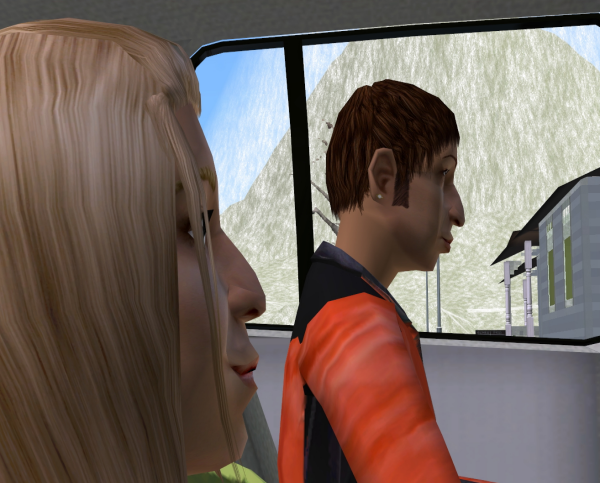 He never thought that he would be on his way to be wed. Well, at least not this young. He's always figured that Vanya would be his bride, but he also figured he had a bit further to go before completely settling down. He completely surprised himself... in a good way, when he proposed to Vanya.
Tandi is very happy! Her mommy and daddy are finally getting married. What ever that means. Grandma (Nadya) told her that a man and woman who loves each other should always get married. She's just glad that she gets to dress up in her pretty dress for a while day! And not to mention, she gets to eat cake too!
***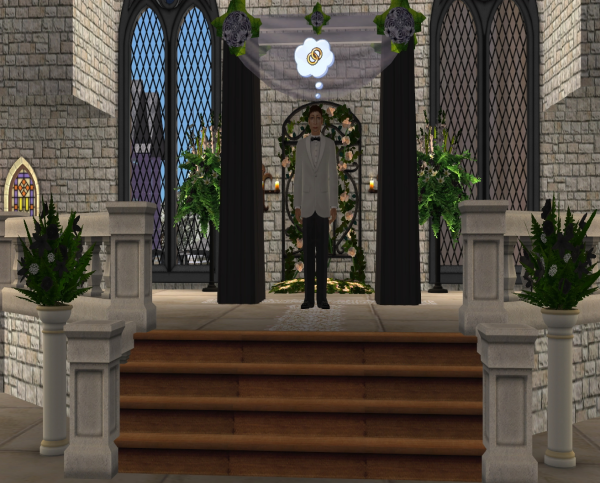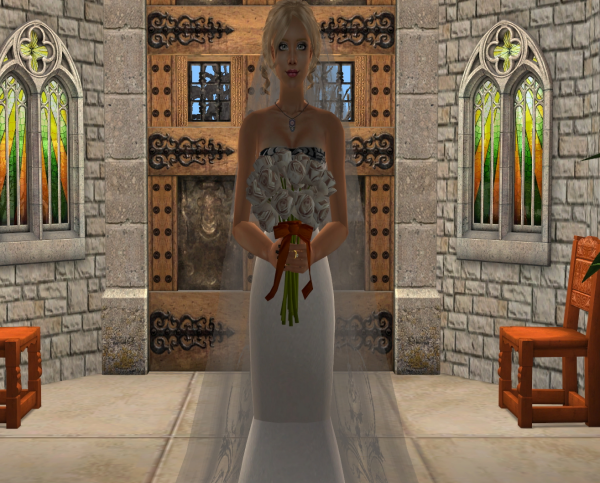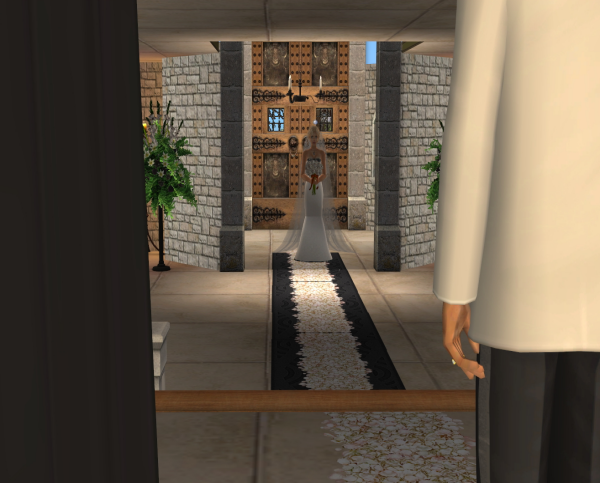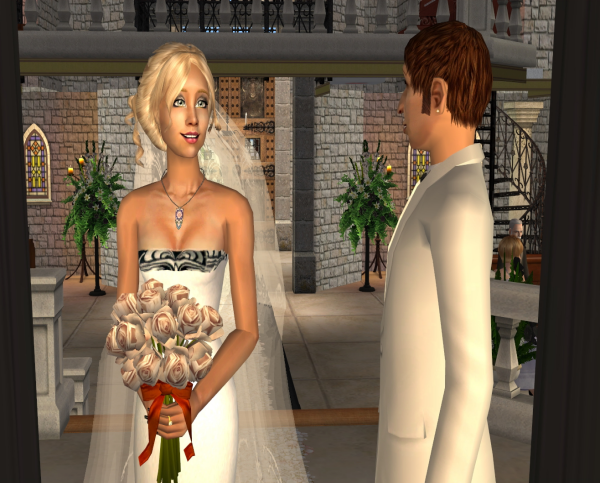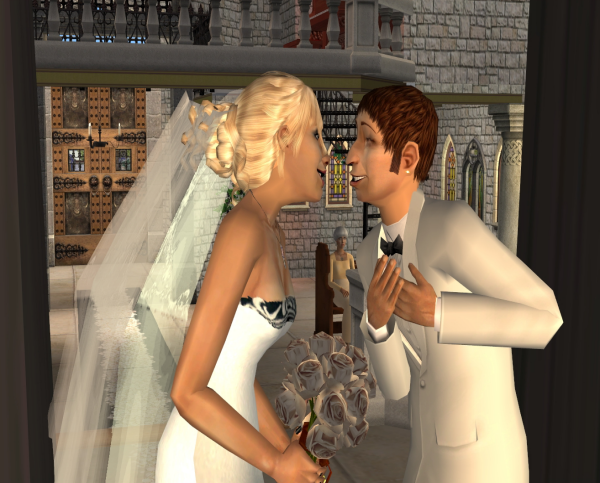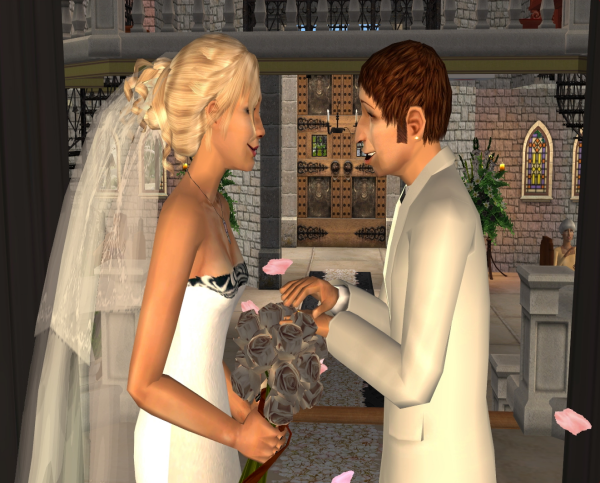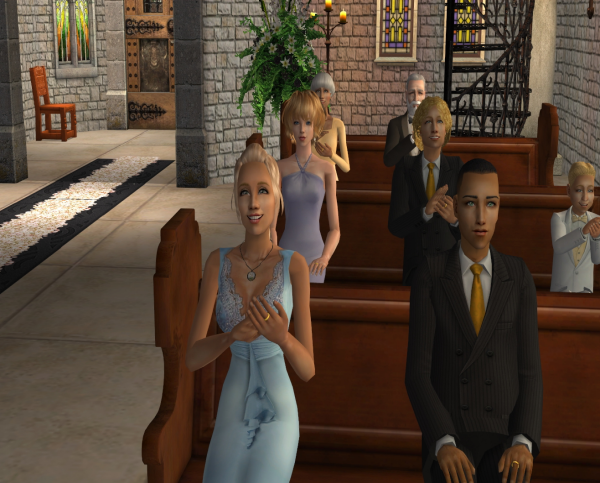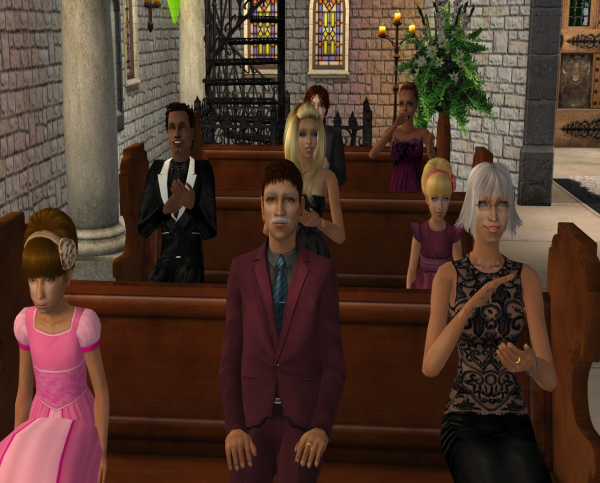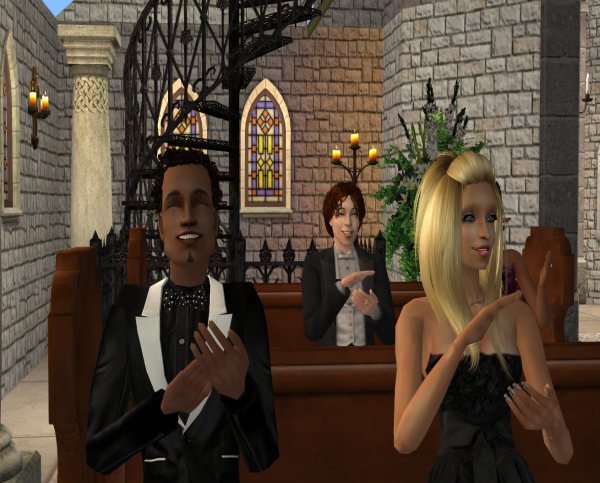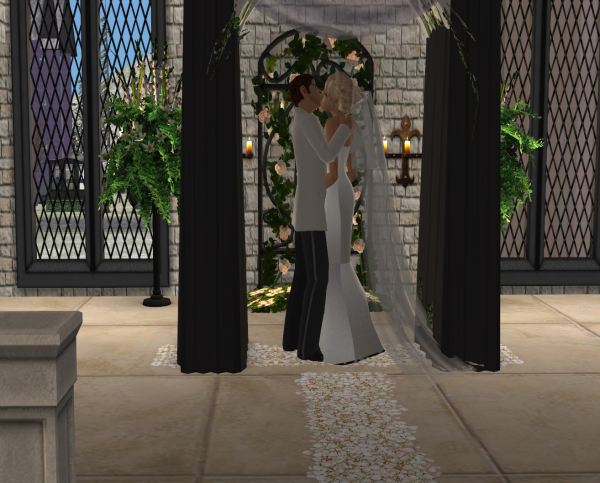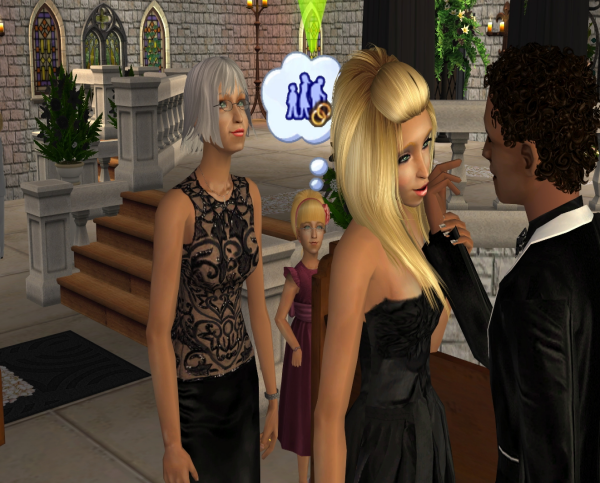 Samantha is still holding out hope that Sharla and Rupert will settle down and get married.
Jordan just thinks it's cool to have a new family member!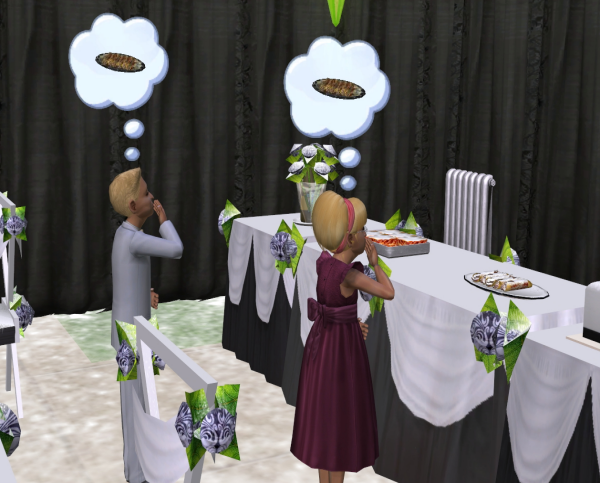 Shaw and Jordan do not agree with enchiladas for dinner. They were hopping for chicken nuggets and french fries. At least they have cake to look forward too.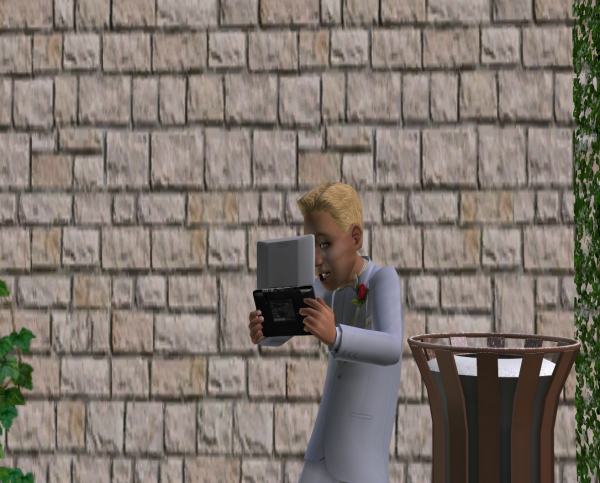 He soon forgets about meal and heads off to play his Nintendo DS.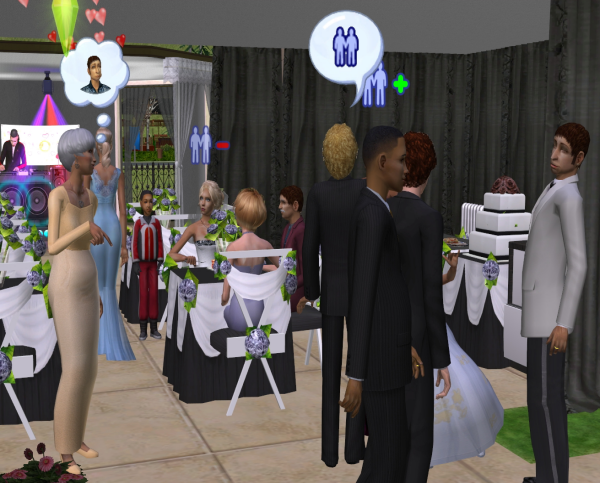 At her daughter, Vanya's wedding, Nanat got upset with her daughter-in-law, Tosha
swooning
over her husband. She really should take her own advice. Vanya isn't too pleased with her grandmother right now.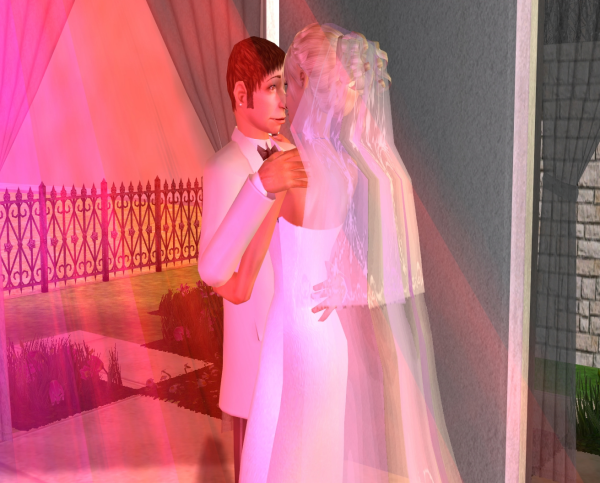 First dance ans husband and wife.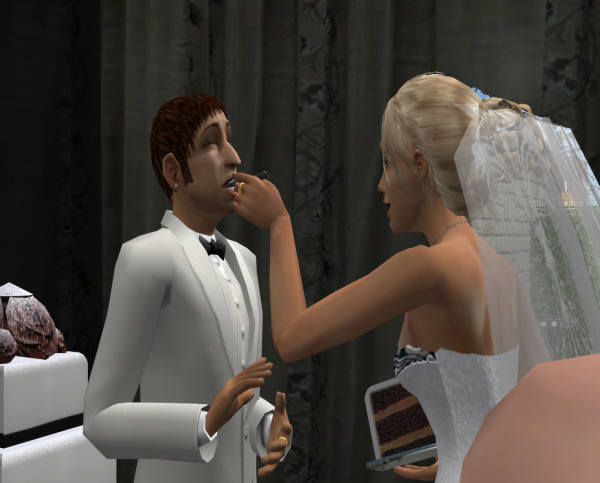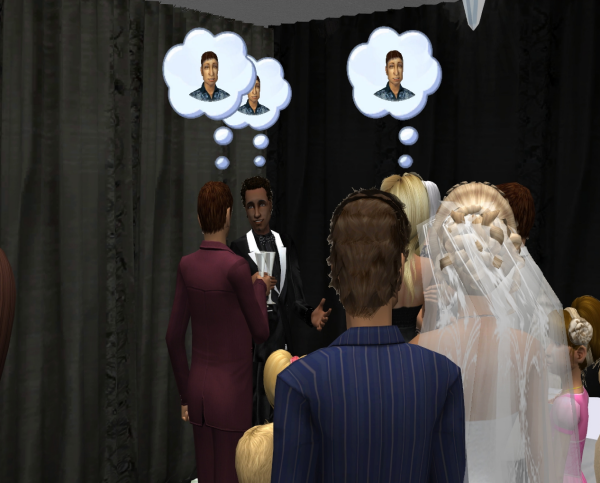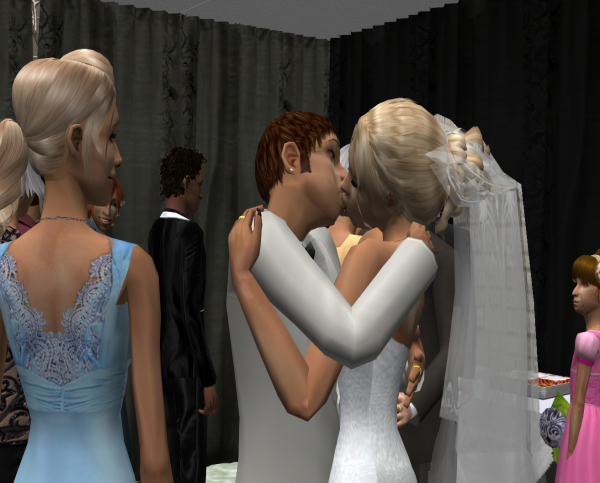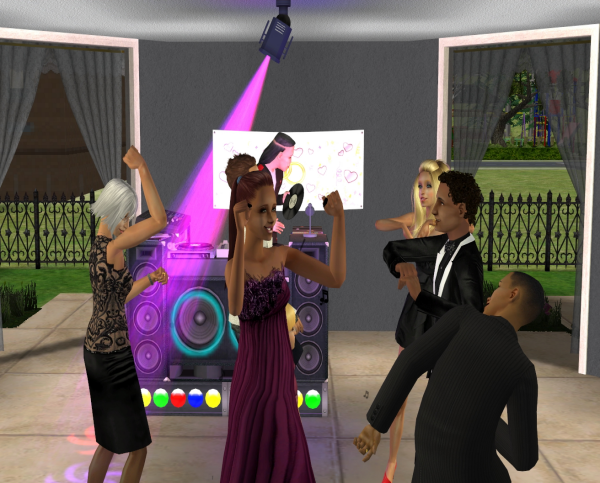 The DJ and his Rockin Mullet. Business on top and party in the back! WOOT!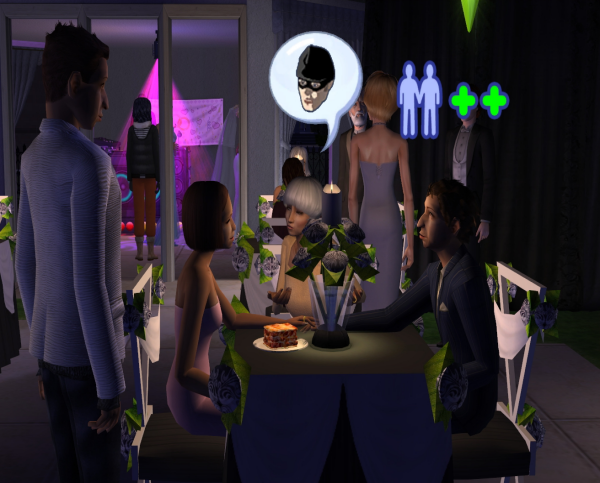 Chloe Gonzaga and Keegan are very much in love, and this wedding has put them in a very romantic mood. Could a future engagement be on the horizon for the two?
If you ask Nanat, she thinks so!
***
So funny outtakes (well, at least to me.)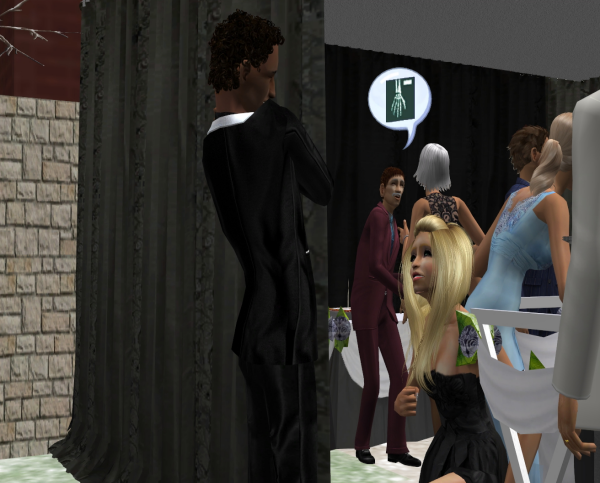 Sharla has never done this before even with ACR. So I'm guess all the romance in the air with the wedding has put a slight spell on her. Rupert is enjoying the attention.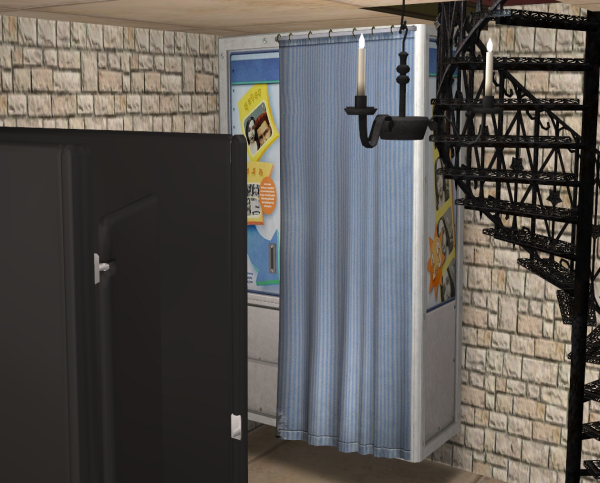 This photo booth saw a lot of action this day. Even one of the couples present conceived a baby. But you'll have to wait to find out.
Here are a few more attempts at me trying to get my sims to pose. LOL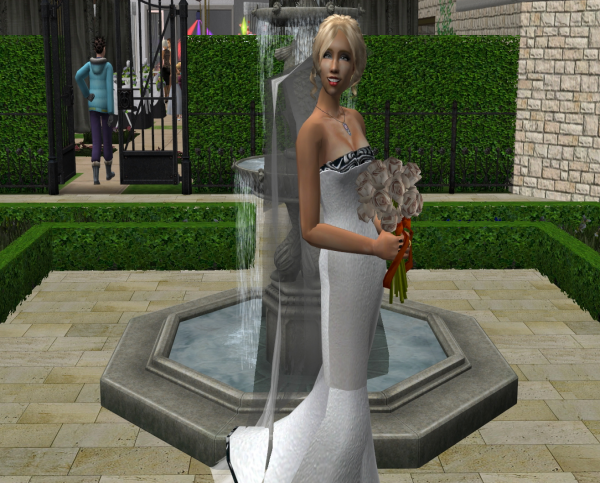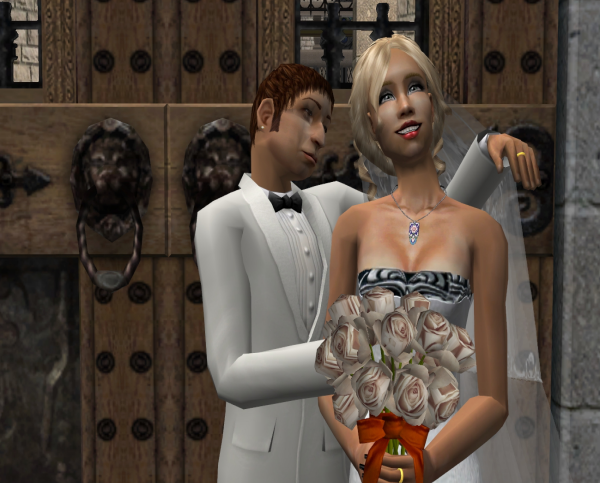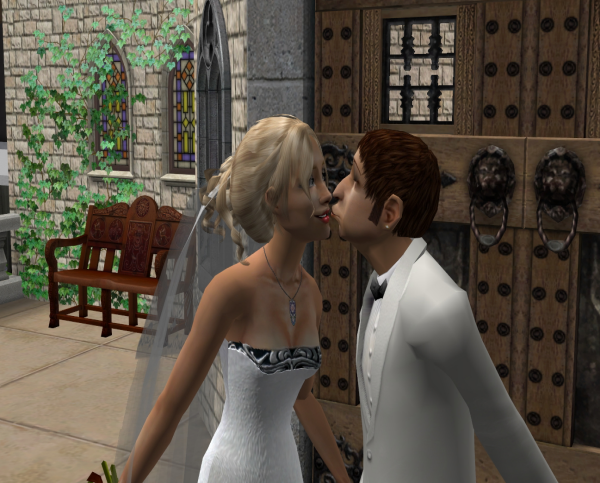 I had a blast doing this wedding. My game crashed right as I was finishing up the first time, so I had to replay the wedding after party. But like I said, I had tons of fun doing it. The Novak/Ottamas clan is a large one, plus the townies that kept walking by, and staying to party. I was sure that my lot would crash a second time, but it didn't.
I made Vanya's dress, and I also make a matching tux for Bart, but when I reinstalled my game I forgot to place the tux back in the game. So he got married in this one instead. But at least they mach, so I am pleased.
They pushed the wedding up since Vanya is expecting. She wanted to get married before she started to show. And a bonus. The wedding was funded by both in laws, so the bride and groom didn't have to spend a dime on the marriage.