September, Fall 2014, Lana Corbin and Orlando Bertino are 18, Keegan Ottamas, Chleo Gonzaga, Ricky Cormier, and Sophie Miguel are 19, AJ Christian, Marchon Cunningham, Harvis MacAstril, Danny Ottamas, Nora Reed, Lilly Sanchez, Mary Snowden, and Ye T'ang are all 21, and Richard Smith is 22. Last update.
NSFW pic in update!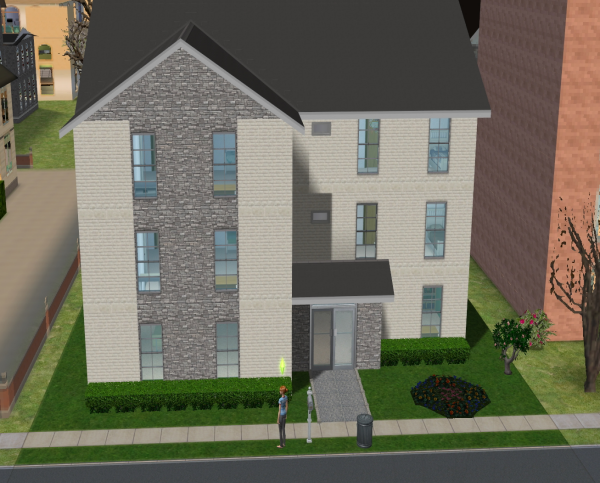 The freshmen this year are welcomed to campus with a brand new dorm, it's still Warrick Hall though, just a new building.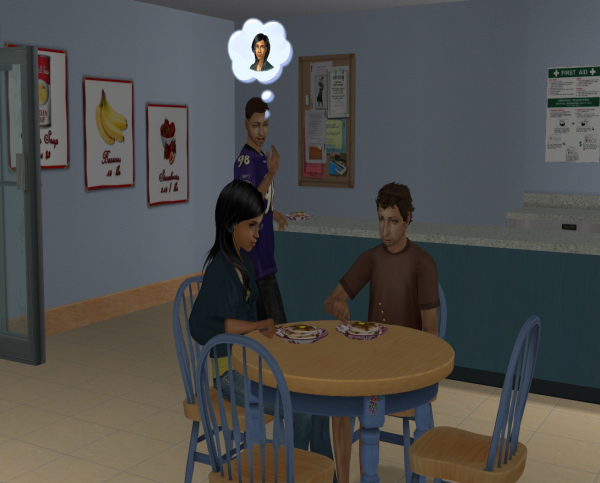 Lana wastes no time jumping into college life. Once unpacked she heads down to the cafeteria. Though she's quit surprised to see a sophomore eating there.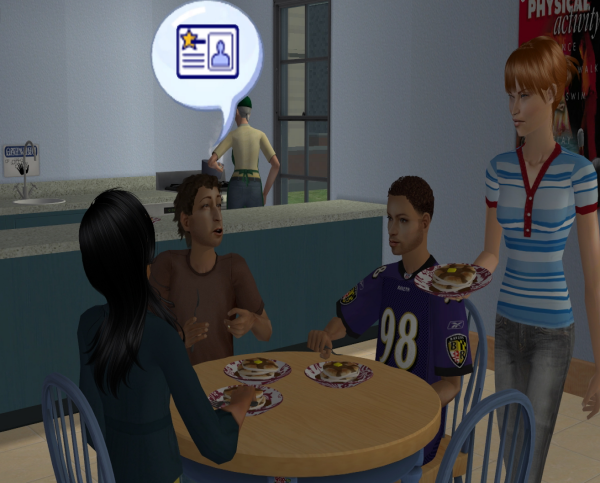 As Orlando grabs a chair Keegan starts to vent to another upper class man about the on going renovations, and how it blows that they have to live in the freshman dorms until next year. At least everything is new, so that's a plus.
Lana and Orlando exchange a look. They don't see what's the big deal, it's not as if they have some kind of disease or anything.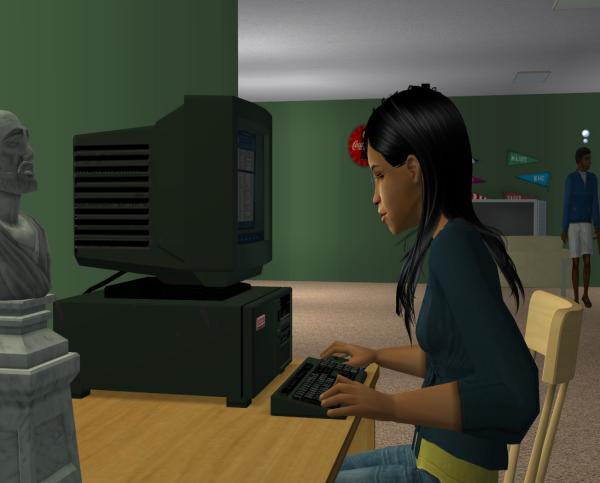 Lana has already chosen her major, chemistry, and she's already getting into the routine of classwork. But she wants to go into forensic science so having her head in books will really give her a leg up.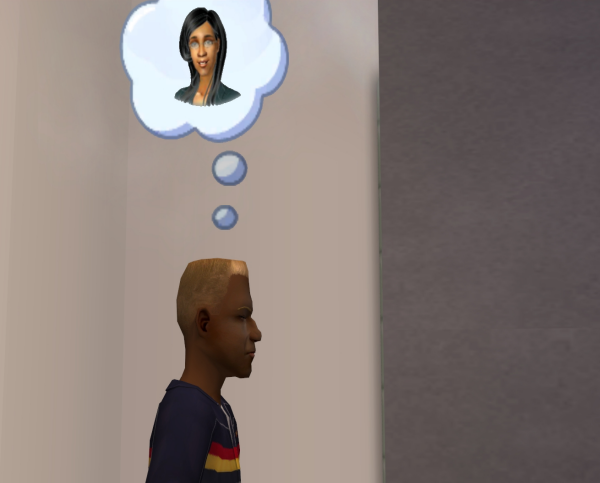 It also appears that she has a stalker. (Remember him? He used to follow Asia around in college. It looks like he's back to his old ways.)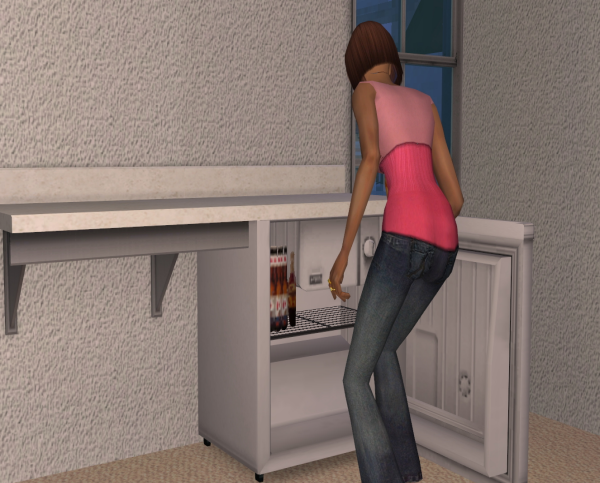 Chole grabs a bite to eat from Keegan's fridge in his door. She has her own fridge in her room, but things always taste better when they come from your boyfriend's room.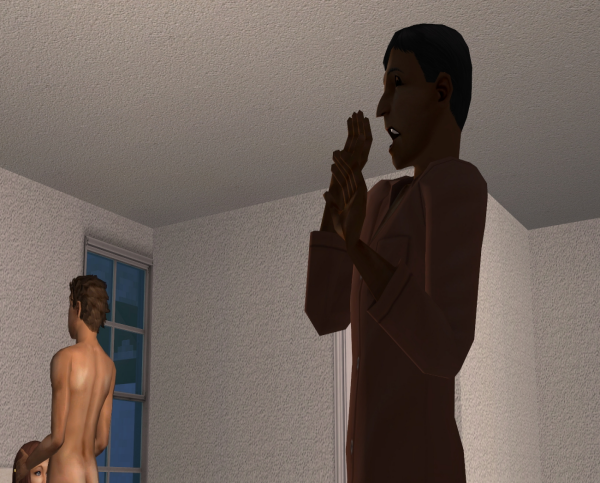 She ends up sharing a late night dessert with Keegan, and give his room mate an eye full.
The dorms cook is making breakfast and for some strange reason she doesn't notice a fire starting at her feet.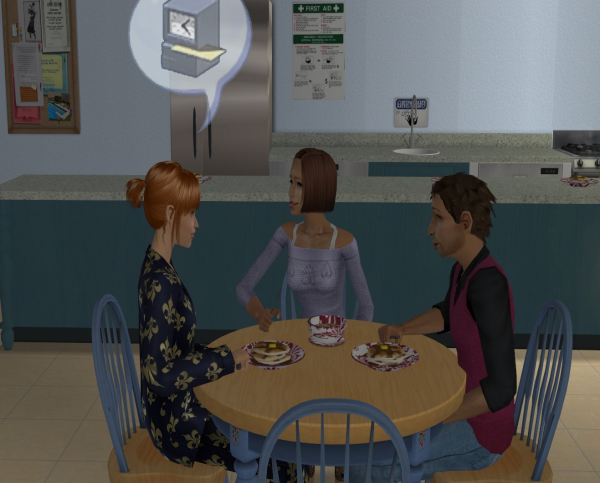 Keegan and Chole doesn't notice it either, nor do they smell anything. They continue on eating and discussing classes and work or the lack there of.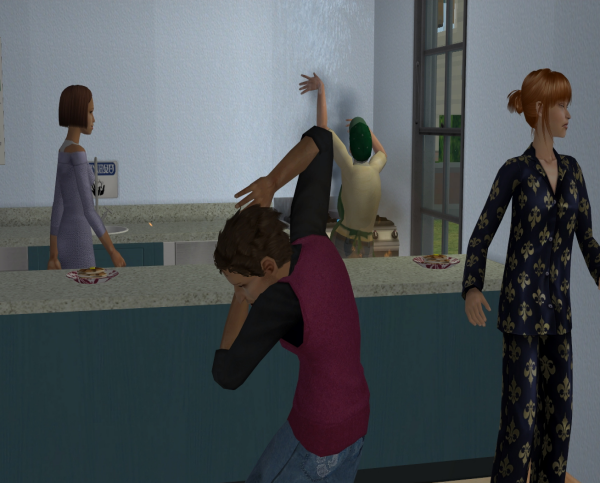 It's not until the alarm goes off and the sprinkler starts spitting out icy water, which causing the cook to scream, that they notice anything. By that time the small fire has been put out.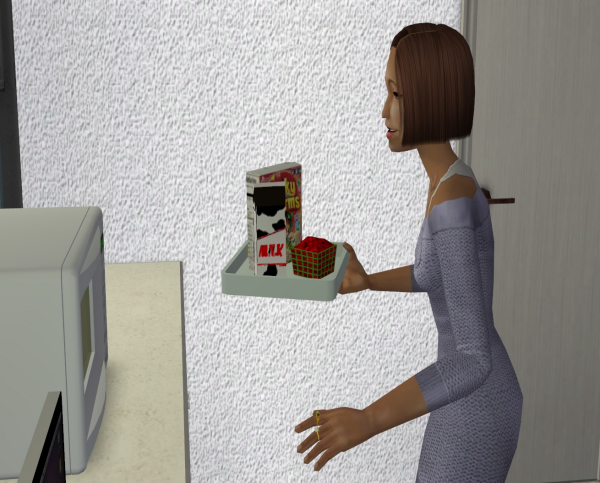 Chole decides that it's better to eat breakfast in her dorm room for now on. She would actually like to make it out of college alive.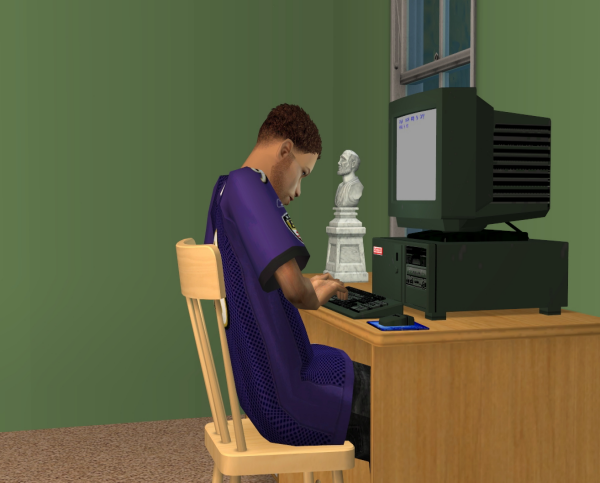 Orlando is busy with school like his girlfriend. But unlike Lana, he hasn't chosen a major yet. It's not vital since they just started school but Lana would like him to pick one before the end of the semester. Everyone needs focus and having a major shows focus. It's just that Orlando has no idea what he wants to major it.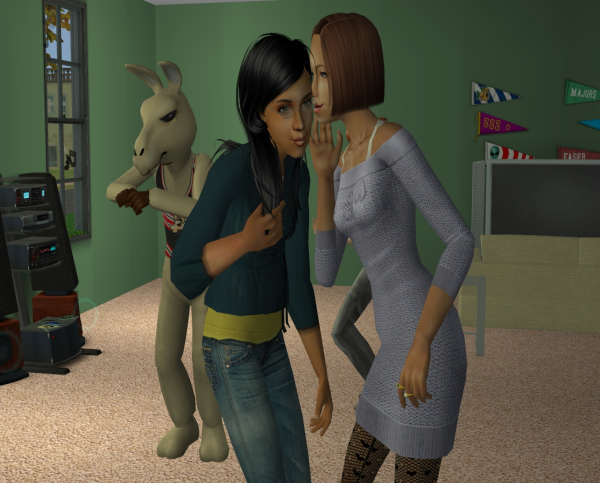 Lana is making fast friends. She's already super close with her roommate, Chole. They share secrets with each other. Some are more shocking to Lana. She's still trying to get use to the idea of the majority of students at school being sexual active. And Chole can't believe that Lana hasn't gone all the way with Orlando. But besides that they have many things in common.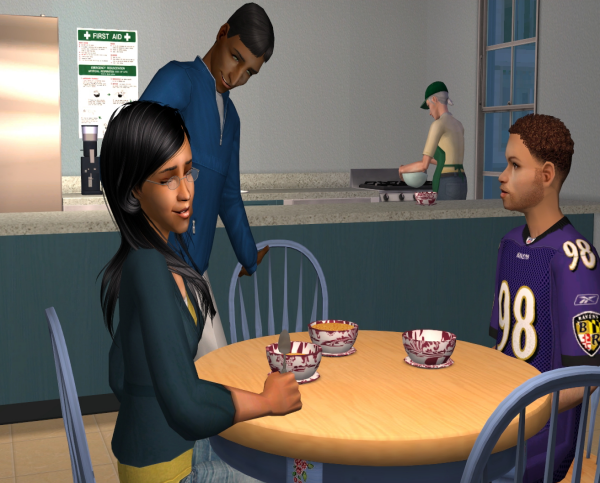 She's also getting looks for other guys. Other guys who are older than her. She blushes at the attention, not used to it. She mainly stayed to herself in high school. Orlando on the other hand wishes that other guys wouldn't notice Lana. It makes him nervous. What if she decides that she wants to be with a who has "focus." But he settled for glaring at the guy instead.
***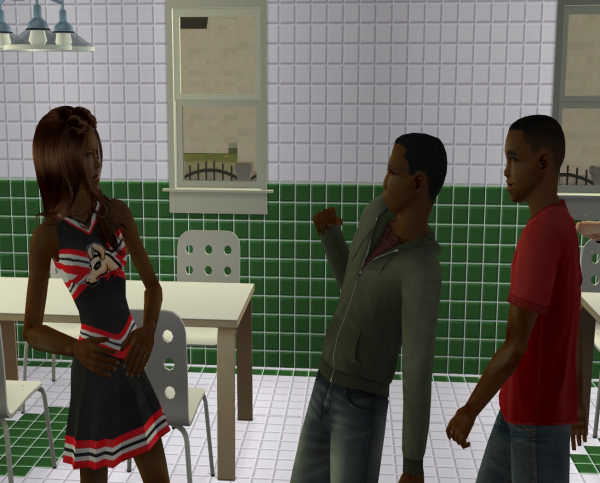 Over at McCormick Hall Harvis is trying to move on and get over Nora. He has finally realized that she's far from settling down, and far from having a steady boyfriend. So instead of moping around in his bedroom he tried to hit on the resident cheerleader. But she's not having, besides she's sleeping with Ye.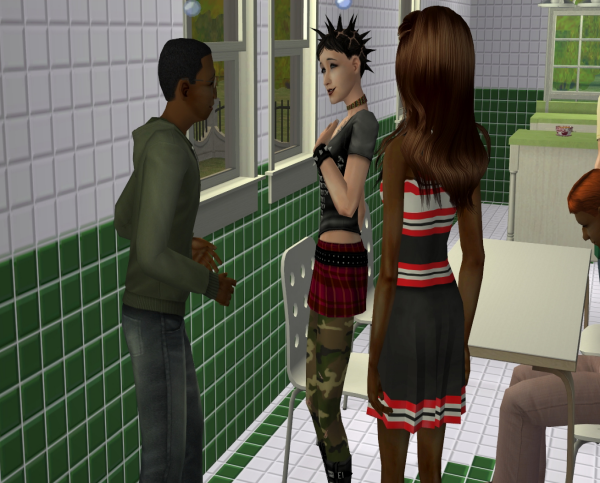 Unfazed, he tried his hand with the girl with the spiky hair. She seems receptive of his advance, which is a huge boost to his ego.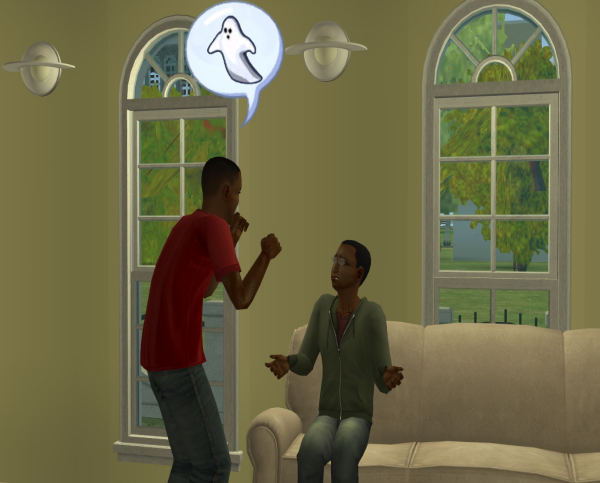 Marchon is sick of the bad blood between he and Harvis. He wants to return to the budding friendship that they had back when he first came to Riverdale. So he asks Harvis if he ever imagined that he was a ghost.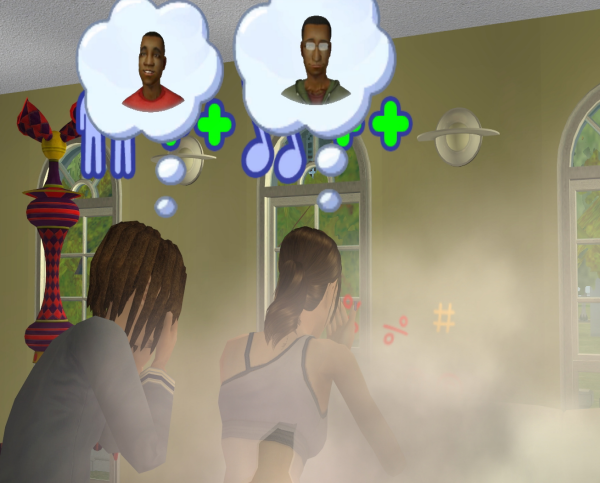 Harvis took the ghost comment the wrong way and jumps up, attacking Marchon.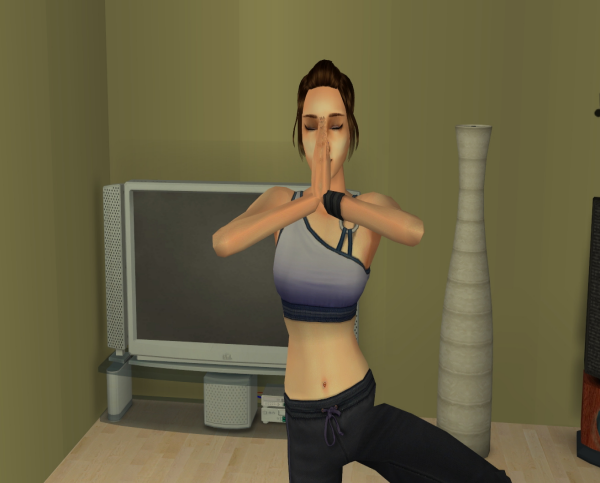 Nora has finally gotten her life figured out, for the most part. She's stuck to her weight loss program and dropped the extra pounds she put on from her pregnancy. She's also cut out all the guys she was seeing. It's time to focus on herself and her daughter. And that's what she has planned to do.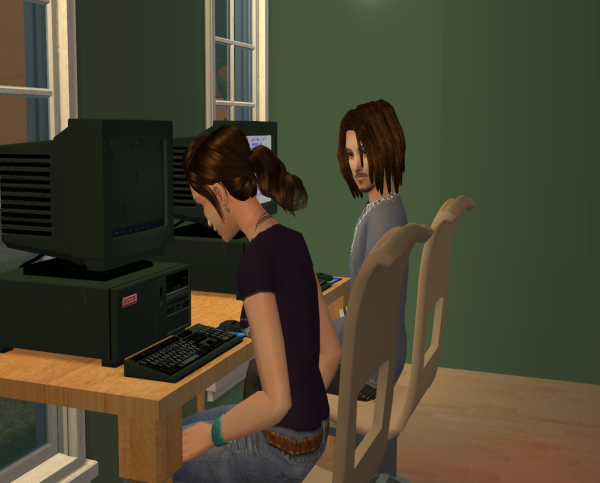 And this new and improved Nora has really grabbed Richard's attention. He thought that he was truly over her, but he's finding that he's becoming even more attracted to her than he was when they first met.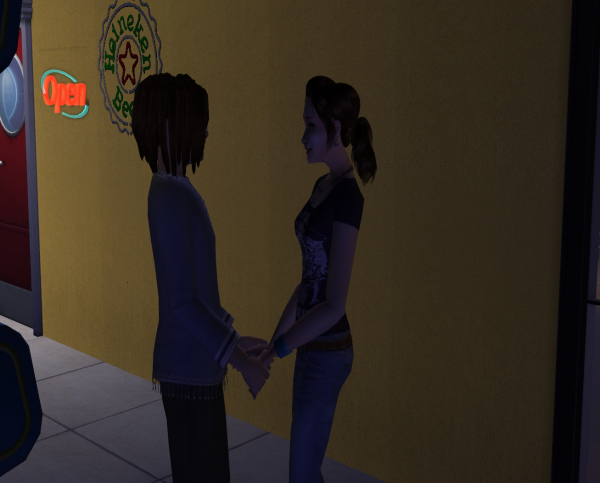 So despite the promise of focusing only on herself this semester, Nora agrees to a date with Richard. They both want to see where this could actually go, minus the sex. They want to build an actual relationship for a change.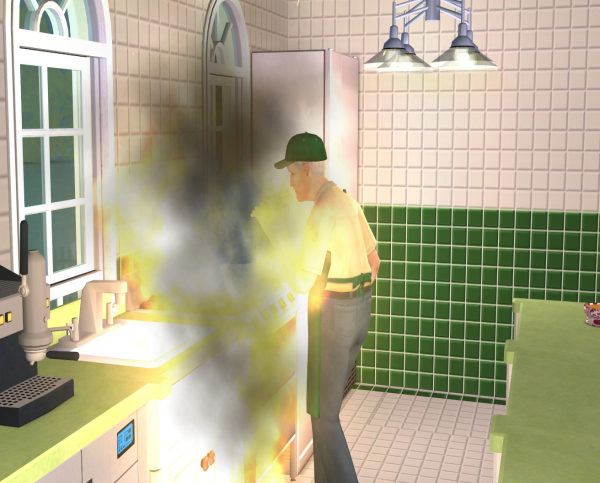 While they are out the dorm cook starts a fire if his own.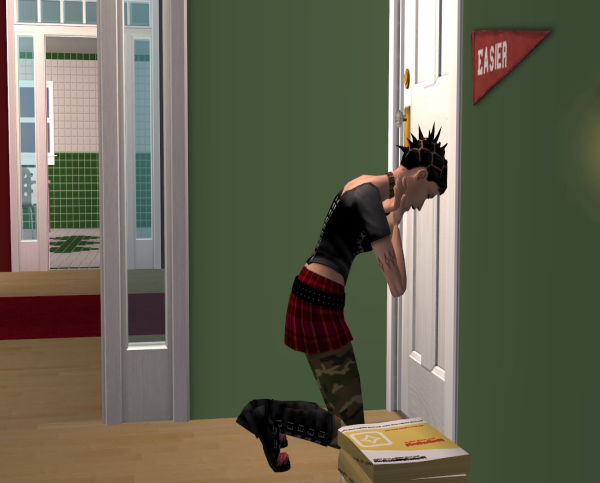 Everyone is so focused on putting out the fire and saving the cook, that no one noticed spiky haired girl chocking on a cracker. Sadly, shed dies in front of the bathroom door in the study lounge.
***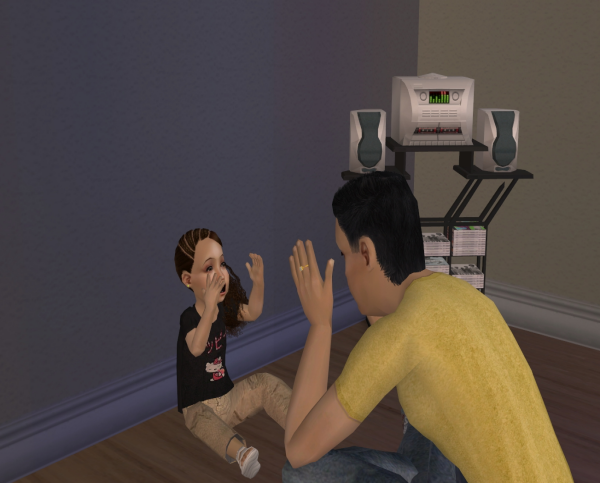 AJ cannot believe that little Ivy is already one, and that they soon will be graduating (hopefully) for school soon. If someone had asked him four years ago could he see himself as a dad, his answer would have been no.
When Lilly had had the
abortion
he was secretly thrilled. But when she got pregnant again, he had too swallow his anger and deal with it. But she
lost
that baby too, and he looked at it as a huge blessing.
But now, after Ivy was born, he couldn't imagine life without her. She truly is the apple of his eye.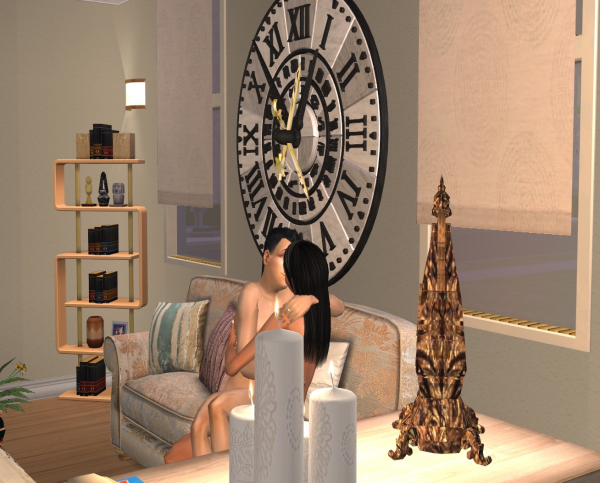 Now they are super careful, but AJ enjoys spending quality time with Lilly as well.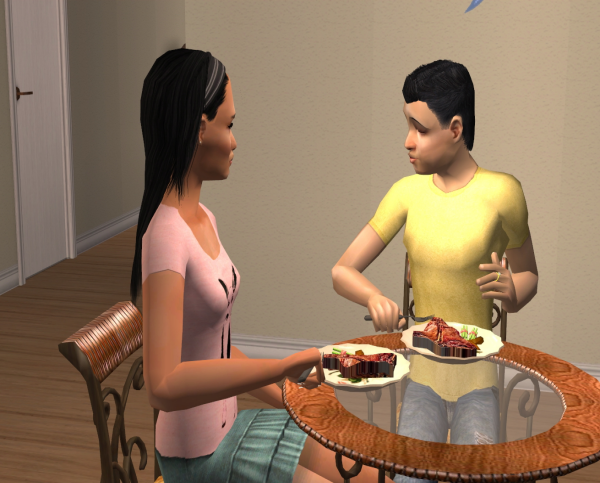 AJ is actually starting to get excited about the up coming wedding. They really haven't spoken too much about in the past few months, but they had agreed that they would tie the knot after graduation. So he breeches the subject with Lilly over Dinner.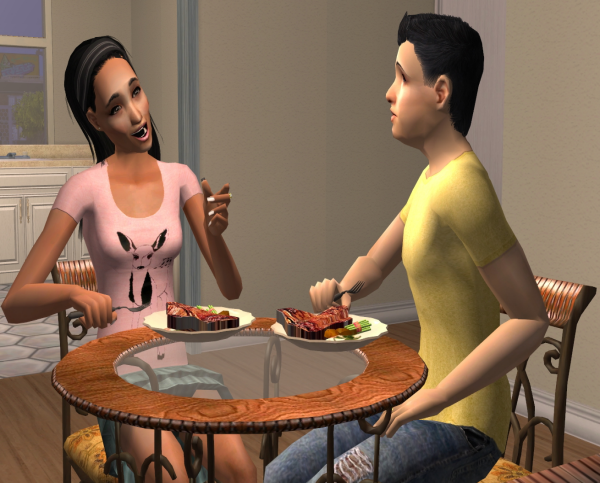 Lilly stops eating before answering the question. She's been so busy with school and with Ivy that she really hasn't given much thought to their wedding. And now with being asked she has to think about it. This makes AJ a bit nervous. She smiles at him, explaining that she loves him, and she loves the idea of them getting married. But in truth she's not ready to do it so soon after getting out of school.
This confuses AJ. All she's talked about after getting pregnant was then getting married. She wanted to do it before Ivy was born, but AJ talked her out of it. She wanted to get married before Ive turned two months, but again, AJ talked out out of it. And now he fears that she doesn't want to marry him. Has he waited too long?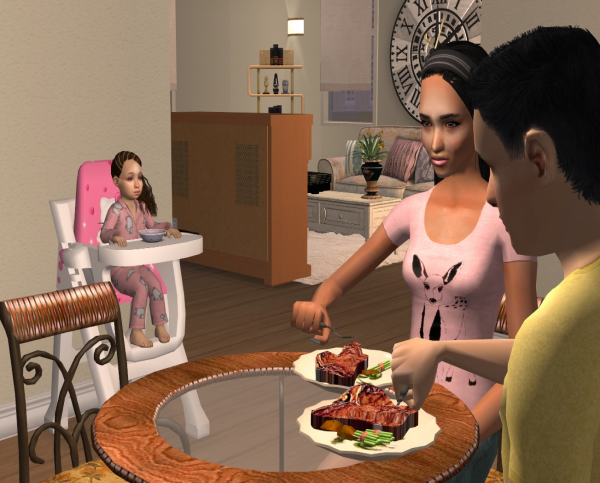 They both finish their meal in silence.
***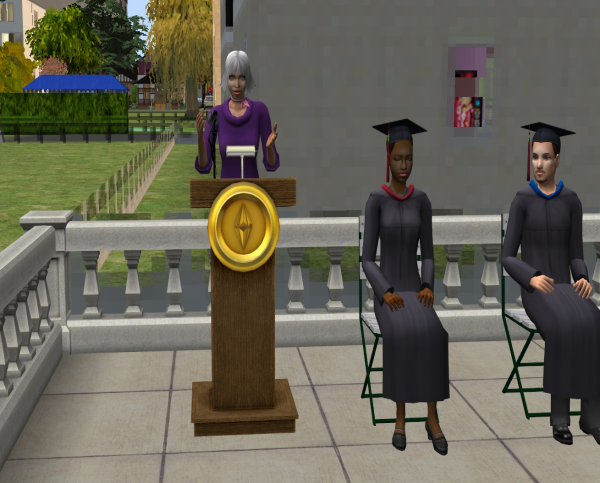 And finally, Richard's big day has arrived. One semester behind but he's glad it's finally here.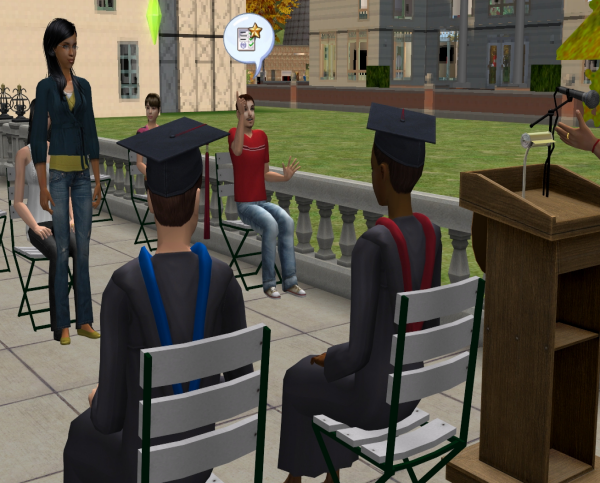 Liam cheers from his position, so proud of his son. Tazakati tells him to quiet down, but he doesn't listen. Cameron can't help but to think just how embarrassing her father is. Lana wasn't invited, but she just has to see the graduation. She can't wait for her own!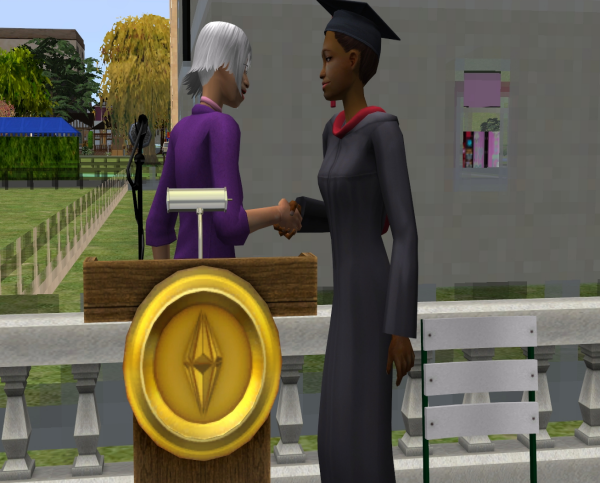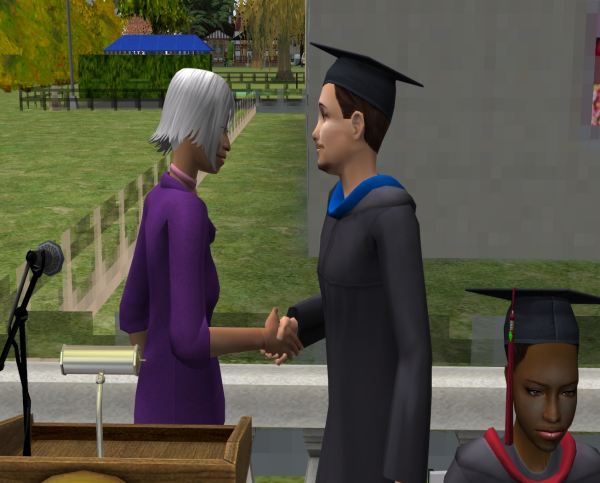 He returns back to the dorm to pack up and get ready to leave. Nora follows him out to the cab and he kisses her good bye.
"You're going to come visit me once I get settled?" He asks her.
She nods her head. He takes this as a positive sign.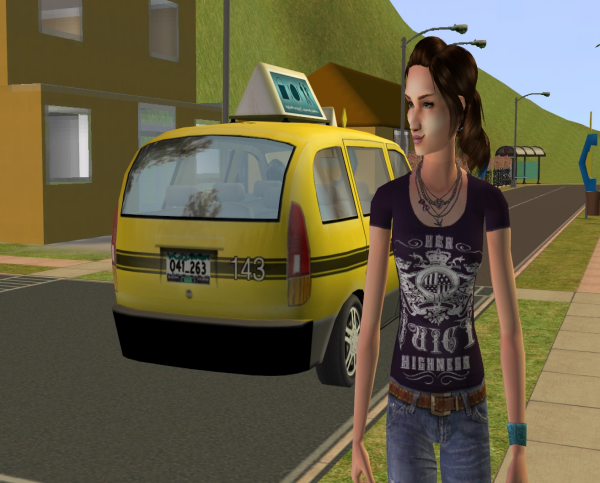 She watches the cab pull off before heading back into the house. It's strange, but suddenly she feels very alone.
***
Fall Grades
Freshmen
Lana Corbin: Chemistry A+ GPA 4.0 DL
Orlando Bertino: Undeclared A+ GPA 4.0 DL
Sophomore
Keegan Ottamas: Undeclared A+ GPA 3.6 DL
Chloe Gonzaga: Education A GPA 3.6
Sophie Miguel: Undeclared A+ GPA 3.5 DL
Ricky Cormier: Undeclared B GPA 3.2
Junior
None
Senior
Richard Smith: Education A+ GPA 3.4 DL (Graduated)
Mary Snoweden: Gentic Science A+ GPA 4.0 DL
Marchon Cunningham: Political Science A+ GPA 3.8 Missed Final Exam
Ye T'ang: Psychology A+ GPA 3.7 DL
Harvis MacAstral: International Relations and Diplomacy A+ GPA 3.7 DL
Nora Reed: Physics A+ GPA 3.7 DL
Lilly Sanchez: Government A+ GPA 3.5 DL
AJ Christian: Art A- GPA 3.6
Sorry for such a long post, but I didn't have enough to make three separate posts. So I hope you all didn't mind.
YAY! I'm so glad, Richard finally graduated. He will be working at Riverdale Jr/Sr High come this fall.
Nora really surprised me this round. She rolled no wants for any of the guys that she was seeing in the past. Even Richard had to work a little bit harder to get her to go out with him. She really has started over and I'm happy to see that.
Lilly is another surprise. He want to marry AJ actually rolled away. I never locked it since it was there all the time. But know she's rolling wants to meet new people, to make out with three sims, etc. All Romance sim wants yet she's a knowledge sim I think. So I don't know what's going on with her.