November, Fall 2015, Trant Traveller is 53, Trisha is 51, and Sofia is 10. (Tina and Greyson Haggerty are both 26). Last updated Fall 2012.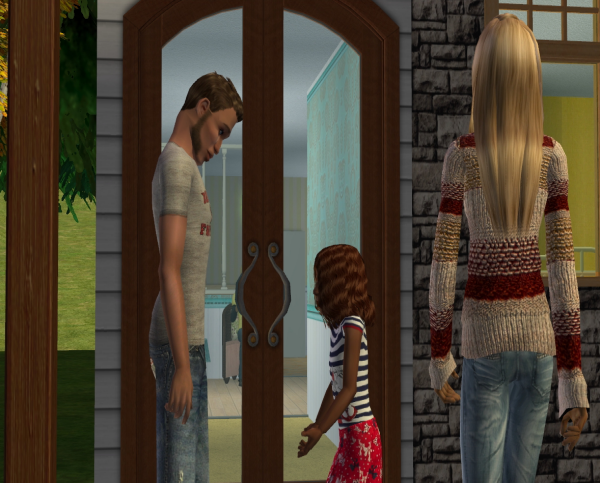 Sofia loves her big sister, and she adores her new brother-in-law. Though she thinks the formal names are stupid. First he was Tina's boyfriend, then he turned into her fiance, and now he's her husband. Sofia may only be ten, but all these different names for one person is a bit confusing. Not to mention down right stupid.
But she doesn't care what Greyson's title is, she's just happy to have him come for his weekly visit. She has so much to tell him. So much that they must catch up on!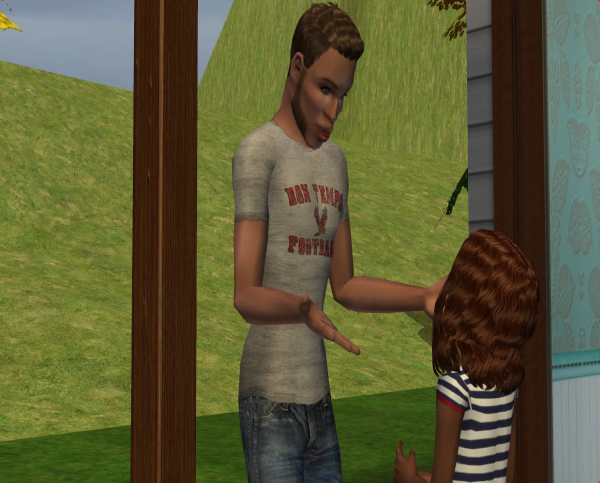 And Greyson adores Sofia as well! She reminds him of his sister when they were younger. And honestly, if it was a given that he and Tina's kids would turn out like Sofia he'd have ten, no, eleven of them!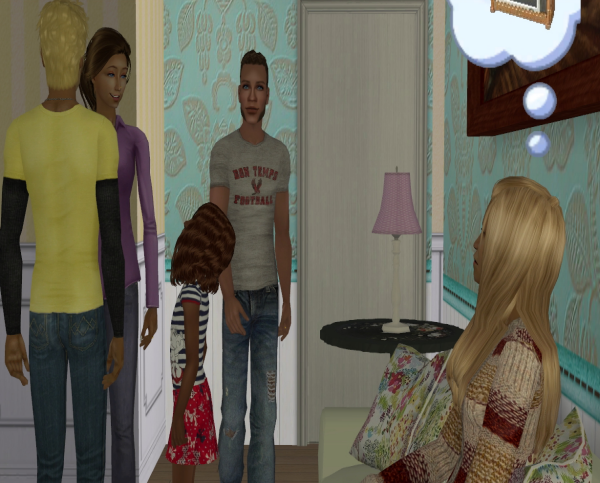 But the Traveller clan didn't meet up for Monday night football tonight. No, they are going out for some food and fun.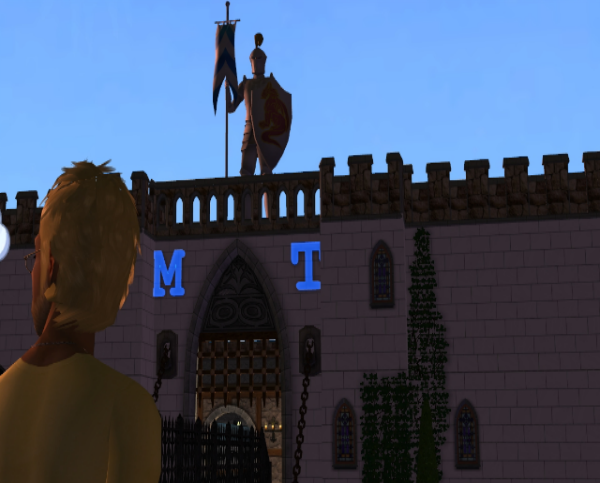 A new themed restaurant opened up out in farm country - Wilksburgo County - Medieval Times. It's been under construction fror what seemed like ages, but it was finally open, ready for visitors.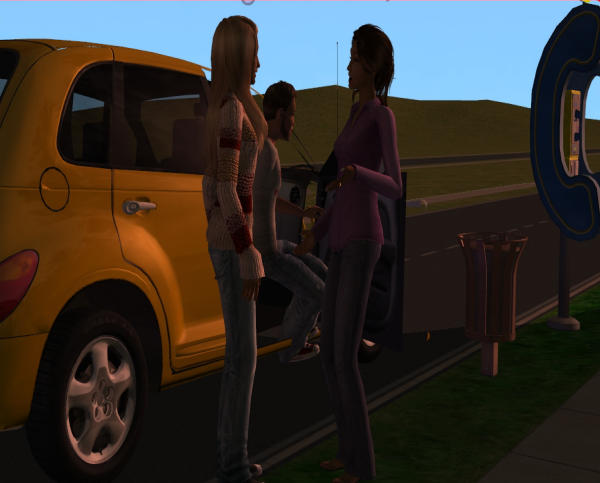 Trisha and Tina seem to be the most excited out of the group. Both have been counting down the days until the place was open.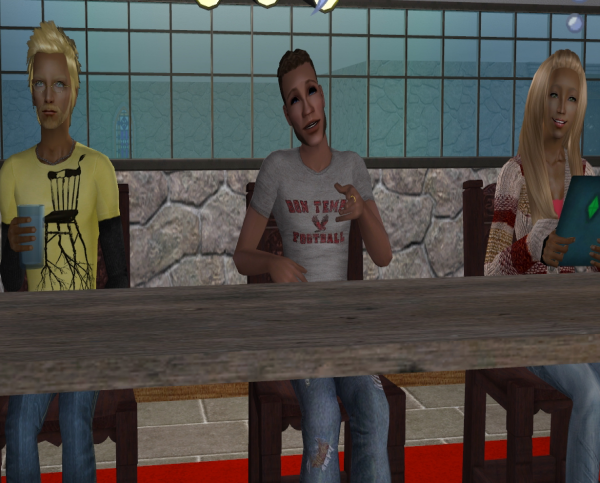 It didn't disappoint either, with a friendly and inviting atmosphere...
And a knight on horseback jousting match as entertainment...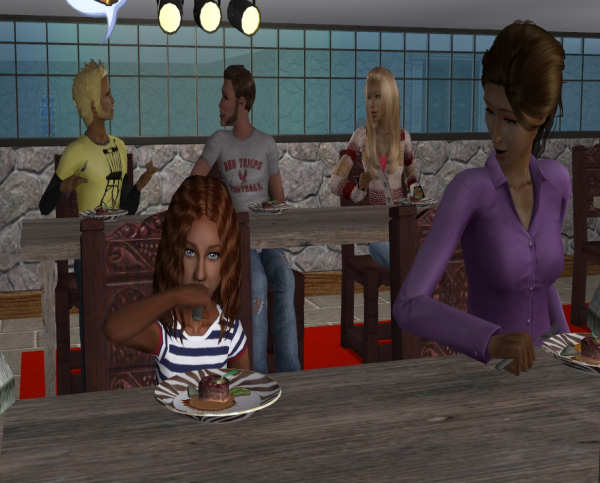 Down to the themed food; mutton. Which was given a more contemporary flair. A good time was had by all.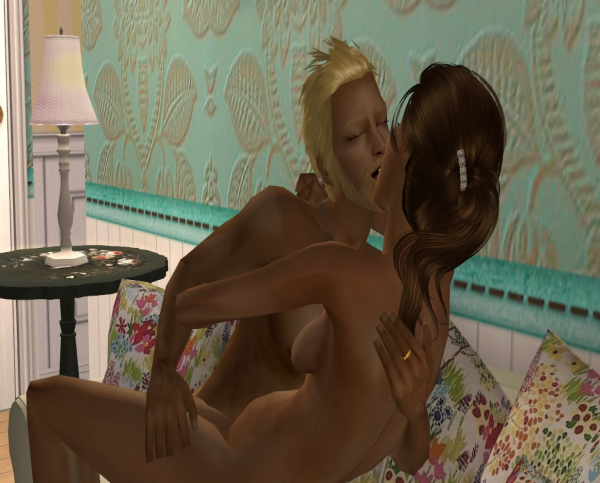 Riding high on the events of the previous night Trant and Trisha decide to steal a moment to themselves before Sofia got up to start her day.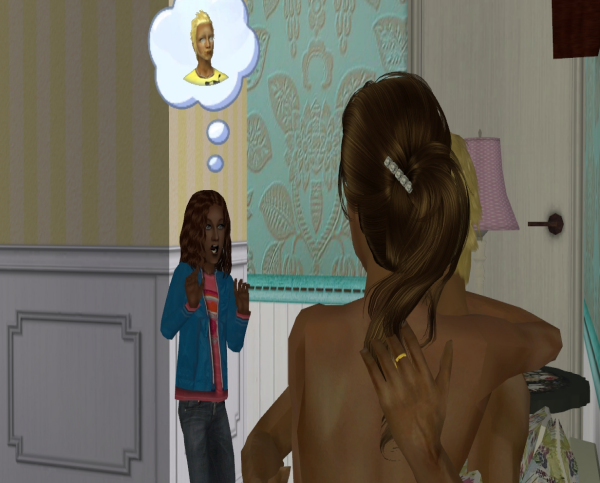 Maybe they should have taken that moment in their bedroom, neither of them counted on their daughter getting up earlier than normal to start her day. She is taken off guard by what greets her, and she quickly retreats to her room.
"Oh, my... I don't know what to say. I can't face her." Trisha says. She's so embarrassed. They never had this happen with Tina growing up. So how does one face their ten year old and explain to them what they saw?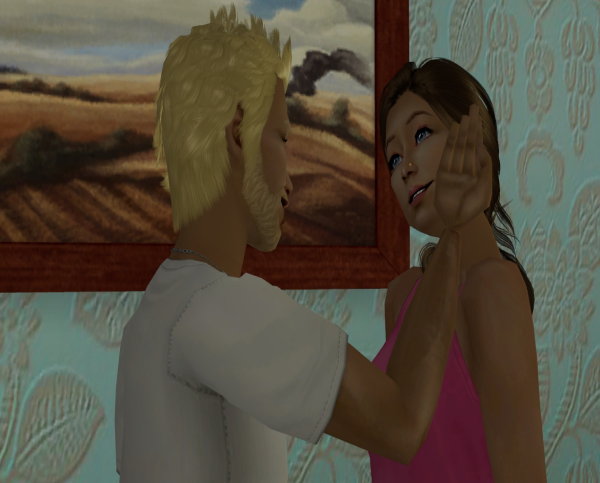 Trant puts her at ease. He tells her that he'll handle it. She's grateful, and gives him a small kiss as a thank you.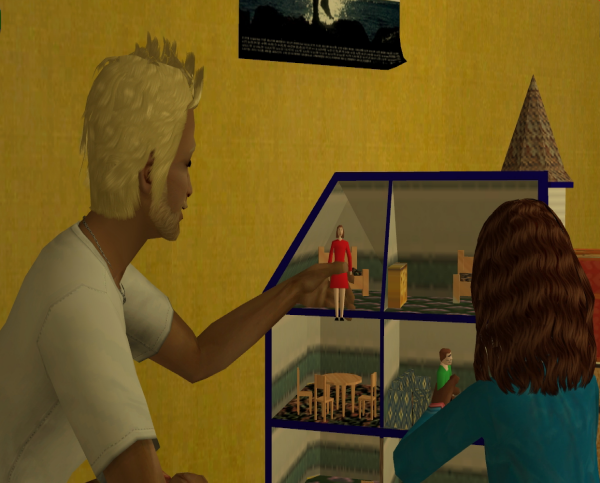 Maybe he's bitten off more than he can chew as he sits down next to his daughter. She's playing in her doll house, and he joins her. They sit, not saying a word. She places her doll on the tiny sofa in the house.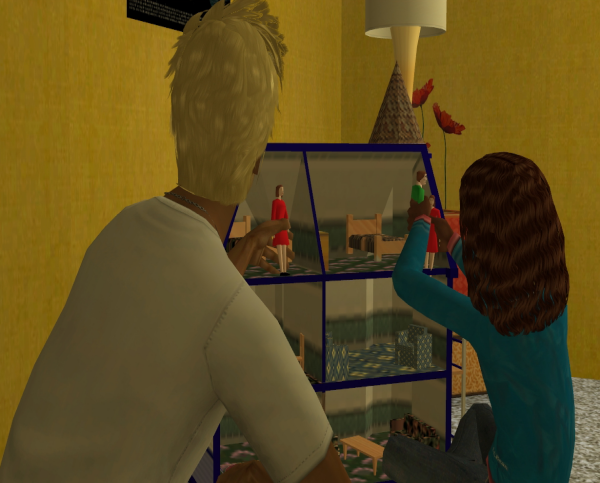 She picks up two more and makes them kiss.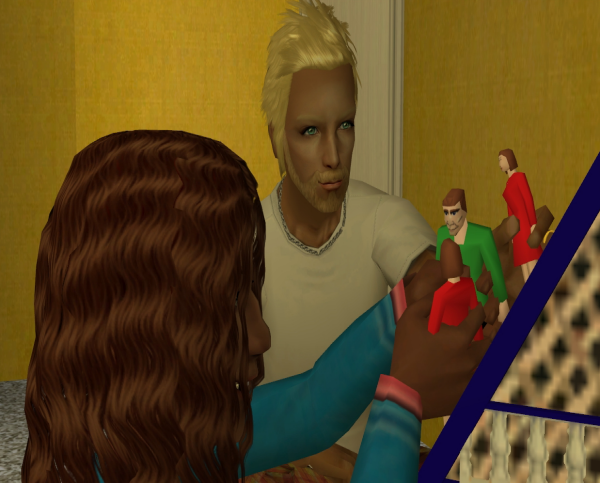 He sees this as his opening, and clears his throat. "You know... what you just saw... you're mother and I.." This was much harder than he thought. He doesn't remember "The Talk" being this awkward with his dad, but he was the child. Maybe his dad felt just as put off by the topic of discussion as he feels right now.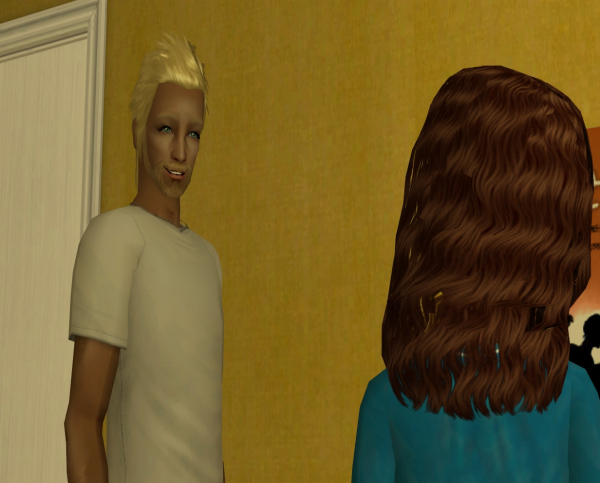 Sofia stand and Trant follows suit. She looks up at him and smiles. "Dad, I'm ten year old. We have health class at school. I know what you and mom were doing." He smiles back. 'Just when did my little girl start to grow up?' He wondered.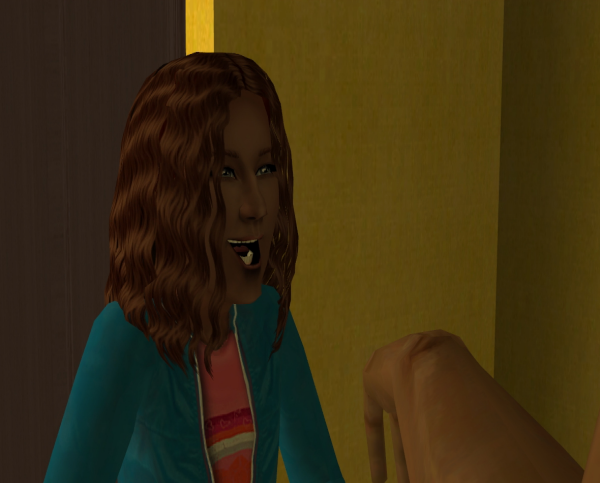 She burst into a fit of giggles, lightening the mood between them even further.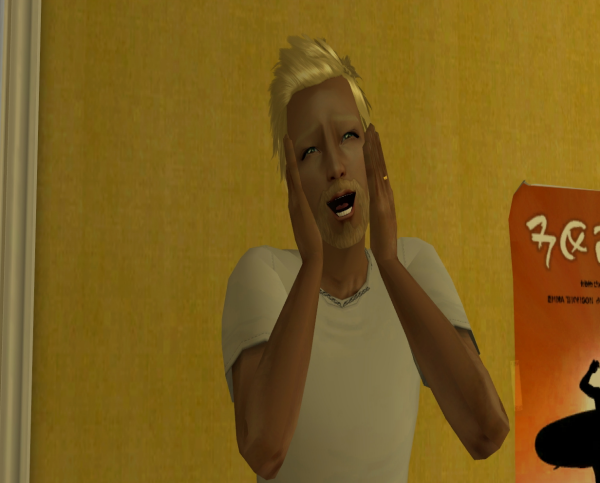 Which causing her dad to laugh as well. That had gone much smoother than he anticipated. Relief washes over him.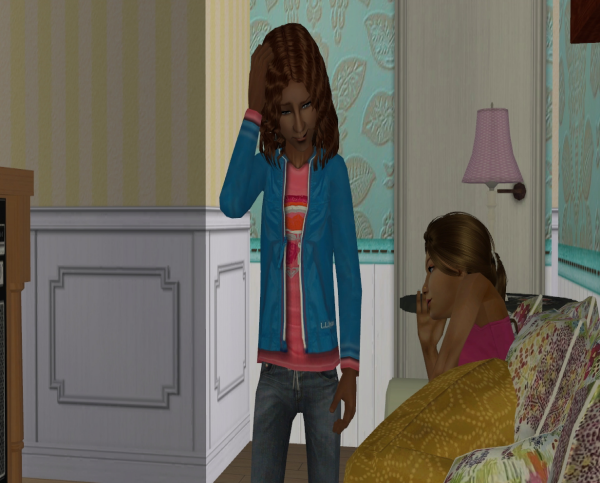 It's a different story as Sofia walks past her mom heading for the school bus. It's on thing seeing your parents making out on the couch. It's another thing when you see your parents making out on the couch, naked, and you're confronted by your mom's breasts. It's going to be a while working that image out of her head.
***
Not much really happened with the Travellers, besides Sofia walking in on hr parents. LOL She was supposed to be sleep but I guess she woke up to watch t.v. before school. Needless to say, she got an eyeful. LOL And now I hope her topic of discussion with Bryce Sanpple makes sense now.
Medieval Times is my newest restaurant. I didn't take pics to share because I still need to add a few more things first. I thought I had before I took them, but I was wrong. I didn't want to exit out and edit the lot jut to play it with them again. But I' pleased with how it turned out. And, yes, it's based off of
Medieval Times
restaurant. But not nearly as awesome. I do plan on having a sim take ownership of it in the future though.