May, Spring 2014, Brian Chew is 53, Jamie is 59, Adrien and Aaron are both 10. Last
update
.
Adrien tells Aaron how she's decided that she's going to be come a famous artist one day. She enjoys art, and she wants mommy and daddy to take her to the museum so she can go check out the exhibits.
Aaron isn't sure what to make of this news. His sister chances her mind every week on what she wants to do when they get older. Last week she wanted to breed llamas and the week before she wanted to milk snakes for venom. Now she wants to be an artist. It all makes his head hurt.
And Brian is just trying to make a healthy breakfast for the kids.
Try is the key work here. No matter how hard he does tired, he just can't seem to cook, no matter what. This time the toast burns before ehi eyes, sending the tell tale smell of burnt bread in the air.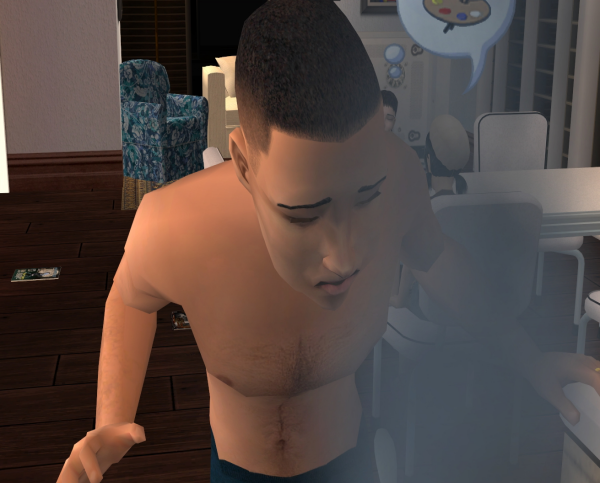 He blows on the mess and sighs. For once he'd like to make something eatable for his kids and wife. Maybe he should take a few cooking classes at the Community Center in Riverdale.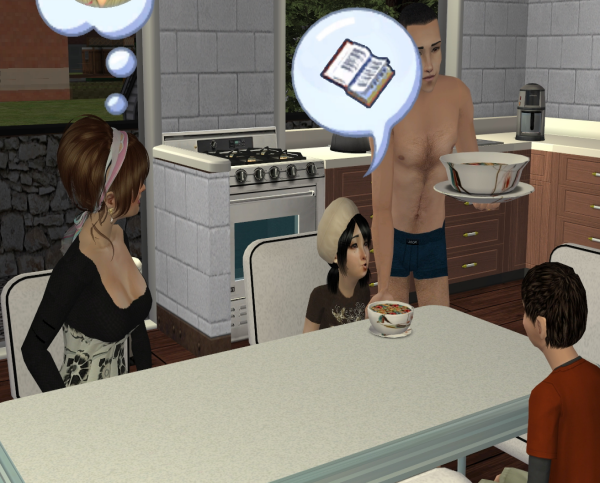 He settled on cereal instead. That's one thing he can't burn! Adrien has changed her mind yet again, she no longer wants to be an artist she wants to be an author of children books. Jamie laughs, she thinks it's cute how Adrien changes her mind on things. Aaron doesn't look at that way, and sighs once more.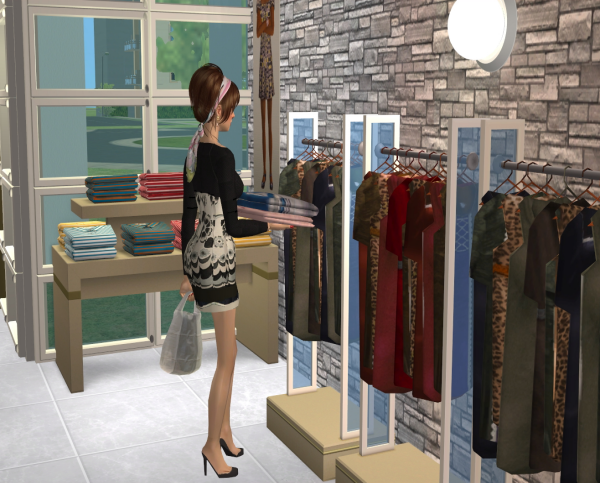 Jamie takes a quick run to the local mall before heading off to work. The twins are growing so fast, it just seemed like they went school shopping for new key items, and now they are bursting out of them. So she gets a few jeans, tops, and some shorts, since the summer months are coming up. She also makes note to put aside some more money for clothes shopping for the new school year.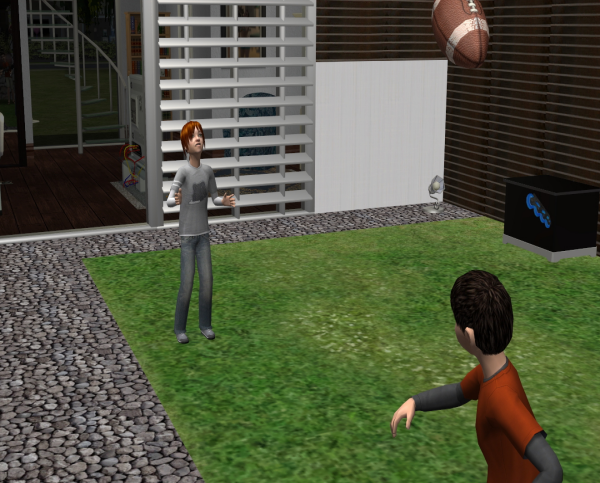 The twins are also starting to spend more time with their friends. Aaron has
Nick
McPhee visit him after school at least three times a week. Jamie is surprised since they leave out in the country, and it's at least an hour drive without traffic to get here. But Nick comes home with Aaron after school, and leaves after dinner. They spend most of their time playing football or hunting for bugs.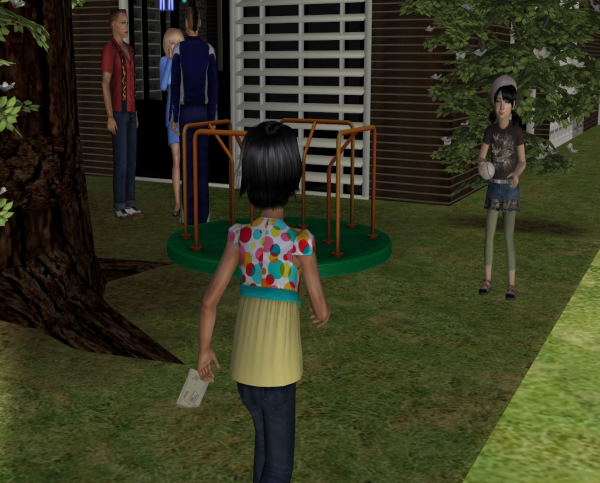 Adrien isn't feeling left out though. She has her best friend in the whole wide world, Kira Kim. They leave next door to each other, and if it were up to them, they would send ever waking second together. They, like Adrien's brother, play ball, but it's baseball not football. And the two also share their secrets, constantly giggling with each other.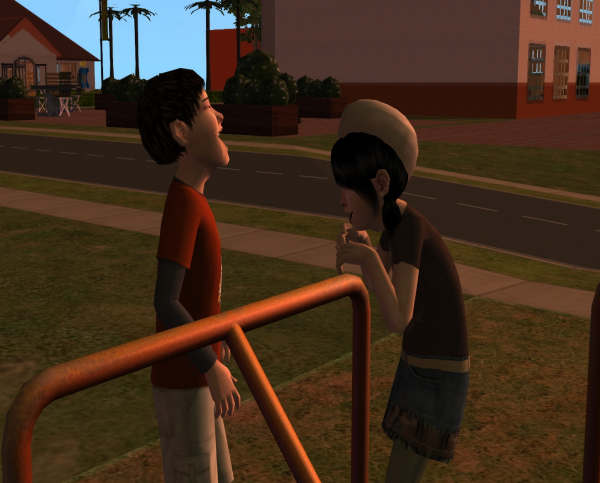 The twins haven't forgotten each other though, and their bond is still tight. They make sure to spend time with each other as well. Sometimes Adrien will share a secret Kira told her, and Aaron tells his sister that she's a much better football player than Nick.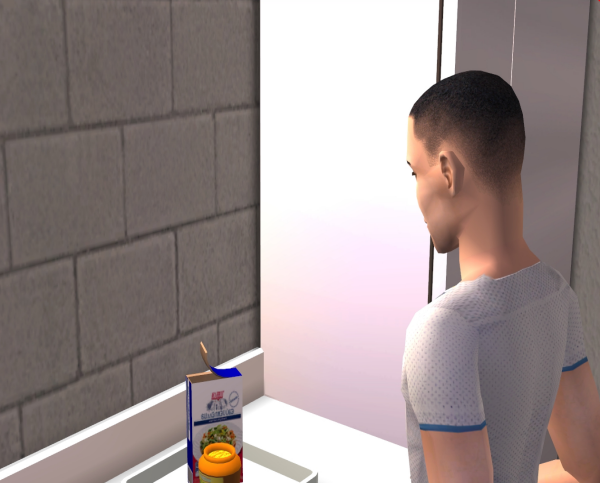 Since Jamie works until 9, Brian is left to make dinner for the kids. He knows that they are sick of take out, and even kids get sick of eating cereal for dinner. So he tries his hand at dinner. Maybe he'll have better luck than with breakfast.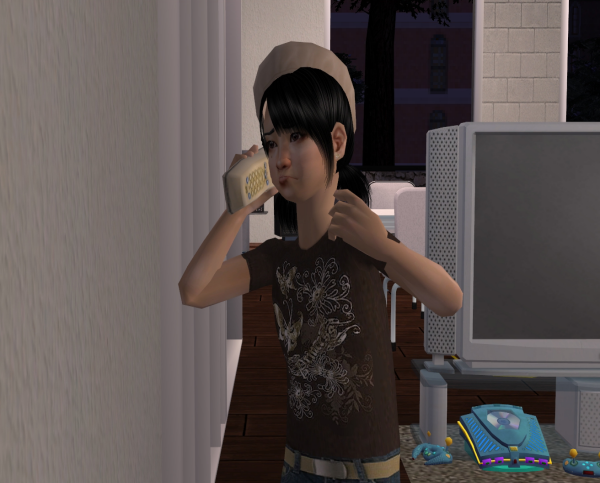 Adrien calls Kira and tells her of the tragic events going down in her kitchen. "If you don't see me at school tomorrow, it means I'm home with the runs. My dad is cooking dinner."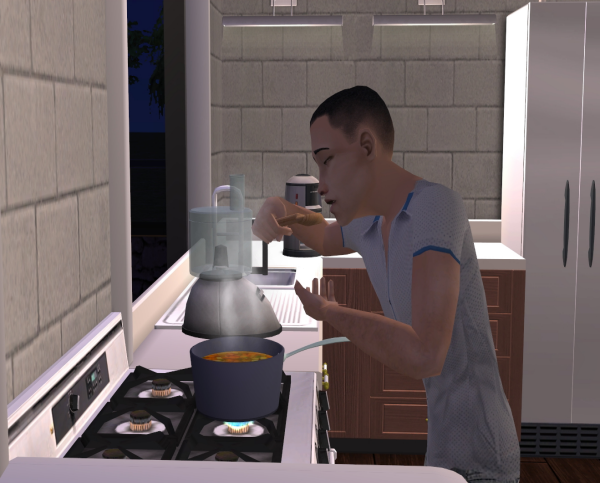 Brian over hears her conversation and groans. It's bad enough he can't cook for his family, but does his kids have to talk about him on the phone. He stirs the pot then bends over to taste. He's pleasantly surprised.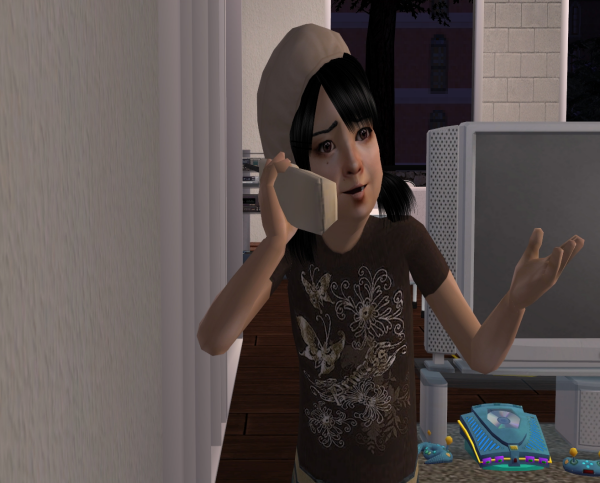 "No I'm not over reacting. You've smell the things she's burnt. I just hope I survive."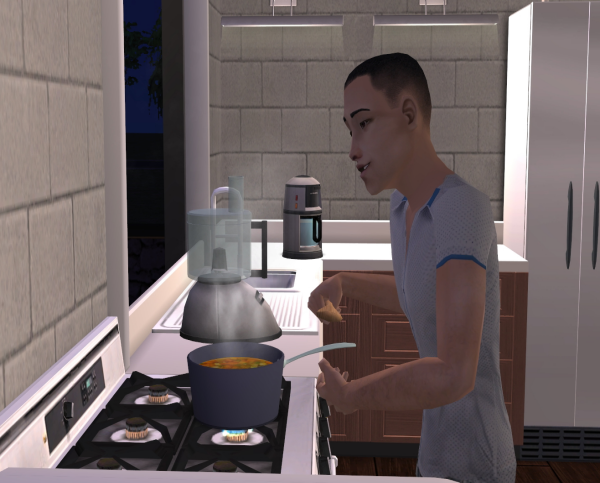 Brain is very pleased that he didn't burn his meal. It may only be soup, and it may have come from a can, but at least he hasn't burnt it, and the kids have something healthy to eat.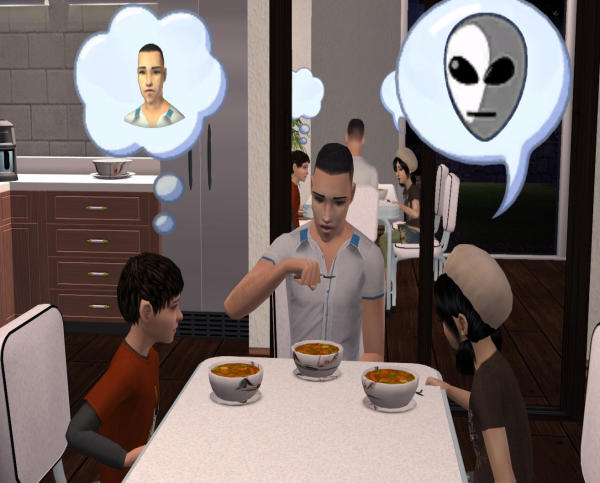 Aaron is surprised that they aren't having pizza, and that his dad actually cooked something! Adrien is shocked as well, and asks if aliens have swapped bodies with her dad. Brian doesn't find that too funny.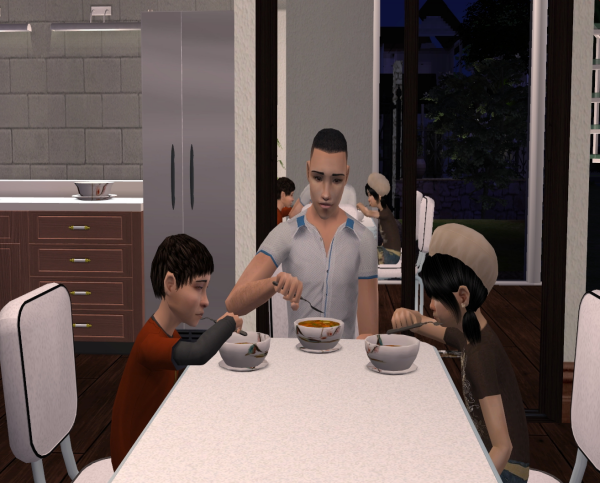 They all eat in silence, enjoying something other than pizza and cereal.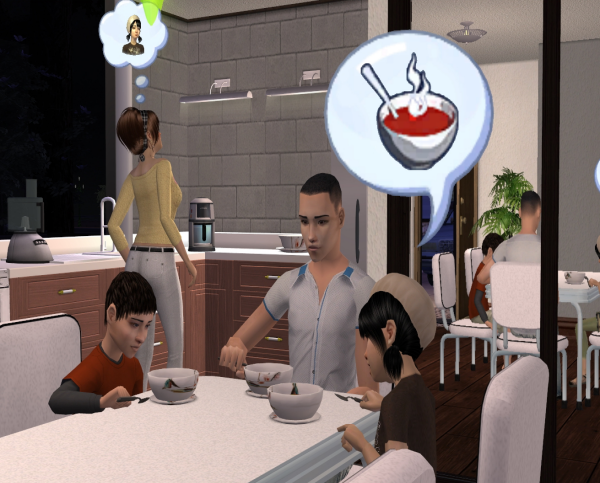 Jamie finally comes home and smells the soup in the air. Adrien is quick to point out that Brian prepared soup and actually didn't burn it!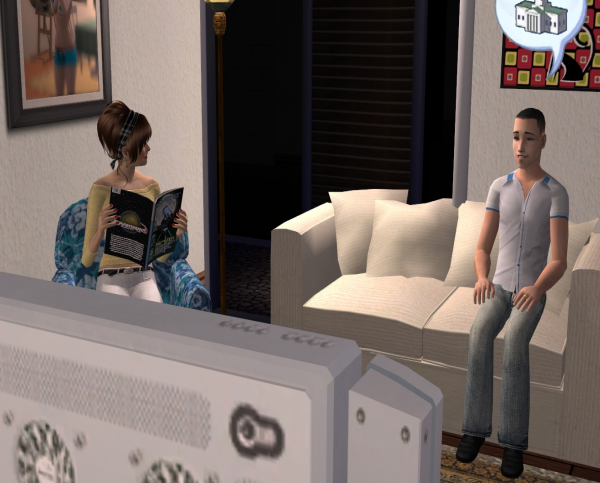 Once the kids are in bed, and dinner is put away, the couple sits down to relax. "You know, we haven't had AJ or Davon over in a while. Maybe we should call to invite them over." Jamie mentions.
Brian thinks it's a good idea. He wouldn't mind seeing the boys. His relationship with both still is shaky after all these years, but he's still working on it.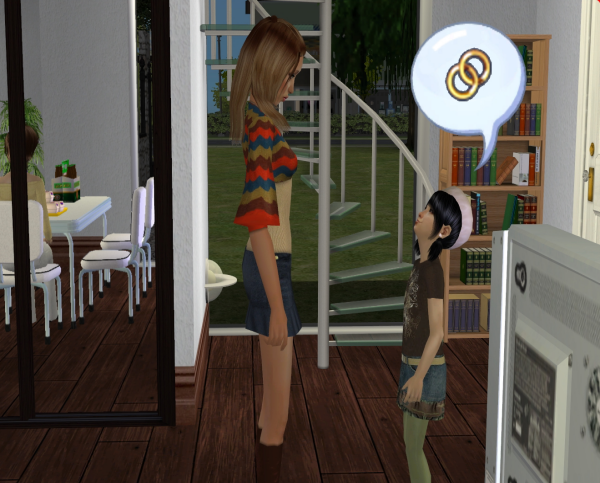 Davon and Eva are able to making it, but AJ is bogged down with finals and can't come for a visit.
"Maybe next weekend." He tells Jamie.
Adrien has other things on her mind as she greets Eva. "So, when are you and my brother going to get married," she blurts out.
Eva is taken back. She's forgotten how forceful Adrien can be. She doesn't answer, only looks around nervously.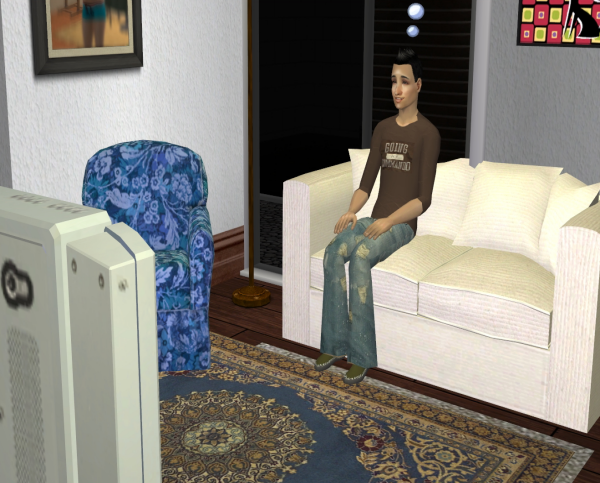 Davon perks up at the question, like his sister, he too would like to know when Eva would like to marry him. He hasn't asked yet, but she also hasn't given any signs that she's even thinking about marriage.
***
Not much really happened with this family. Jamie did age up early though. They had a small party, Davon, Eva, and AJ did come. The pics I took of AJ didn't show up in my pics folder, so I didn't have him in the update.
Brian really can't cook, the poor guy. I think he has like 4 cooking skills, but almost everything he touches turns to ash. LOL He and Mary suffer from the same thing. Neither can cook.