Late May, Spring 2014, Staff: Principal Peng T'ang is 37, Teachers, Justin Kim is 32, Betty Boone (place holder NPC). Students: Kobi Corbin and Anan Reed are both 12, Bri Shahan is 14, Edward Christian, Viggo Kim and, Brooke Sanchez are all 15, Marcus and Oliver Brooks, Sarah Corbin, Suni Ramaswami and, Cameron Smith are all 16, Lana Corbin is 17. For full list of students click here. Last update.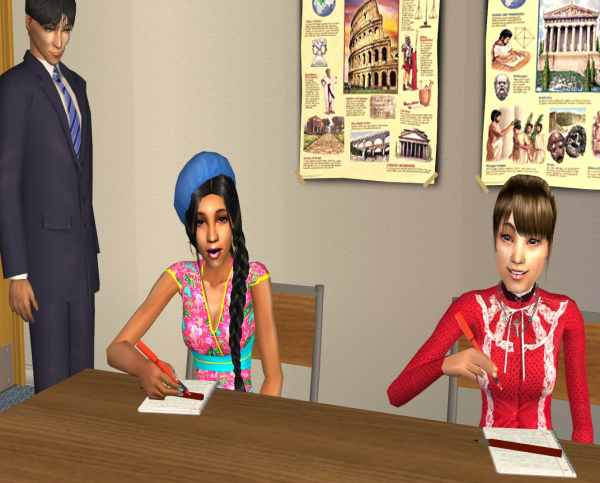 It's no secret concerning the bad blood between Cameron and Sarah. Everyone knows about what the raven haired girl did with Cameron's boyfriend. It's the talk of the school. Plus, Justin being Viggo's brother, he's seen the fall out of what his brother's actions has caused.
So even if the girls are on their best behavior for now, he still keeps watch over them. The school year is almost out and he really doesn't want to have to deal with disciplinary files this late into the year.
Besides, Cameron could care less about Sarah, she's the furthest thing from her mind. She has many other important things to worry about, like Jayden's upcoming birthday. How she's going to keep her grades up for college. How she's going to juggle college with a baby.
Yeah, Sarah Corbin is the least of Cameron's worries.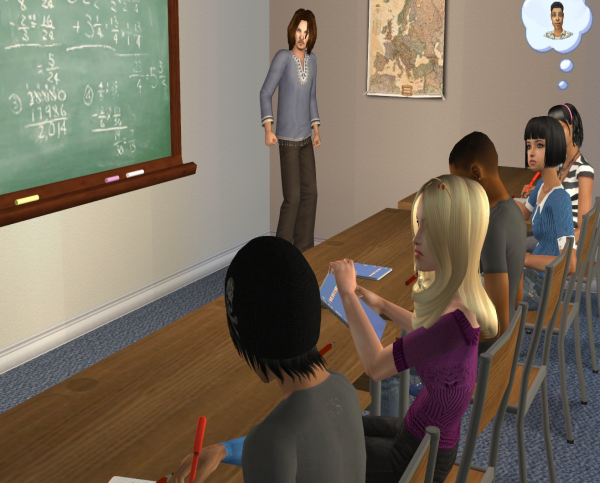 Richard Smith is finally starting his student teacher gig for his final credits before graduation. He's a few months late though. In truth he should be finishing up his student teaching and preparing for graduation, but being put on academic probation has set him back. No worries though, he's back on track and due to graduate this fall.
Now, if only he can focus on teaching the class. it's hard though since he's in here with Viggo. He really wants to rip the boy a new one for what he's done not only to his little sister, but to his nephew as well.
Viggo does his best to ignore Richard though, and instead focuses on his work. He knows a ton of people are still pissed off at him, and he's sorry. He's said this countless times to Cameron over the past months. He can't change what happened, but isn't it time to let him out of the dog house?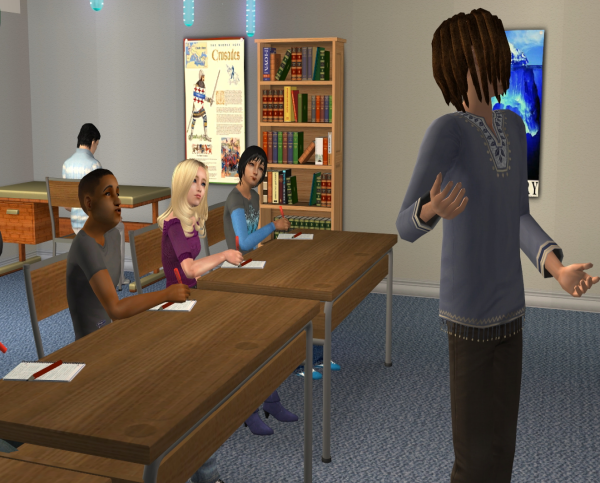 Peng sits in the back of the class and listens as Richard explains the current assignment. He smiles to himself, the boy will make a really good teacher. He makes a note to speak with him after school, hoping to sway him to apply for the teaching position still open here at the school. Once he graduates of course.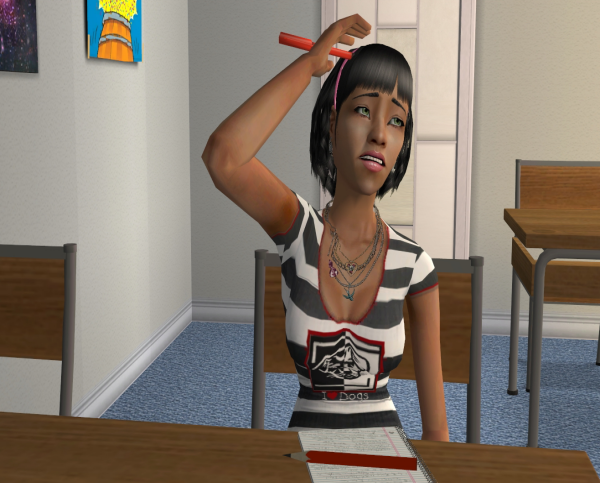 Bri is completely burnt out. She's so over school that it's not even funny. All she wants to do is focus on song writing and her quality time with Marcus.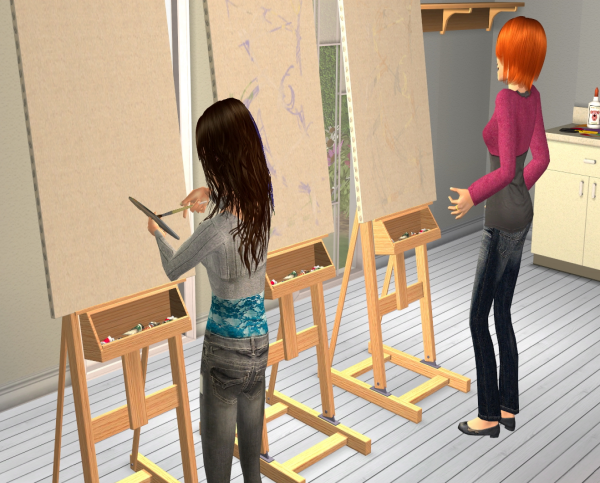 Betty loves her class, she's stated this fact almost the whole school year. So as the year winds down she's a bit sad to see her two pupils go.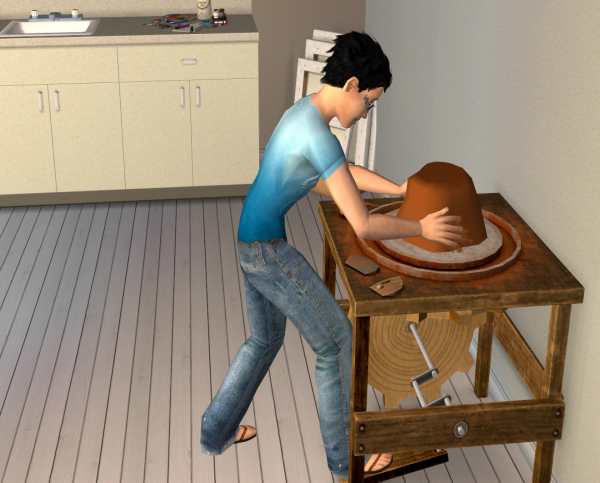 They are so focused, and complete all their work in a timely fashion. Hopefully she'll get a class just like this next year.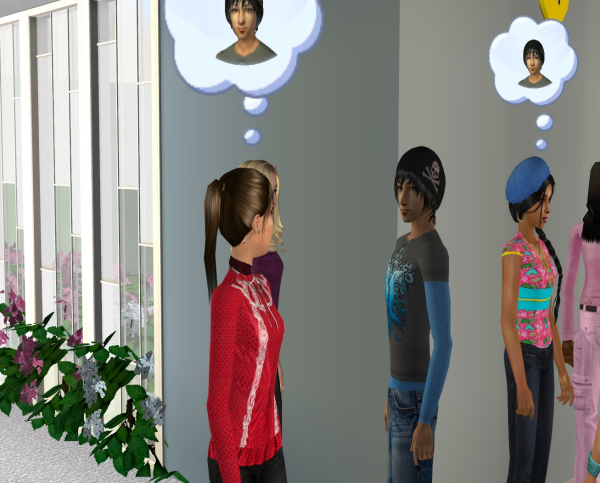 Cameron and Viggo are on speaking terms now. They've come to an understanding.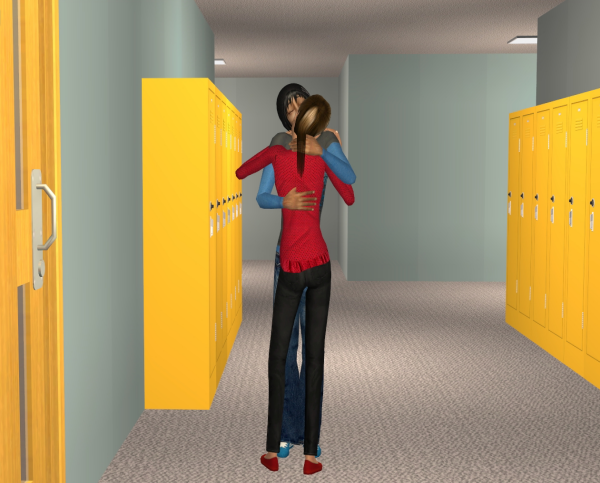 They're still together, moving past that speed bump. Cameron feels that it's made them both stronger, not just as individuals, but as a couple as well. Though, Viggo isn't fully back in her good graces, he's on probation. So the PDA's stop and kissing, and nothing below the waist.
He's also having to spend more time with his son. Which isn't so bad now that Jayden is getting older, his more fun to be around. He'll admit though, that it's hard working a job, going to school, and spending the majority of his time at Cameron's house. But in truth, he wouldn't trade it for the world. He just hopes that Cameron can fully forgive him for acting like a total ass.
Sarah is even more confused. She's hot! And she knows it! She's not all stretched out of shape from having some brat and her boobs aren't saggy from breastfeeding, and yet Viggo is still with Cameron. Seriously, Sarah just doesn't understand. Hello, any guy would trip over themselves to be with her (well, in her head anyway). She's the total package, but the guys he wants doesn't want her.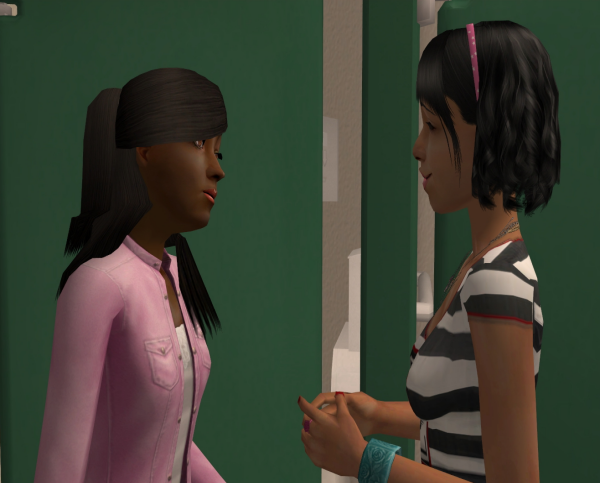 On the other end of the bathroom Bri voices her concerns over Marcus with Suni. She just doesn't understand why Marcus doesn't want to take that next step in their relationship with her.
Suni totally understands her fears. She tells her that it's really not a big deal, it just takes some guys a little longer to jump on board with the idea of being physical with their girl. It's not like he has experience in that department, and he could be a little nervous about performance.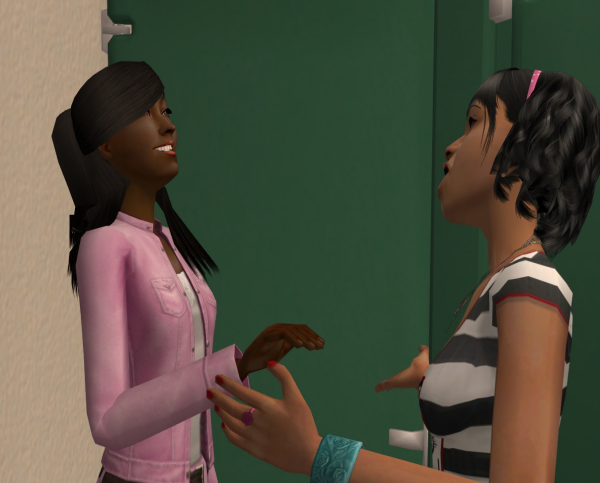 Bri never though of it that way before. She just figured that Marcus wasn't into her like that, but Suni has presented a good case in his defense.
"Once he gets over the nerves believe me, he'll be all over you like white on rice," she jokes.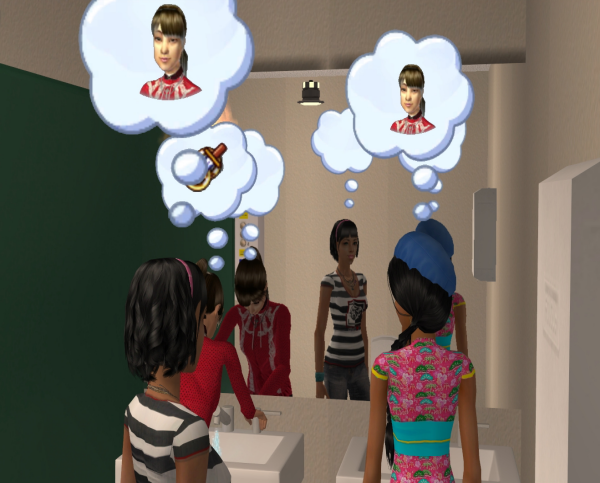 Cameron can't wait until school is out. Most of the time she's not even worried about Sarah, heck, she even acts like the girl doesn't exist. But sometimes, like now, she consumes her thoughts. And it makes her sick thinking about Sarah and Viggo wrapped up in each other. She wants to rip the girl's hair out by the roots. But the truth is, she has to make this work between she and Viggo. Not because of her, or how she feels about him, but for their son. He's the most important thing to her, and he needs his dad.
And Sarah can't stop thinking about Cameron even if she tried. She just doesn't get what's so special about the bitch. It's like everyone likes her. Like she's so perfect. The idiot went and got herself knocked up. Who does that? Seriously! And who in their right mind takes back a guy who cheats on them? Granted, she did throw herself at him, but if it were the other way around, Sarah would never take the guy back.
Bri may not be close with Cameron but she does admire her. It take a certain kind of girl to move past what her boyfriend did for the benefit of her child. And anyone who judges her because of that needs to back off. They aren't in her shoes so they have no place to talk.
Sarah can't hold her tongue much longer and lashes out. "I don't see what he sees in you! But don't worry, because eventually Viggo will be mine!"
Suni looks at her with pity. The girl is seriously delusional. She was just something to scratch that itch he had while he was trying to figure things out. Not that she's making excuses for his actions, but Viggo was never into Sarah all like that. Having a kid just messed with his head.
Cameron shoves Sarah out of her face. "Don't touch me. Don't ever put your hands on me again, because next time I won't be so civil. And I'm not worried about you, Sarah. I feel sorry for you. You're pathetic. Viggo doesn't want you, he never has. And you're the fool chasing after him like your his puppy."
Cameron turns to leave, and Sarah fights to hold back tears. Deep down she knows that Cameron is right. Viggo doesn't want her, he's with Cameron, but she really can't face that fact. So instead she fights back.
"Me pathetic! Ha! I'm not the one who took back my man after he slept with someone else!"
Cameron doesn't reply, she only heads out the door.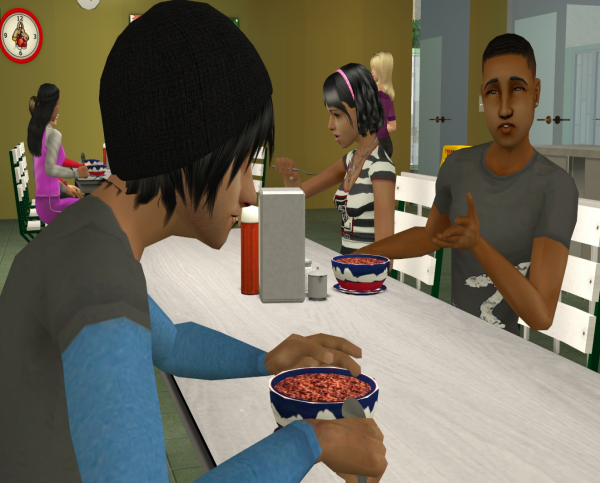 Viggo ops to sit with Eddie at lunch. Suni had the scariest death glare than even Mrs. Smith and his mother combined, so sitting as far away from her as possible askes him feel better.
Eddie would offer some words of advice, but it's not as if he has room to talk. He did cheat on his ex, Brooke, with Ginger. Instead he tells him to check out Bri rack. Looks like they've gotten bigger! Viggo snorts with amusement before clearing his throat. Now is not the time to even think about some other girl's boobs.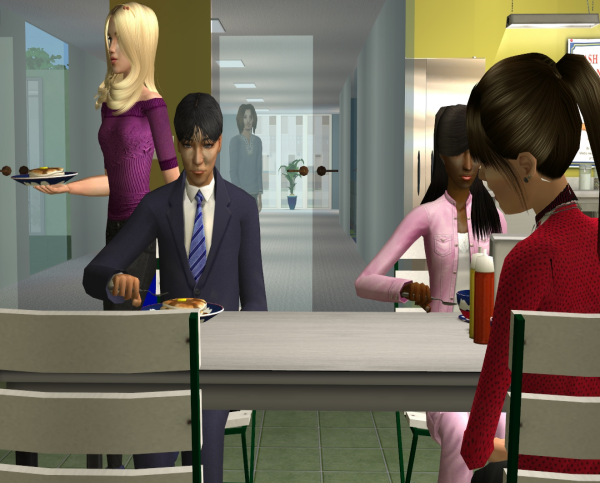 Justin takes a few moments to speak with Cameron. He's happy that things are getting back on track with her and his brother, and he just wants to tell her to try and go easier on him.
Cameron understands his concerns, but she kindly asks him not to but into her personal affairs. What goes on between she and Viggo should stay between the two of them. She tells him to tell that to Viggo as well.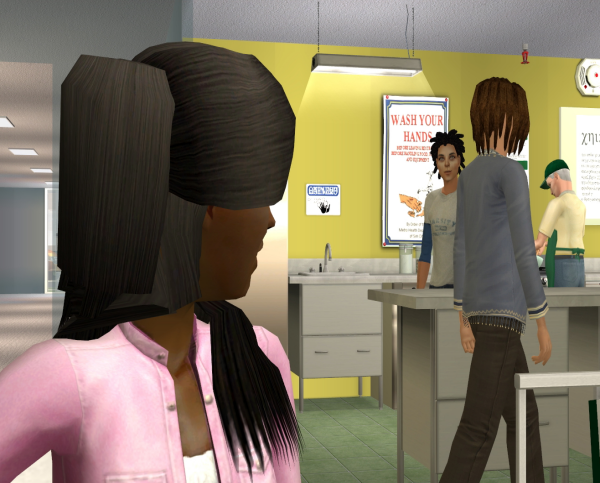 Suni is glad that she doesn't have baby daddy drama. She turns to smile at Oliver. He smiles back and it makes her blush. It's silly really, he's seen her naked countless of times, but when he smiles that sweet smile at her, it makes her feel the way she did when they first stared dating.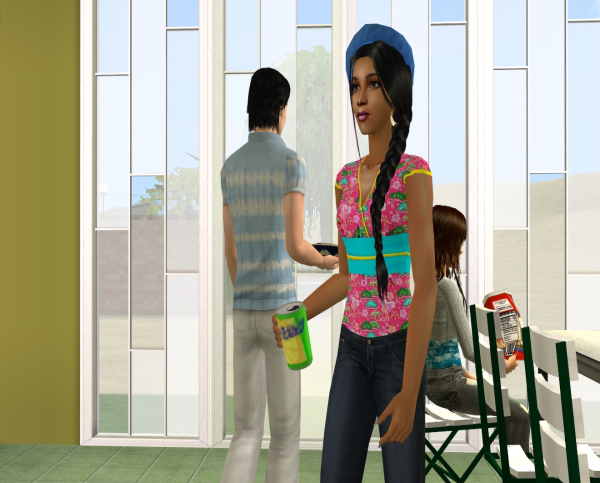 Sarah on the other hand is completely alone. Besides Ginger, but she can rub you the wrong way after a while. Then it could be her new diet. All she's allowing herself to eat is salad and drink these nasty diet shakes. But Sarah really fears gaining that weight back, so this is her best bet to staying thin.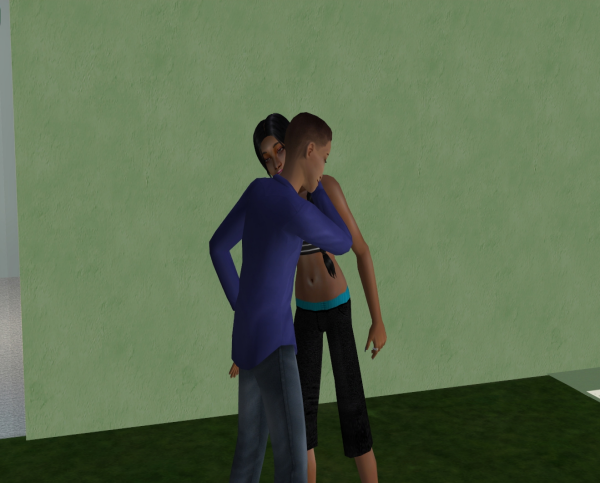 And playing basketball. She enjoys the sport and she also enjoys spending time with Orlando. He's no Viggo but he will do... for now.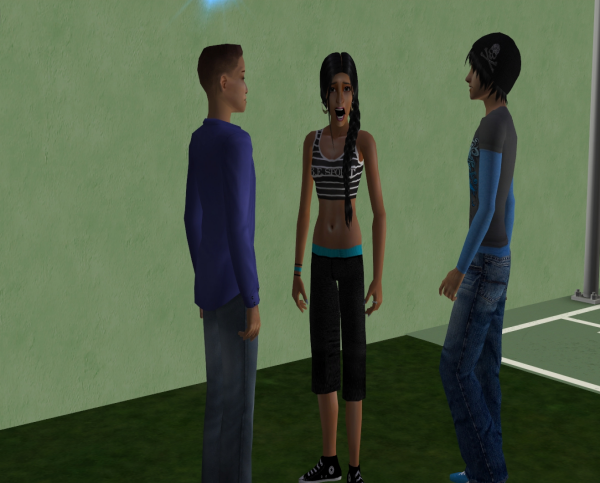 They were just about to share a kiss when Viggo storms up to them. He ignores Orlando and turns his furry on Sarah.
"Listen, I'm not going to say this again. What happened between us was a huge mistake. I wish it never had, but you leave Cameron out of this! Do you hear me!"
His anger takes me by surprise. Then her eyes narrow. She should have known Cameron would have gone back crying to Viggo. Whatever. She'll show the both of them. Right now Viggo is just blinded by honor or some shit like that. In time he'll see that he really wants her. But for now she'll pass the time with Orlando.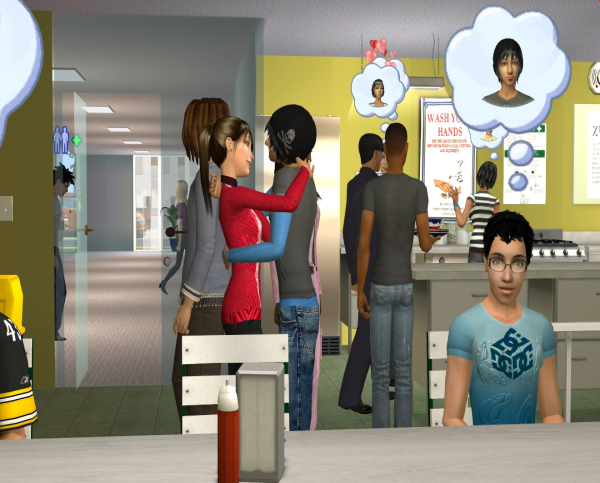 Richard wants to barf at the crazy that is going on before his eyes. Maybe it's because it's his sister. Or maybe it's because he's been cheated on by two women who he though were important to him. Whatever it is, Richard doesn't like the current turn of events.
***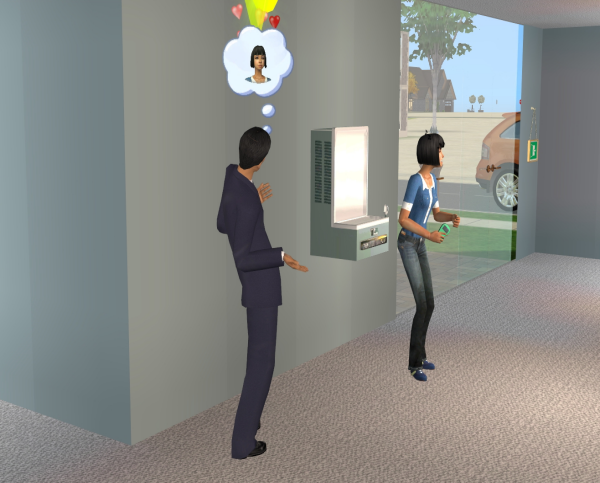 Random photo. Justin really loves the young ladies. LOL He still swooning over Ginger.