February, Winter, 2015, Zac Burrego is 54, Jodie is 53, Fayodor is 10, and Cicero is 6.
(Ariel Burrego and Bret Patrelli are both 25.5, Alex is 5, and Fae is 10 months old.)
Last
update
.
It's all about the kids! That's Zac's motto. But it really is. Not to say that he doesn't do anything for his wife. That he's not motivated to provide a stable home, a good pay career only for his kids. He does all these things for his wife, Jodie, as well. He loves his whole family. But the future lies with their children, and he does all that he can to make sure that they have a solid foundation (education)...
and sturdy support (unconditional love), so that they may strive and live to their full potential. In the end he knows that his boys will be very well rounded individuals.
Just like his daughters. Ariel brings her little growing family over a lot. She loves spending time with mom and dad, and they love spending time with her and the little ones.
Zac would like to spend more time with Bell, but she's busy most of the time. She calls, but since she doesn't have children holding her down, she doesn't feel as inclined to visit on a weekly schedule.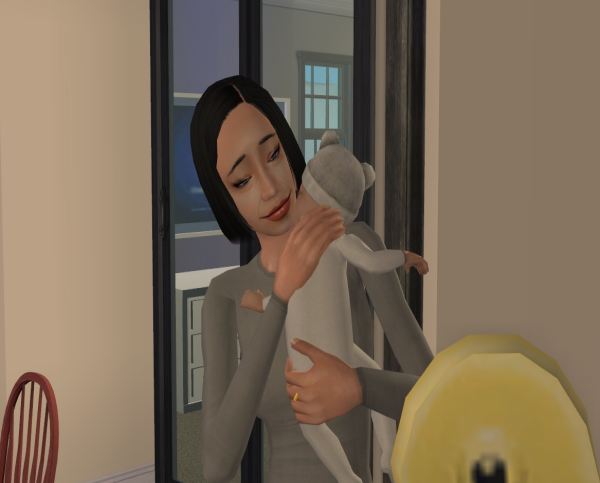 Jodie does wish that Bell would visit more, but she take comfort in the newest addition to the family. Fae is their first granddaughter, and Jodie simply adores her!
It would be nice is Bell and Brad did settle down and give her a grandchild of their own. But Jodie is far from being one of those parents who are always asking when their children are going to get married, and when they are going to bless them with grand babies.
Zac on the other hand isn't so shy. He really wants to know when Bret's going to man up and ask for his girl's hand in marriage. Hell, they've been together since college, they have two beautiful children, and a lovely home together. Why not pop the question.
Bret still doesn't give a audible response, he kinda skirts around the topic.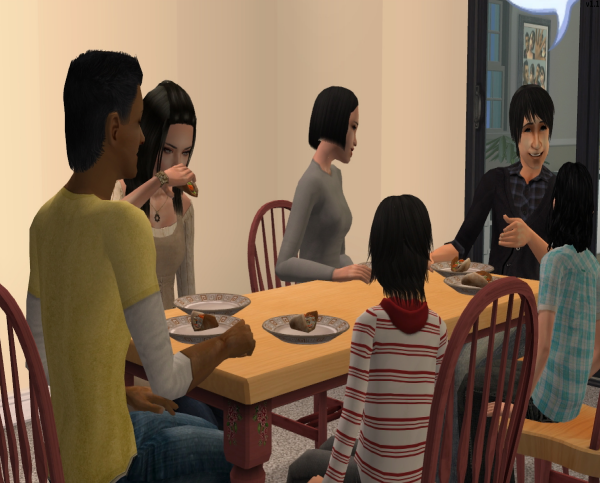 Everyone enjoys the family meals together as well, sharing stories about their day, and from work. Fayodor really looks up to Bret, which makes him hang onto every word the young man says.
But Zac can only keep his mouth shut for a little while, and he turns the conversation back to Bret and Ariel, and them getting married.
Ariel smiles nervously, she hates it when he dad starts in on Bret. But Zac doesn't let up, mentioning that the two of them aren't getting any younger, so what's the hold up?
Bret stutters a little bit, before trying to form an answer to the question that doesn't piss everyone off at the table. Ariel does notice the stuttering, but she shrugs it off. She would marry Bret in a heartbeat, only if he would ask her. But she's come to terms with the notion that it's not in the cards for them. He's happy with where they are, so she has to be happy as well. And why not?
They have a home together, two children, and a great life. Why mess things up with bugging him to marry her?
"Dad, please, just drop it. This is between Bret and me. I get that you think you're looking out for me, but I'm a big girl. I can handle my own affairs."
Jodie is with Zac on the marriage issue, but she's not cramming it down any one's throat, and it angers her that Zac does so at every chance he gets. He knows that she's mad at him. She banging away on the computer, working on her minutes that she's let pile up over the past month. Being a doctor just isn't about caring for the sick, you have to do paper work too.
So he leaves her to her work and swims in the pool. But really, he does all this for his family. Because he loves them, because he wants the best for them. He's not trying to push anyone away, or control their lives.
He just wants the best.
Which also means employing his niece as a babysitter for when he and Jodie are at work. Bri doesn't mind, plus she makes $15 an hour. Not bad in her opinion, and she actually saves it too.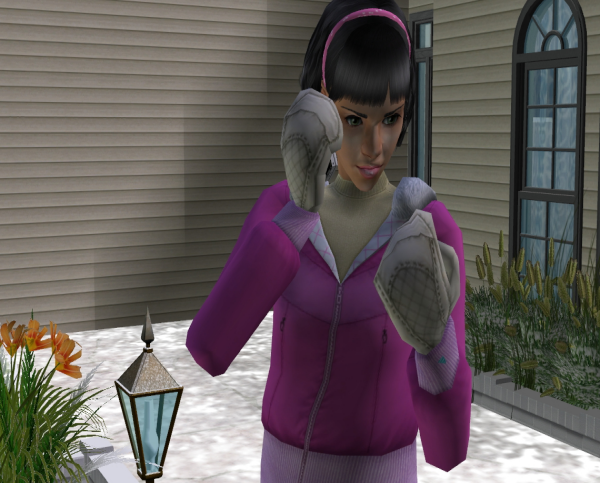 Though she spends most of her time on the phone with her boyfriend, Marcus Brooks. She does a great job of keeping an eye on the boys.
But like Zac's motto, it all comes back to the kids.
***
Again, another boring family. But I love them! I can't believe that Zac and Jodie are really getting up their in age. :( I'm going to miss them being young. *sigh*
Ariel still wants to marry Bret, but he has no wants at all to get married. I'm holding out to see if he'll roll it. I have a feeling that Ariel's not going to wait around forever though.
Zac isn't too happy with Bret dragging his feet either. Every time they talk, ever since college, the first think that Zac brings up are the wedding rings. He really wants them to get married. Same with Jodie, but she only thinks about the engagement ring/wedding rings. So either she's waiting on Ariel and Bret or Bell and Brad. Or maybe she's waiting on both! Who knows. LOL