September, Fall 2015. I just realized that I never posted an update for Spring of the 2014 -2015 school year for uni. I looked through all my pics and I can't find the ones from the last round. I have no idea what happened to them or where they went. Also this is a bit longer than normal. *WARNING* NSFW (2 pics) Last update.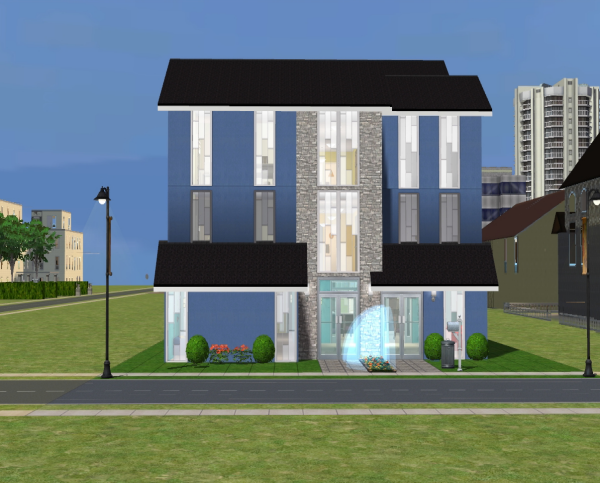 UoR
Warrick Hall
Freshmen: Marcus Brooks (18) and Sarah Corbin (18)
Sophomores: Lana Corbin (19) and Orlando Bertino (19)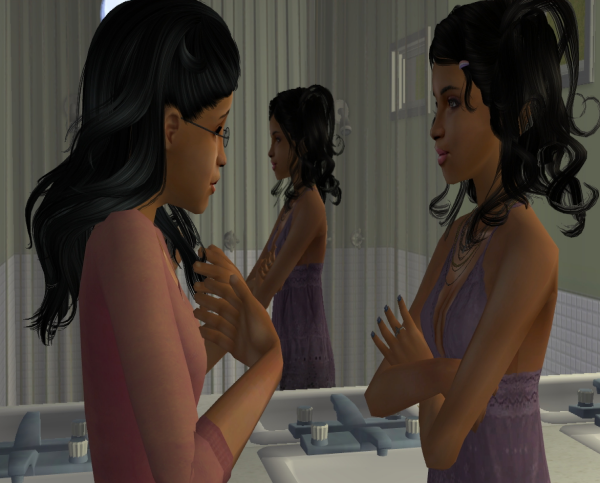 The new school year starts off with a bran new dorm. Everyone is super excited to be the first students to move in and live there.
Also what's new; roommates. Lana and Sarah have decided to be roommates once again. It's actually something they both have been looking forward to. They've shared a bedroom together since they were children, and then, when Lana left for school last year, it was the first time Sarah was alone. So reuinting is a good thing!
Lana has laid down some ground rules though. She knows that she and Sarah done see eye to eye on the whole "sex before marriage" thing, so she doesn't want to walk in on her little sister and some random guy. All she asks is that her sister let her know if she's planning on "entertaining".
This doesn't leave Sarah happy, but she'll comply.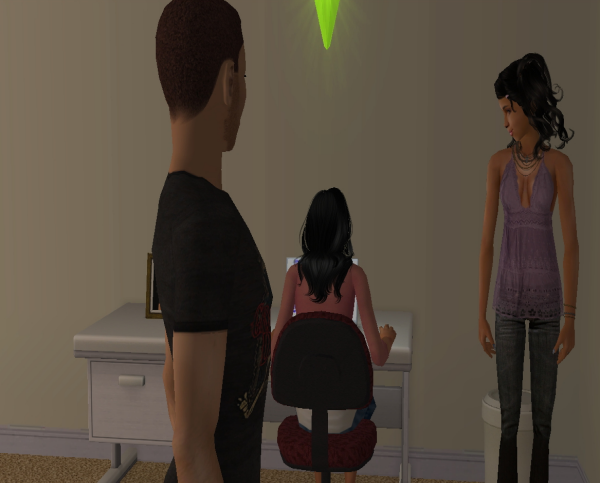 And to be honest Lana really hopes that Sarah finds some boy toy to keep her occupied. No matter how much she's missed her sister, and glad that she's now with her at school. She also isn't stupid, and she knows that her sister is very attractive, and attracts all kinds of guys. She also knows that Orlando had a small crush on Sarah in high school, and she worries if his crush won't start up again now that Sarah is here.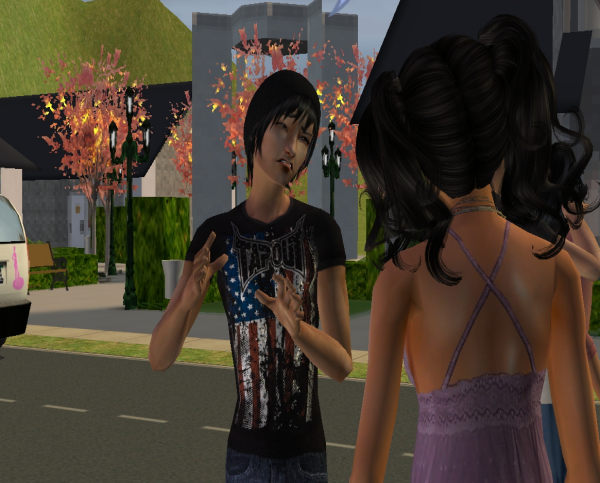 But for now Orlando isn't on Sarah's radar. She's still hanging out with Viggo, much to her enjoyment. They have to keep things secret for now, since Cameron is dead set against the two of them still remaining friends.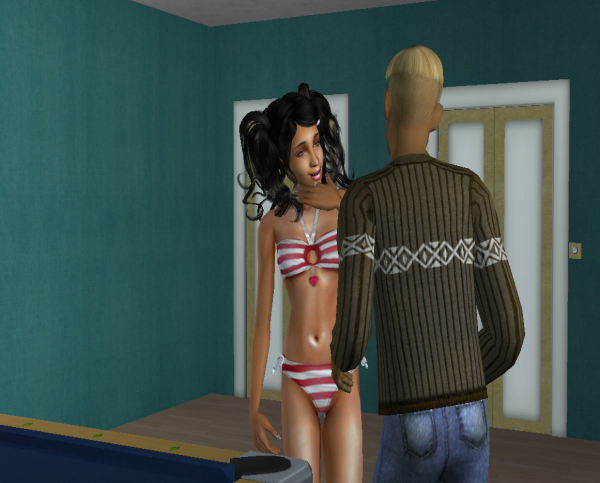 Besides Viggo Sarah is retaining much of the male student body on campus. Much to her enjoyment as well. She enjoys the flirtatious comments that she gets on her "
assets
".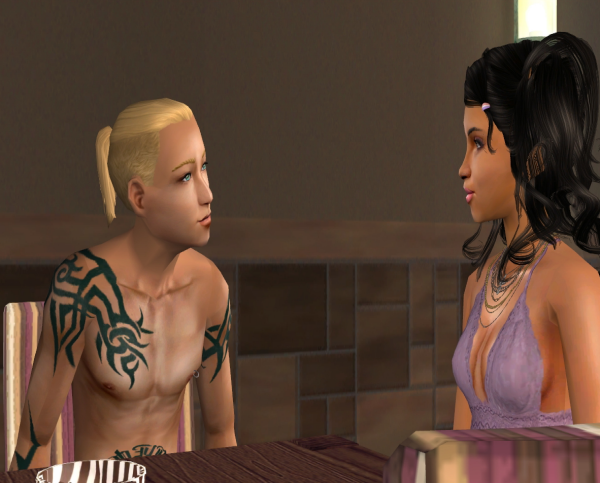 And a few guys have caught her attention as well. Well, one guy truthfully. Maybe it's the tattoos. Or maybe it's the nipple ring. Sarah isn't sure, but she is sure that she would
love
to get to know him better.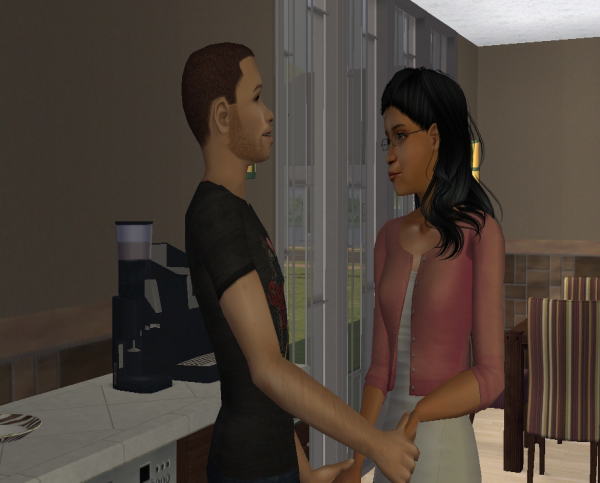 While Sarah is at play Lana is enjoying her quality time Orlando. Things are still very much hot and heavy between the two, well, as much as Lana will allow. She's still very much in favor of waiting to do anything more than holding hands and kissing, but Orlando is along for the ride.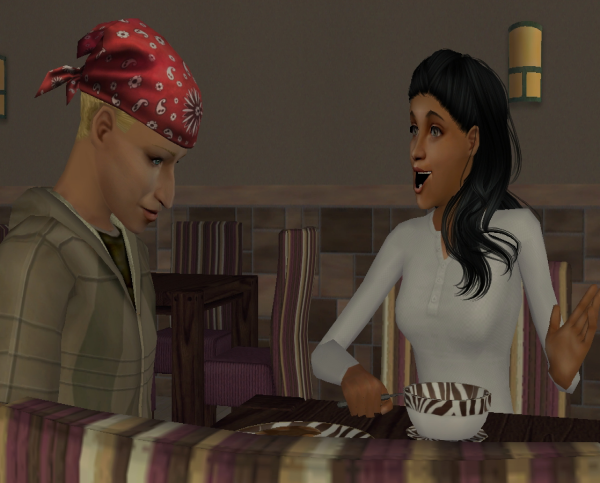 Sarah is also trying to branch out, make more friends. So far, it hasn't been to good. Besides her sister, Orlando, and Chole, many of the students don't get her. Maybe she's just to brainy for them.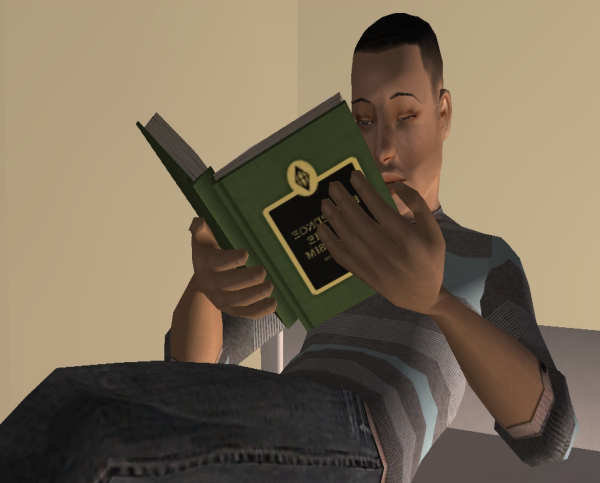 Marcus on the other hand keeps to himself. He hardly leaves his room except for classes and to shower and eat.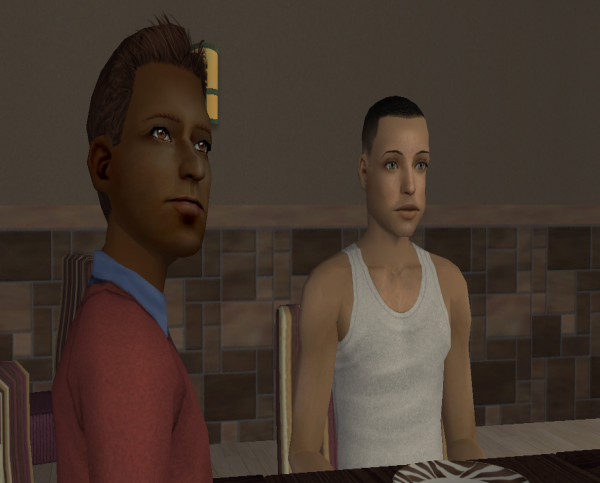 He doesn't even bother to make small talk with others. He's missing his twin brother. He still doesn't understand why Oliver choice the Army over college. But he really wishes that he was here with him. He's also missing Bri as well. They have two more years before she's ready to enter college, and they can be together full time once again.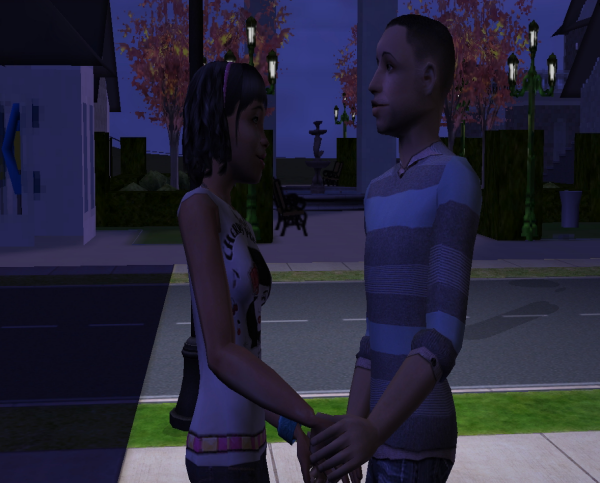 But she does her best to visit him on campus. And he's very appreciative of it effort she puts forth.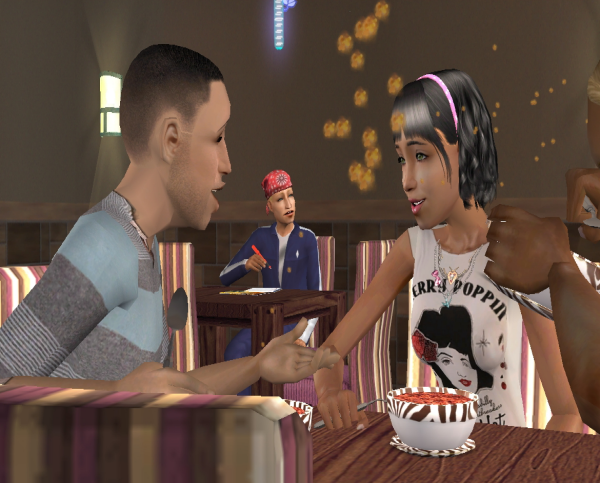 When she's around Marcus is like another person, very animated, hardly letting Bri get a word in. She doesn't mind. She knows how shy he truly is. His dorm mates on the other hand are very surprised! They can't believe he knows how to speak, let alone has a girlfriend.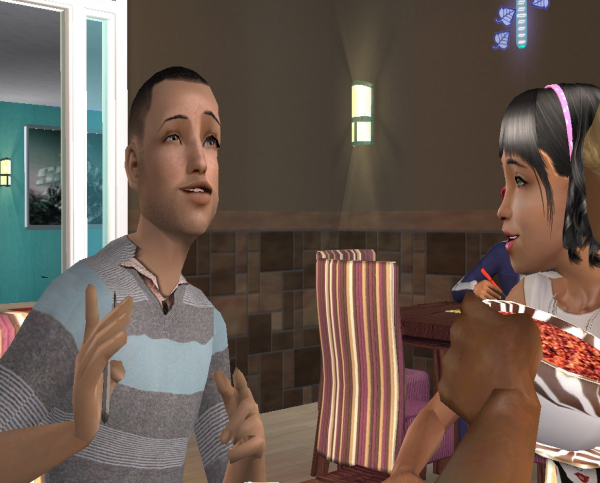 He really can't wait until Bri is at UoR with him. They can get an apartment on campus together. She's in love with the idea of them together all the time. It sucks that she has to wait so long though.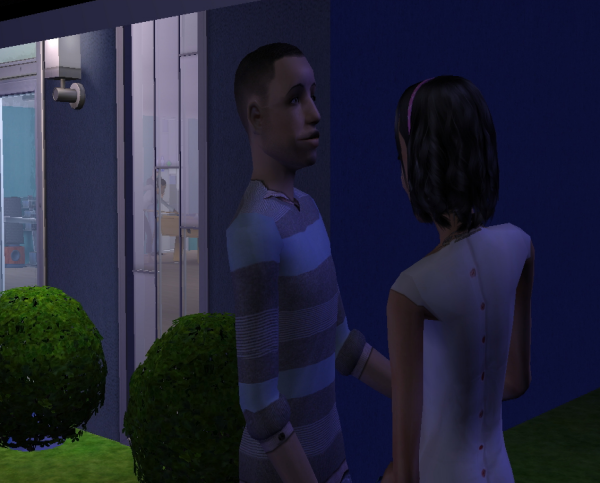 Their time together is intimate as well, but soon she has to leave. Has to head back to the suburbs and back to her high school life. Marcus hates this part. He hates when she has to leave, but he knows that she'll be back on Friday.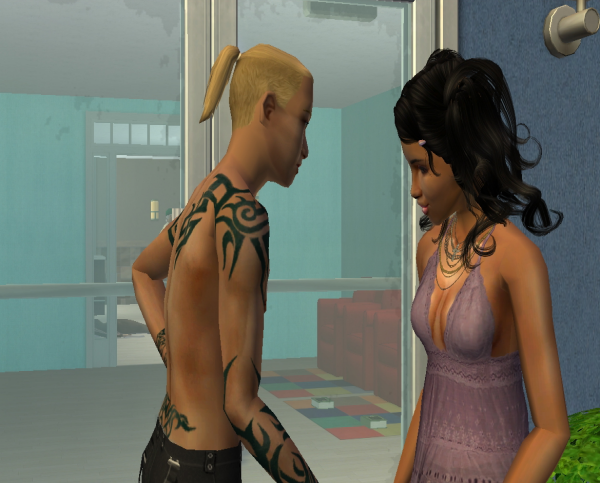 Sarah has gotten to know Mr. tattoos, or as much as she needs to know. Right now she can't really remember his name, but it's not like it matters. They enjoy flirting with each other. The cat and mouse game that they play.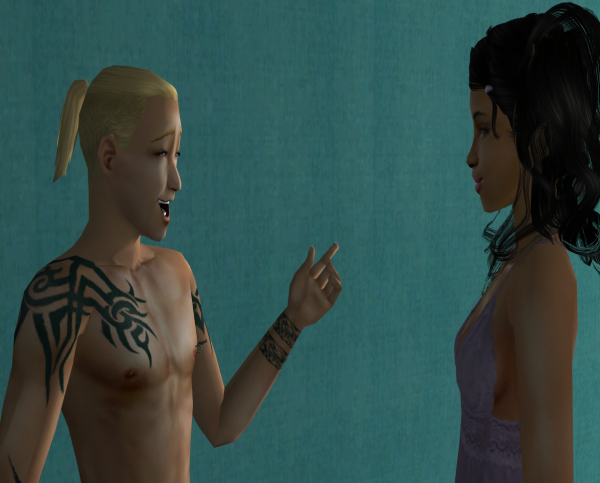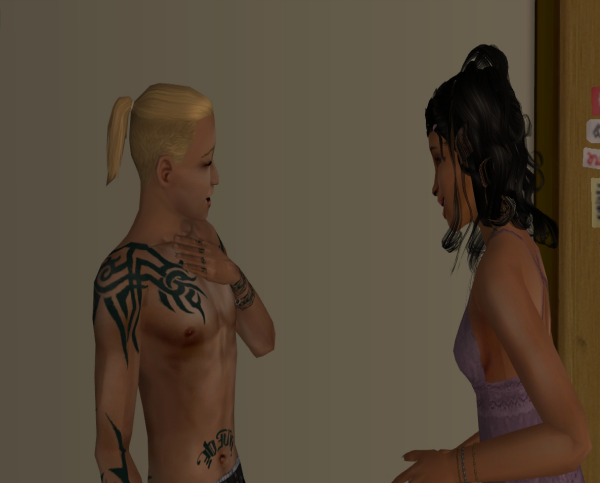 Which eventually lands the two in Sarah and Lana's room. And Sarah is sure to let her sister know that she's "entertaining" for a while.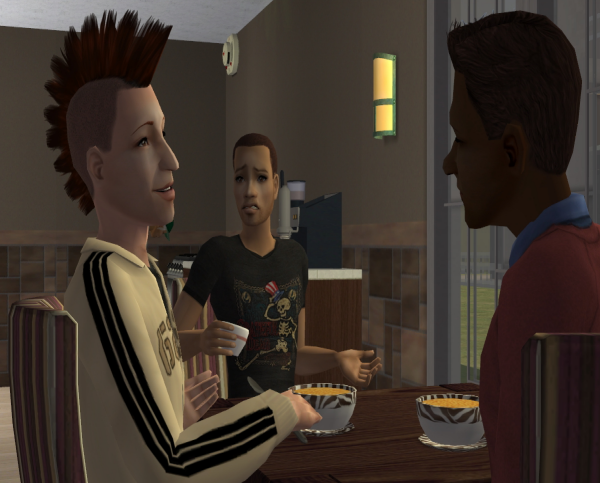 With all the hooking up going around poor Orlando is in a twist. His roommate, Marcus, kicks him out of their room when Bri is around. Sarah is always running around with someone. And his friends are always talking about some "cutie" they picked up at the campus bar. And he's sitting here twirling his fingers. Not that he's complaining...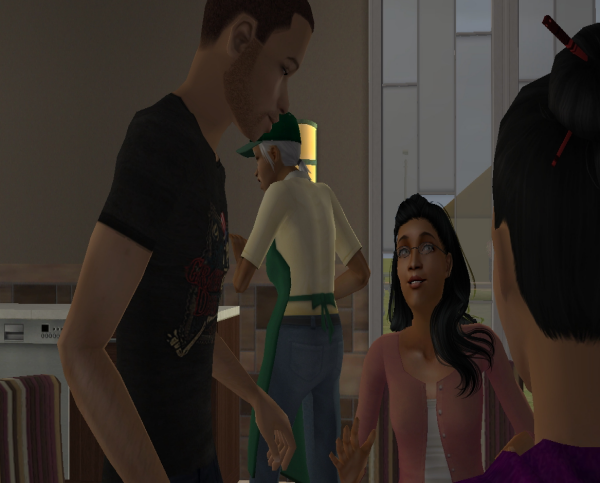 "We need to talk." he says.It's no biggie, they always talk. Talking is good.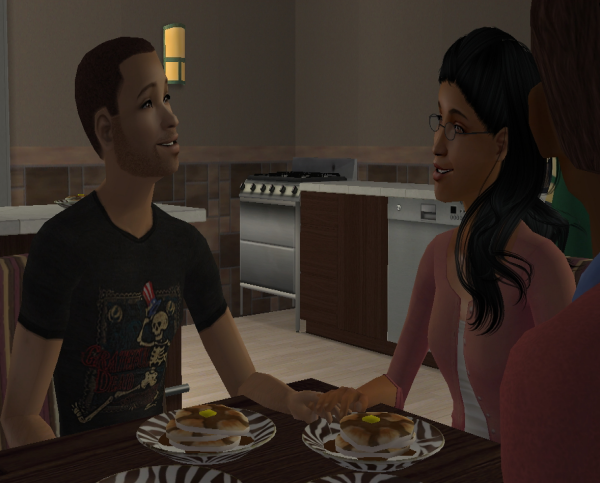 But it's not what she is expecting. They've had this discussion before, when they first started dating, when it became serious. And yet, here they are again, two years later with it back on the table.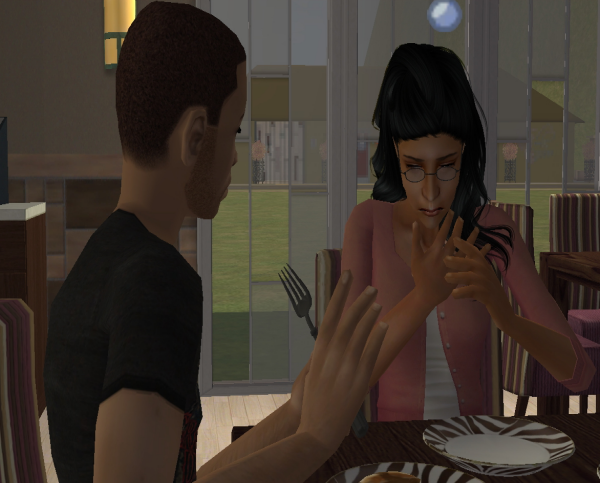 And it's really upsetting to her. Why does she constantly feel that she has to remind him of her beliefs, her wants. What she values the most. He's not asking her to sleep with him, only some physical contact to "help" him. But she's not comfortable with that either. It's still a form of sex.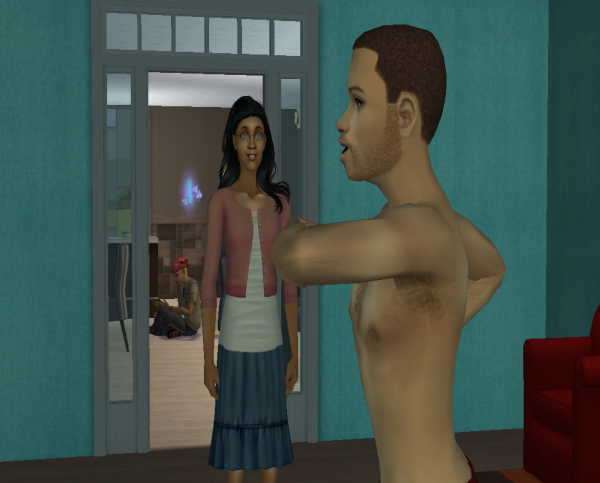 And it's not as if it's easy for Lana either. She is a red blooded young woman after all. With hormones and desires. There are times, like when Orlando is exercising and he's all sweaty and half naked, and she finds herself wanting to do things with him... to him. But she fights those desires down.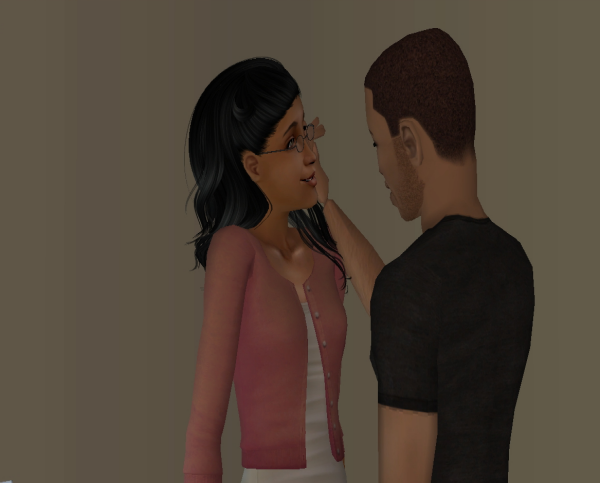 She doesn't tell him this though. Maybe she should, but she doesn't. She does tell him that if he wants to be with someone who will do those things that he's free to go. It's not what he wants though. He wants her. He loves her. And they will just have to find ways to spend their time together that will take his mind off of those things.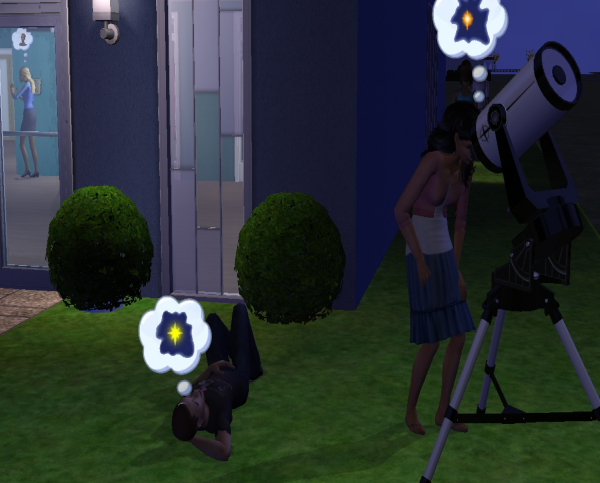 Like sharing their love of the stars. As they sit out under the Autumn night sky, Orlando thinks that he can do this. He just has to be strong. So what if they are surrounded by hormonal college kids indulging their whims. Love will keep them afloat amongst all of it.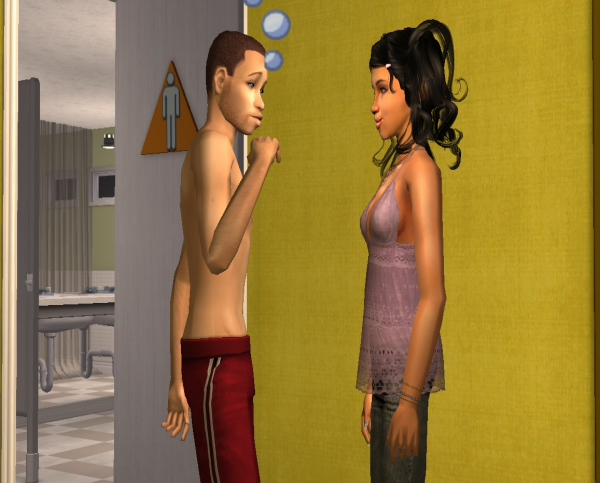 This is what gets him through, that's until he almost runs head first into Sarah as he exits the bathroom. She smirks at him, giving him the once over. He tries to walk around her, but she stays in his way.
"What do you want?"
She smirks at him again. "You know, I totally know what you do in there. It's a pity too." Her gaze falls on his shirtless chest. "My sister has no idea what she's missing out on."
He really hates her. And though he won't admit it, he does spend a lot of time in the shower. It's the only place he can get some privacy to be alone, with his thoughts... and his hand.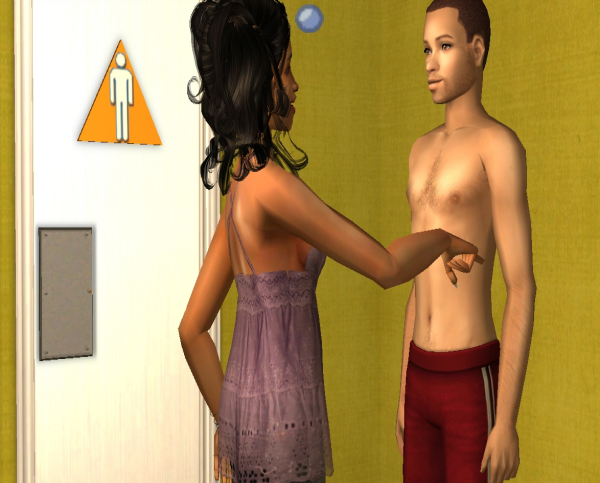 "You know Lana is never going to give it up. And it's so not fair to you. I'm offering you a one time deal. I' the second best thing to her. And we can do what ever you want, babe."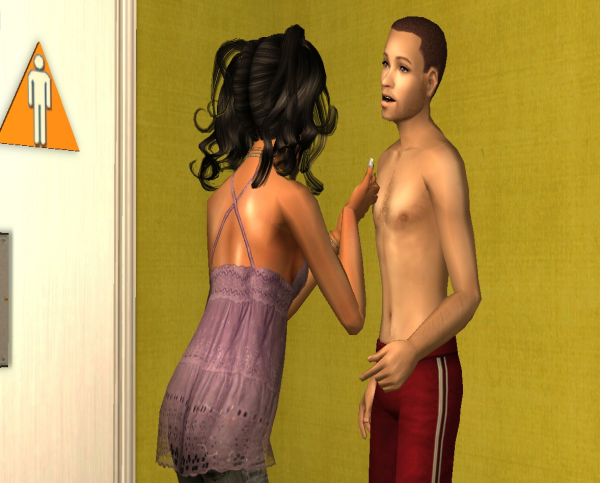 Orlando balks at the suggestion though images of just what Sarah could do with him or to him runs through his mind. He hates himself, he hates her, and yet, he's strangely attracted to her as well. He refuses her offer and heads to his room.
Sarah watches him walk away and laughs to herself. It's only a matter of time before she gets him. She always gets what she
wants
.
***
I can't remember the tattooed guy, but he and Sarah hooked up on her first day on campus. She had the woohoo want and he was there to fill it. They have two bolts as well, but it's low. After they hooked up then she started to roll wants for him. The wants took over the Viggo wants! Can you believe that? I'm super surprised.
I don't know what happened to my pics, but Lana rolled the want to woohoo with Orlando. I cracked up. She rolled after watching him work out. I think him topless effects her greatly. But she went and talked with Chole about it, and went to sleep. When she woke up the want rolled away. Poor Orlando, his woohoo with Lana want refuses to roll away. But there's nothing he can do about that besides living in the shower. Poor guy.
No Keegan or Chole, they just didn't make it in the update. But they are there, still engaged and very much in love.
Marcus was anti-social in high school and he's the same way now. He literally stays in his room, in bed, reading. He rolls wants for Bri all the time. So he talks to her at least three times a day. When she's there he's happy, when she's gone he's in his room. I do force him out to do other thins like eat, dance, talk to roommates. But he much rather be alone.
I have a second part with my other uni students coming up. Hopefully I'll have it posted soon.
Okay, this cracked me up. Sarah wants to have a good reputation. ROFL Um, you have a rep Sarah, but I don't think it's a good one.
And it's true, poor Orlando. He does this almost every time he's around Sarah. He thinks Sarah is hot but she also makes him sick. LOL I figure he's attracted to her because she's Lana's sister, plus, she'll put out. But I also think he's repulsed by her because she puts out, and just the type of girl that she is.