May, Spring 2012, Amos Cotton is 33, Nita Rich is 27. Last updated
winter 2011
.
(Jessica Picaso is 36, Mathew Picaso is 37, Kirk Corbin is 34, Sharla Ottomas is 28, Mohindr Ramaswami is 32, and Danielle Ramaswami is 31)
Song:
At Last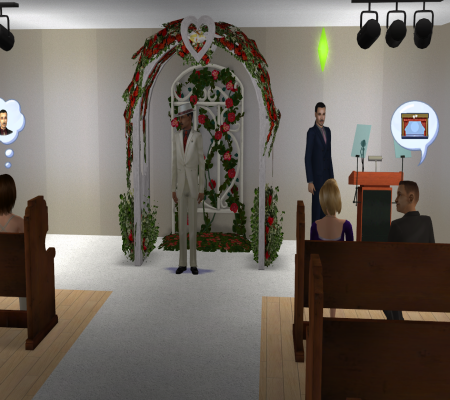 The big day for Nita and Amos has finally arrived. And to his surprise, Amos isn't nervous at all. He actually can't believe that he's standing here amongst family and friends about to marry the love of his life.
He didn't think they would make it this far. Last time he and Nita were engaged she broke things off with him, but not this time. And to make it even better, they would soon become parents! Life was really something at times.
Nita on the other hand is nervous. She's so nervous that she's sure her nerves are the reason why Amos isn't nervous.
What if she says her vows wrong?
What if she trips over Amos' feet doing their couples dance?
What is her ankles swell?
There's so many things to worry about, not to mention trying not to wobble down the aisle. Being pregnant and getting married is not fun.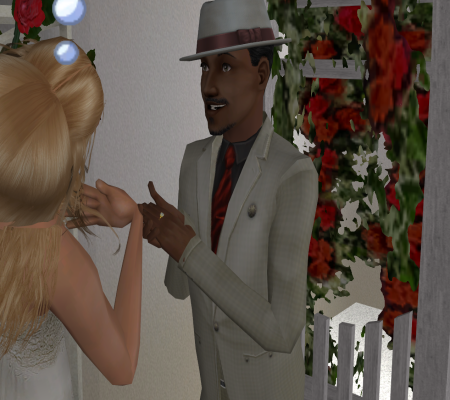 Amos greets his bride with a cheesy smile. "You look beautiful." He says.
Nita dramatically swoons. Not being funny, but the complaint makes her feel better. After feeling like a whale waddling in a net to hear the man that she loves tell her that she's beautiful makes it all worth it.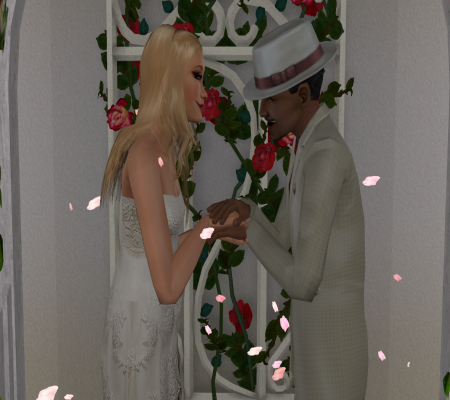 "Nita, you are my world. When I fist met you I knew that you were the one for me. And though we've had our ruff times I'm glad that we were able to see them through. And I'll be forever grateful that you are my wife."
Amos pauses and smiles into Nita's eyes. "This ring symbolizes my love and devotion to you. I will be forever faithful and loving to you as long as we both shall live."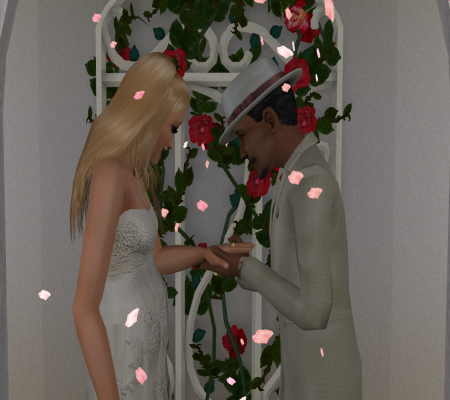 Amos slips the ring onto Nita's shaking hand. She does her best to hold it still, but she's just so gosh darn nervous.
Nita takes a deep breath before taking Amos' hand into hers. "You are the love of my life. I could never imagine life without you, Amos. I'm so grateful that you gave our love a second try, and I promise to never break your heart ever again. This ring symbolizes my love and devotion to you. I will be forever faithful and loving to you as long as we both shall live." After saying her vows the nerves seem to vanish and Nita is able to slip Amos' ring on his finger without incident.
"I now pronounce you Mr. and Mrs. Amos Cotton." Pastor Corbin announces. "You may now kiss your bride!" The newly married couple all to eagerly oblige to his request.
I'm thinking of this one for the official wedding pic. What do you think?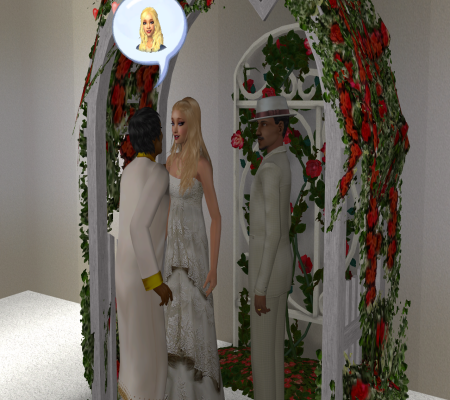 Mohinder is the first to congratulate Nita on her new marriage. He has been married for almost a year after all. He has wisdom to share. He also offers her a little advice.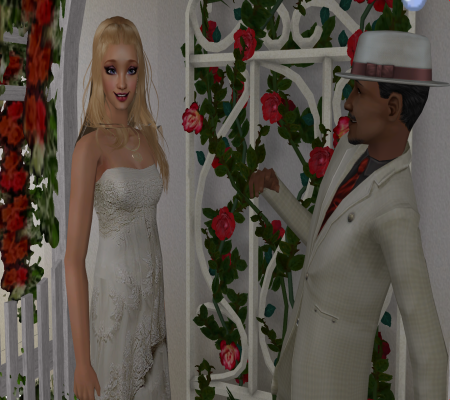 Amos really thinks Nita is a sexy bride.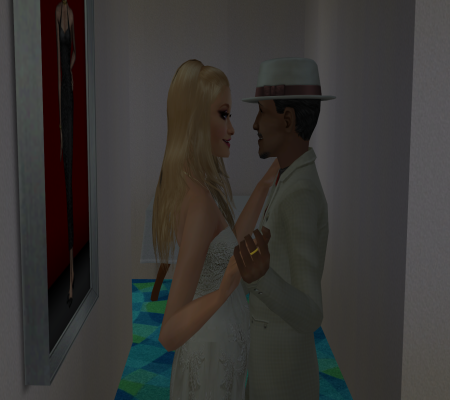 Amos and Nita share in their first dance and husband and wife.
Jessica and Mathew Picaso have been able to work through their
ruff patch
and things seem to be going smoothly. The wedding reception takes them back to their nuptials and they get nostalgic and a bit too frisky. What started out as a make out session in the main prayer hall turns hot in heavy. Good thing the rest of the wedding guest haven't noticed the two missing.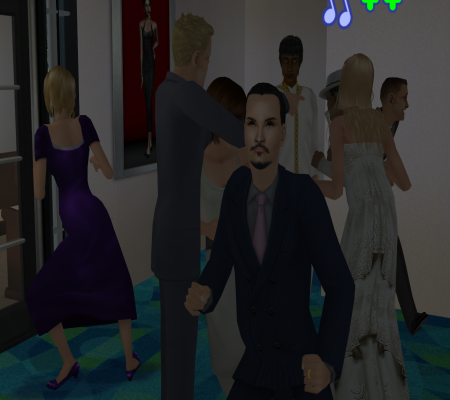 Kirk is taking this dancing thing way to seriously.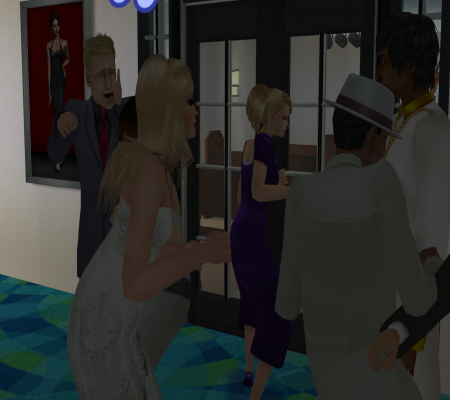 And it seems like Landload guy finds pregnant women dancing to be funny. Sharla brought him as her date. Rupert isn't to happy about that. (He actually left once he saw them together.)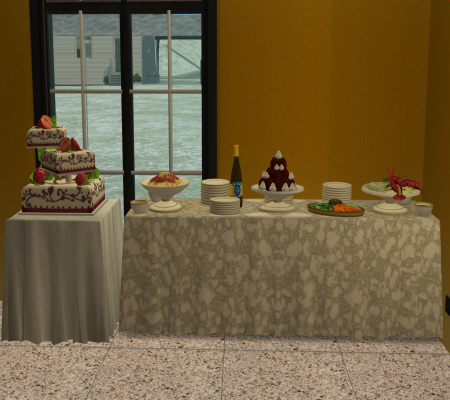 The wedding was catered by Cafe Mode.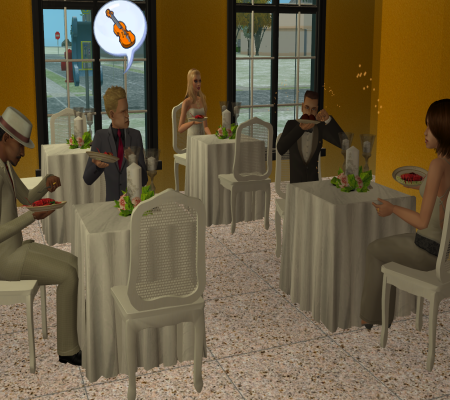 And everyone enjoys the delicious food.
Nita's ready to cut the cake. He feet are killing her as well as her back, and did she mention that the baby is going to town on her bladder. Why did she ever agree to wear heels to her weddings. She could have gotten away with pumps or even flats.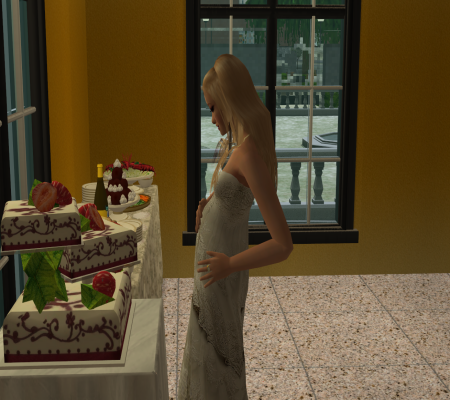 But then little Cotton kicks and she smiles placing her hand on her swollen belly. She wouldn't trade any of this for all the gold in the world. Nita Rich - Cotton is truly happy for the first time in her life.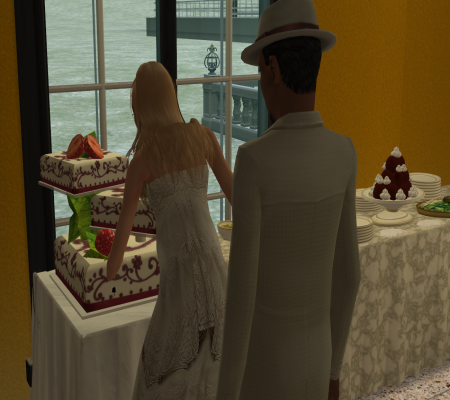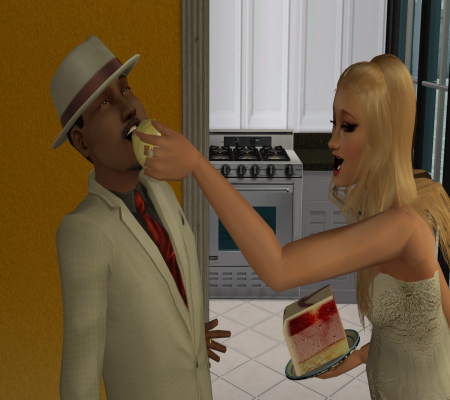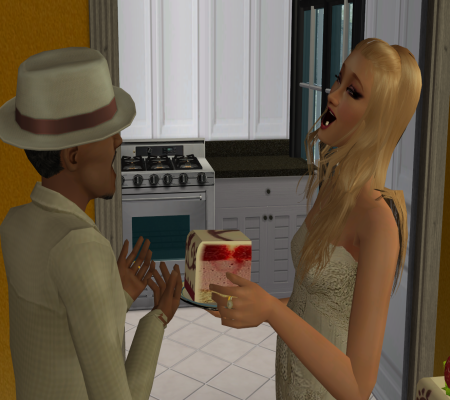 Congratulations guys. I hope you have a long and happy marriage!
***
In case anyone was interested here are the attraction score between Rupert and Nita.
As you can see, their one night together was a one time thing. He actually has five points high in attraction towards her than she does towards him. It was at 90 before they slept together. So I think it was just an itch that has been there for a few years. Once it was scratched they are both over it. So I think Amos and Nita will be happy together for a long while.
Sharla hasn't made any advance on Amos and he only swoons over her at times. Other than that they both act as if the other doesn't exist. I think with the new ACR I will set them as "just friends" to prevent anything. But again, I really don't' think it will.
And last Rupert and Sharla's attraction to each other. I don't think they are the highest in my hood, but for me I think this is pretty high. LOL They have the highest score for each other out of all the lovers they have.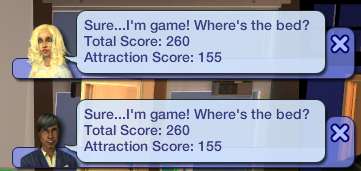 Okay, here I go again with names. Don't ask me where I got Samantha from Jessica but I did. So Jessica Picaso is not Samantha. LOL It seems that she and Mathew have finally come through that rough patch he had with Sharla. She (Jessica) is no longer fuming over him cheating. The cheating though bubble is gone for good, and their relationship is back at 100%.
As many of you know, when I have parties and weddings I make my guests selectable to see what their wants are. Well to my surprise both Jessica and Mathew rolled the want to woohoo, so I let them. LOL And to my surprise no one came running to cheer them on. That's a feature with Joker's animations.
Rupert did show up for the wedding but he left after Nita and Amos got married. I figured he was pissed at the sight of Sharla with the Landlord. I mean why else leave unless he had a "date."